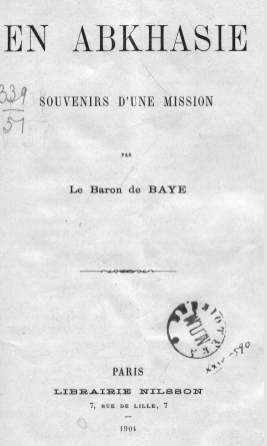 En Abkhasie: Souvenirs d'une mission
Author: Joseph de Baye
Year: 1904
Place of Publication: Paris
Publisher: : Librairie Nilsson
Number of Pages: 81
Language: French
Joseph de Baye (1853-1931), French archaeologist and traveller, on a mission to Russia (from 1895) where he seeks the country of origin of the Celts; he visits the Caucasus (in 1898-1899); he will be interested in the Kyrgyz peoples from the ethnological point of view. - President of the National Society of Antiquarians of France.

Archéologue et grand voyageur, en mission en Russie (à partir de 1895) où il recherche le pays d'origine des Celtes, il visite le Caucase (en 1898-1899), il s'intéressera aux peuples Kirghizes sous l'angle ethnologique. - Président de la Société nationale des antiquaires de France.
The full text in PDF can be downloaded by clicking here (15.3 MB)
Abkhaz family. Photo by Joseph de Baye [En Abkhasie: Souvenirs d'une mission]