Caucasus ensemble performs at Mahmoud Esambaev International festival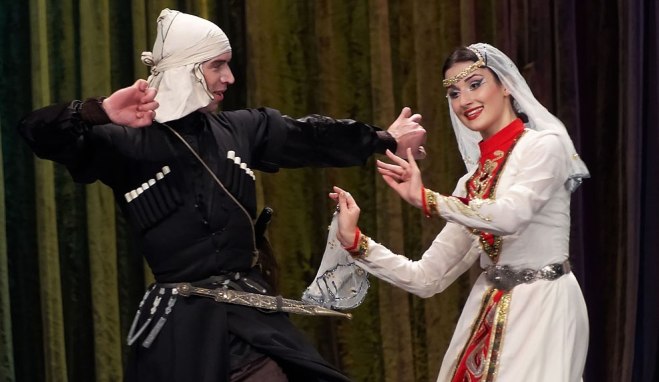 Alexander Ankvab received the Director of the Caucasus State Folk Dance Ensemble Kandid Tarba and the Chairman of the Committee on Defense and National Security of the People's Assembly Fazlibey Avidzba who had just come back from the Chechen Republic.
The Caucasus participated in the 5th Mahnoud Esambaev International solo dance festival-competition and won the first place in the Group Dance nomination.
Alexander Ankvab congratulated Kandid Tarba on the ensemble's successful performance.
21 ensembles from 11 Russian subjects as well as from Bulgaria, Kazakhstan and Algeria had performed at the festival.
Kandid Tarba and Fazlibey Avidzba told the President about their trip to the Chechen Republic, especially emphasizing the heartiest welcome they had received there.
The Caucasus ensemble performed in many regions of Chechnya and everywhere the audience reacted enthusiastically. The last show was performed in Ramzan Kadyrov's native village of Tsentoroye.
The Chairman of the Committee on Defense and National security Fazlibey Avidzba, in turn, held meetings with his colleagues in the Parliament of the Chechen Republic. He had also met the Chairman of the Parliament Dukuvakha Abdurakhmanov. Chechen parliamentarians received representatives of the Caucasus ensemble and congratulated them on their success at the festival.