Scottish independence: Cameron again rejects Salmond TV debate challenge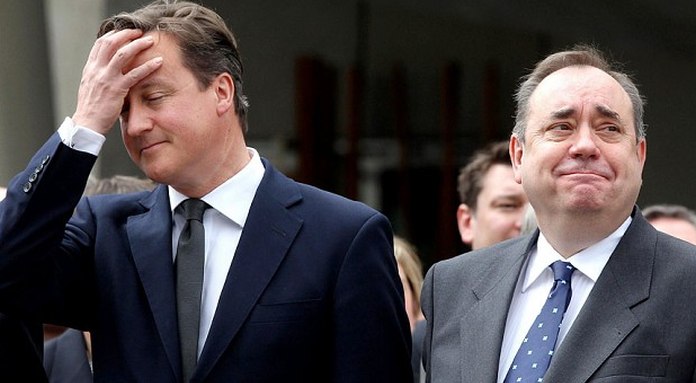 BCC -- David Cameron has again refused to take part in a televised debate with Alex Salmond ahead of the referendum on Scottish independence.
It came after the Scottish first minister said the prime minister had a "democratic responsibility" to defend his views in open debate.
Mr Salmond said Mr Cameron's reluctance to do so was "partly arrogance and partly fear".
But Mr Cameron said the debate should be between people in Scotland.
Speaking on the BBC's Andrew Marr Show, the prime minister said Mr Salmond was "losing the current argument and he wants to try and change the argument."
He added: "This is not a debate between me and him. It is not a debate between the prime minister of the United Kingdom and the first minister of Scotland.
"The debate should be between people in Scotland who want to stay, and people in Scotland who want to go.
"We debate these things in parliament, we debate them in the media, but the key question of should Scotland stay in the United Kingdom or does Scotland leave the United Kingdom, that is for Scots to decide."
In a subsequent interview with BBC Scotland, Mr Salmond said the "vast majority" of people in Scotland and across the UK wanted to see a debate between the two political leaders.
'Open debate'
He said: "The reason that Cameron is refusing is partly arrogance, and it is party fear.
"Arrogance because he believes he can pronounce from on high in London, like in his New Year message, against Scottish independence without having the accountability of having a democratic debate.
"And fear, of course, because he thinks him participating in an open debate will expose the reality that what he wants to do is to continue Tory rule in Scotland without the democratic accountability of being elected by the Scottish people.
"He can only hide from this for so long. Eventually he is going to be dragged into the television studio and have the democratic responsibility of an open, free debate".
The SNP said it had commissioned a Panelbase poll of 1,012 people in Scotland which suggested 63% backed a televised debate between Mr Cameron and Mr Salmond, 25% opposed it and 11% were undecided.
A related poll of 1,011 people in the rest of the UK suggested 56% backed a televised debate, 24% opposed it and 19% were undecided.
In a letter to Number 10, Mr Salmond told the prime minister that his New Year plea to Scots to stay in the UK undermined his argument that the independence debate should be between Scots.
Mr Salmond said: "I note that you used the centre-piece of your New Year address to attack Scottish independence.
"It seems that you want to dictate the terms of the debate about Scotland's future without taking the democratic responsibility to defend your views in open debate. That is simply unacceptable."
Mr Salmond also accused Mr Cameron of using Scottish public funds in the anti-independence campaign, and then plotting to cut Scotland's budget if it votes no.
In his New Year message, Mr Cameron said: "This year, let the message go out from England, Wales and Northern Ireland to everyone in Scotland: we want you to stay, and together we can build an even stronger United Kingdom for our children and grandchildren."
Voters in Scotland will be asked the straight yes/no question: "Should Scotland be an independent country?" when the referendum is held on 18 September.