Syria conflict: Half population urgently need aid - UN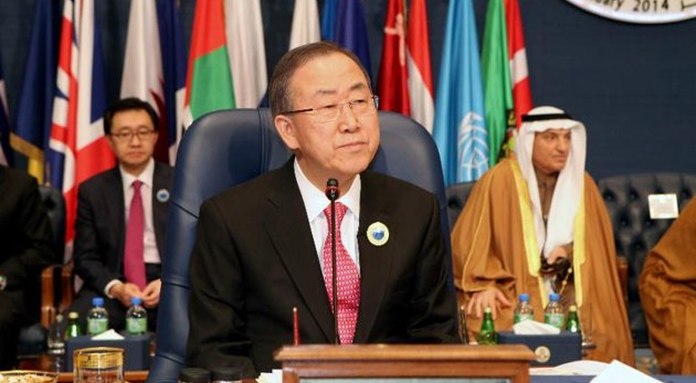 The UN secretary general says that half of Syria's population, some 9.3 million people, are in urgent need of aid.
Ban Ki-moon was speaking at a donor conference in Kuwait promoting the UN's largest ever appeal for a single issue.
The meeting aimed to raise $6.5bn (£4bn) - it had secured $2.4bn in pledges by the end of Wednesday.
Meanwhile, Syria's deputy foreign minister has said Western intelligence agencies have held talks with Damascus on combating Islamist groups in Syria.
The UK government denied having any such co-operation with Damascus.
Islamist groups, often made up of foreign fighters, have become increasingly assertive in Syria, clashing with other rebel movements and causing international concern.
On Wednesday, at least 26 people were killed by a car bomb in the northern city of Jarablus, said the UK-based Syrian National Observatory activist group. It blamed the attack on the al-Qaeda-linked Islamic State in Iraq and the Levant (ISIS) and said most casualties were rival rebels.
Starvation
Mr Ban told the Kuwait conference the conflict had "set back Syria years, even decades" and that it was "vital for this region and our world that the burden is shared".
Some 6.5 million people are now displaced inside Syria. More than 2.3 million have registered as refugees outside Syria, many living in camps across the region which are barely coping. There are reports of starvation in towns cut off by fighting.
The UN says more than 100,000 people have died since the uprising began in 2011.
The $2.4bn in pledges secured in Kuwait represent roughly a third of the $6.5bn the UN says it needs for Syria in 2014, though fundraising will continue throughout the year.
Donations include:
Kuwait: $500m
Saudi Arabia: $250m
Qatar: $60m
US: $380m in new contributions
EU countries as a whole: $753m
Norway: $75m
The UK pledged a further $164m bringing its total contribution to $985m
Continue reading at www.bbc.co.uk