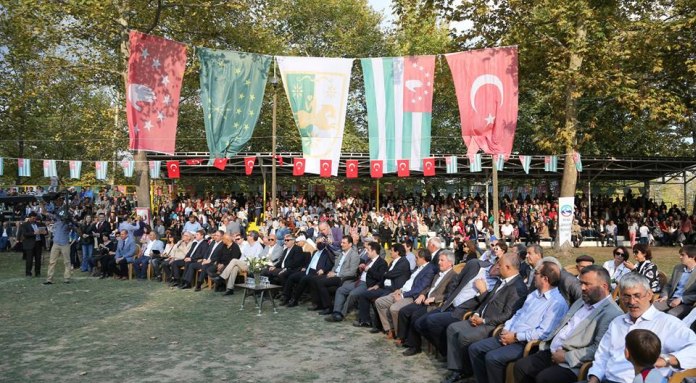 On 21-22 September in the cities of Istanbul and Adapazari (Turkey) events were held on the 20th anniversary of the Victory in the Great Patriotic War of Abkhazia (1992-1993). They were attended by members of the parliament of Republic of Abkhazia, Dmitrij Gumba and Akhra Pachulia, Acting-Head of the Department for Turkey and the Middle East of the Foreign Minister of the Republic of Abkhazia, Aljas Asabua, and by the Director of the Fund for Repatriation of the Republic of Abkhazia, John Smyr. 
On 21 September in Istanbul the Federation of Abkhazian Cultural Centres organised a reception, to which were invited the First Deputy Consul of the Russian Federation in the Republic of Turkey, Alexander Khapilov, the Consul of the Bolivarian Republic of Venezuela in Istanbul, Oscar Alejandro Guedez Sekuera, Honorary Consul of Nicaragua in Turkey, Onder Judzher, and deputies of the Parliament of Turkey.
The evening, which passed in a friendly atmosphere, was opened by the official representative of the Republic of Abkhazia to the Turkish Republic, Vladimir Avidzba. He congratulated everyone on Victory Day, stressing the importance of this holiday for the Abkhazian people and thanked on behalf of the Republic of Abkhazia the representatives of friendly countries. Over the course of the evening, invited guests delivered speeches.