By presidential decree, 2014 declared to be the year of Dmitri Gulia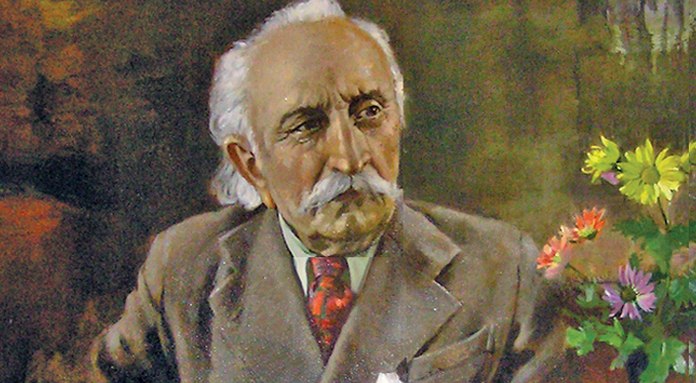 Aleksandr Ankvab signed an Executive Order declaring 2014 the year of Dmitri Iosifovich Gulia.
2014 being the 140th anniversary of Dmitri Gulia, founder of Abkhazian literature, writer, and People's poet, an organising-committee for holding events dedicated to this historical date has been created by Presidential Executive Order.
The organising-committee includes:
Vardania I.V., First Deputy Prime Minister, Chairman of the organising-committee
Gunba B. Z., Minister of Culture
Nachkebia D. K., Minister of Education
Mukba A.K., Chairman of the Union of Writers
Lasuria M. T., Chairman of the Association of Writers
Cholokua A.D., Chairman of AGTRK
Eshba T.V., Head of administration for the Gulrypsh District.
The Cabinet has been commissioned to approve the plan for the main events to celebrate Dmitri Gulia's 140th anniversary.
Dmitri Iosifovich Gulia was born on February 21, 1874 in a poor country family in the village of Uarcha, Gumistin area, Gulripsh district nowadays. In his early childhood, like the majority of the Gum Abkhaz, he was banished to Turkey together with his family, however his father managed to return his family home.
In 1892 Gulia together with K. D. Machavariani made up the Abkhaz alphabet used to present day. In 1912 the first Gulia's collected verses were published.
In 1921 Gulia organized and headed the first Abkhaz theatre company. He was the founder and the editor of "Apsny", the first newspaper published in the Abkhaz language. In 1919 Dmitri Gulia wrote "Under a different sky", the first Abkhaz short story.
Great is Dmitri Gulia's role in the development of the Abkhaz culture. Language, history, Abkhaz ethnography works, reading books and textbooks belong to him. It was him who translated the Gospel and Christian prayers into the Abkhaz language for the first time.
Dmitri Gulia died on the Annunciation Day's Eve, April 7, 1960, in the settlement of Agudzera.
A new monument on the poet's tomb created by sculptor S. Ivanba was unveiled in 2009. The former Gulia's monument had been fired during the 1992-1993 Patriotic War of the Abkhaz Nation, and blown up by unknown vandals on August 12, 2000. The monument made of whole granite brought in the seventies of last century from Egypt was severely damaged by the explosion.