In the rhythm of folk dance: a concert of the "Nalmes" ensemble in Sukhum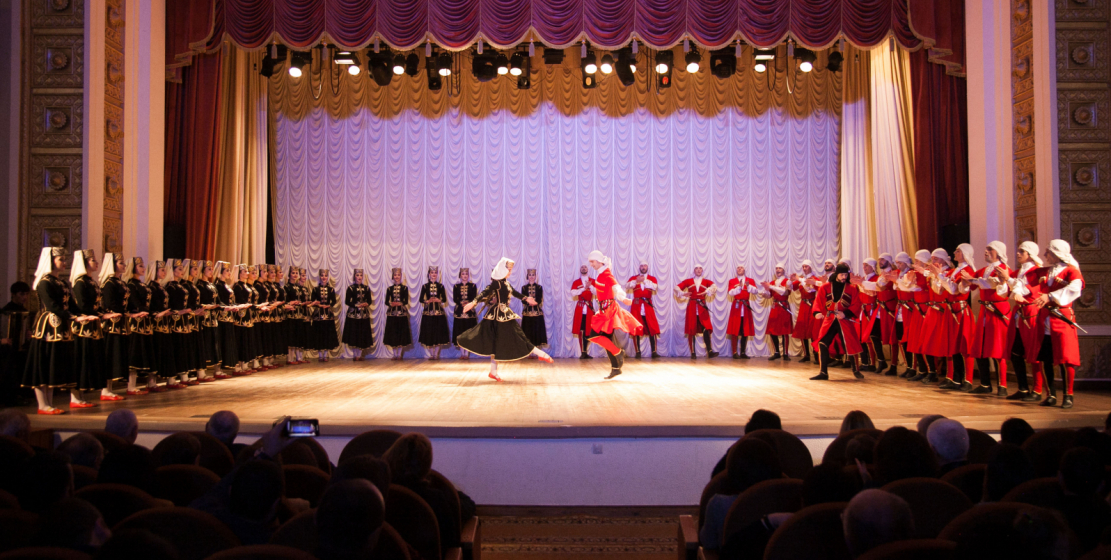 The State academic folk dance ensemble of Adyghea "Nalmes" arrived in Abkhazia with a tour, which will end on April 12 with a big concert in Gudauta.
The academic ensemble of folk dance of Adyghea "Nalmes", popular with the Abkhaz audience, as part of a tour in Abkhazia, performed in Sukhum and Tkurachal. The artists will also give concerts in Ochamchira and Gudauta on April 11 and 12.
The concert program consists of 16 dance numbers in which 80 dancers take part.
"At the same time, on the stage, depending on the dance, there are either 50 or 30 people performing. This is a laborious process, but very entertaining. We have changed the program now, brought new dances, which nobody saw in Abkhazia. We also brought restored dances which "Nalmes" had not performed for about 25 years," said the artistic director of the group Aslan Khodjaev.
The State academic folk dance ensemble of Adyghea "Nalmes" was created in 1936. Its activities were suspended during the Great Patriotic War of 1941-1945 and resumed 10 years after the end of the GPW. In 1996, the ensemble was awarded the Adygea Republic Prize "Glory of Adyghea". "Nalmes" is the laureate of the I World Festival of the Adyghe Culture in the capital of Kabardino-Balkaria Nalchik. Over the years, the ensemble also became the winner of international folklore dance competitions in Turkey, the United Arab Emirates, Syria and Belgium.