Red Flag Apes: Unwitting Lives in Soviet Monkey Farm | Aberdeen Press - 15 October 1928
Unwitting Lives in Soviet Monkey Farm
Aberdeen Press and Journal - Monday 15 October 1928
Sukhum, Abkhazian Soviet Republic

I have just inspected the first "gland factory" in the Soviet Union, better known as the Sukhum Monkey Farm (writes Mr Eugene Lyons, the British United Press correspondent).
On a hill overlooking the Black Sea, some thirty-five apes, natives of Africa and the South Seas – and two tiny apes born in the last few months on Soviet soil – gambol in their cages altogether unimpressed by the high scientific destiny to which they are dedicated.
Their imprisonment is only temporary. The entire hillside, rich in tropical trees, is being prepared as a domain where they will rove and multiply at will. Several laboratories have been equipped here for the preparation of various gland extracts and the conduct of experiments in the treatment of many discases.
Soviet Union is inordinately proud of its monkey farm. It is particularly proud of the two youngsters born under the Red Flag, since it had been doubted whether the monkeys would raise families on alien soil. The farm is only part of an extensive department under the Commisariat of Health, which has succeeded in a few years in making the Soviet Union independent of foreigners in meeting its needs for a variety of serums, Indeed it is already exporting a number of preparations, and is producing its own insulin.
Voronoff's Pupil
Professor Y. A. Tobolkin, who is in charge of the farm and the experimental work connected with it, reflects the general pride. A student of Dr Voronoff he is completely convinced of the efficiency of rejuvenation and its large place in the medicine of the future. The monkey farm, he told me represents the "fountain of youth" for which man has been looking since the dawn of time.
When his vigour deserts him, Professor Toholkin declared, he intends to renew it artificially.
" I expect to live far beyond a century." He said with a smile, but quite seriously. "The wav human beings seem content to give us their youth and their lives without any effot to replenish it is simply outrageous." – British United Press.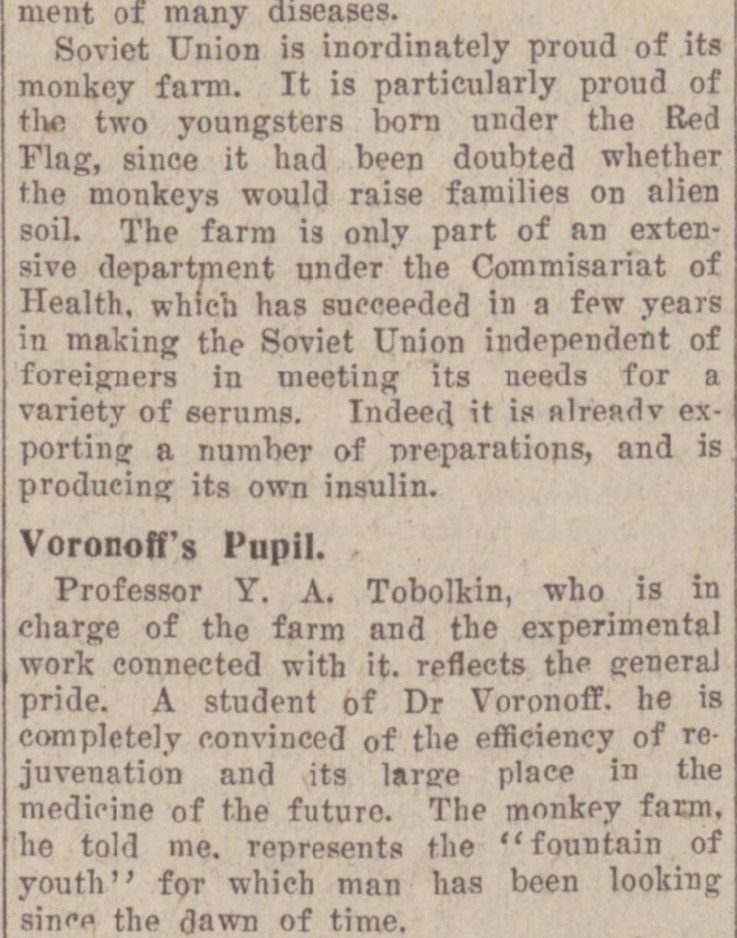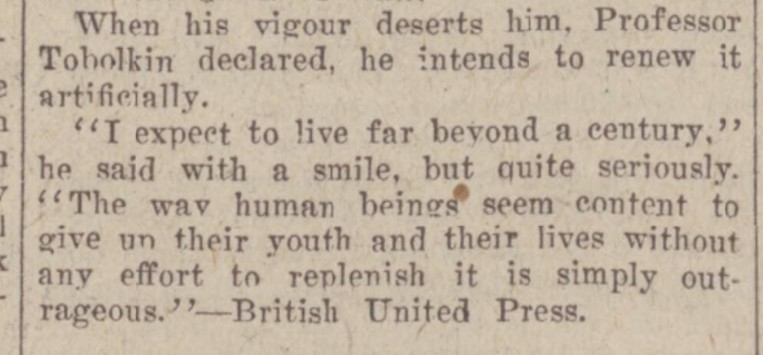 Aberdeen Press and Journal - Monday 15 October 1928 [British Library Archives] 
---
Documentary Film: The Lost Colony (2008), by Astrid Bussink 
The oldest primate laboratory in the world, located in the enchanting former Soviet republic of Abkhazia, was virtually destroyed during its struggle for independence from Georgia. But the lab workers refuse to give up their lab and have come up with a new idea to restore it to its former pride and glory. With the help of their renowned former director Professor Lapin they hope to put their institute back on the map. The Lost Colony follows their efforts, made with boundless confidence and unwavering hope, against all odds.