We went to die in order to live [Мы шли на смерть, чтобы жить)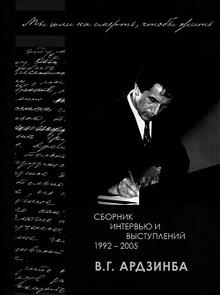 Мы шли на смерть, чтобы жить [We went to die in order to live]
Compiled by L. K. Ardzinba
Author of the preface: A. G. Tania
Author of the opening address: V. Z. Chamagua
Year: 2011
Place of Publication: Sukhum, Abkhazia
Number of Pages: 622
Language: Russian
The book "We went to die in order to live" is a collection of the interviews and speeches of the First President of the Republic of Abkhazia V. G. Ardzinba. Chronologically it covers the period from 1992 to 2005. The collection is based on publications in the Abkhazian and foreign press.
Мы шли на смерть, чтобы жить
Составитель — Л. К. Ардзинба
Автор предисловия — А. Г. Тания
Автор вступительного слова — В. З. Чамагуа
Книга «Мы шли на смерть, чтобы жить», представляет собой сборник интервью и выступлений Первого Президента Республики Абхазия В. Г. Ардзинба. Хронологически она охватывает период с 1992 по 2005 годы. Сборник основан на публикациях в абхазской и зарубежной прессе.
The full book in PDF can be downloaded by clicking here (8.22 MB)