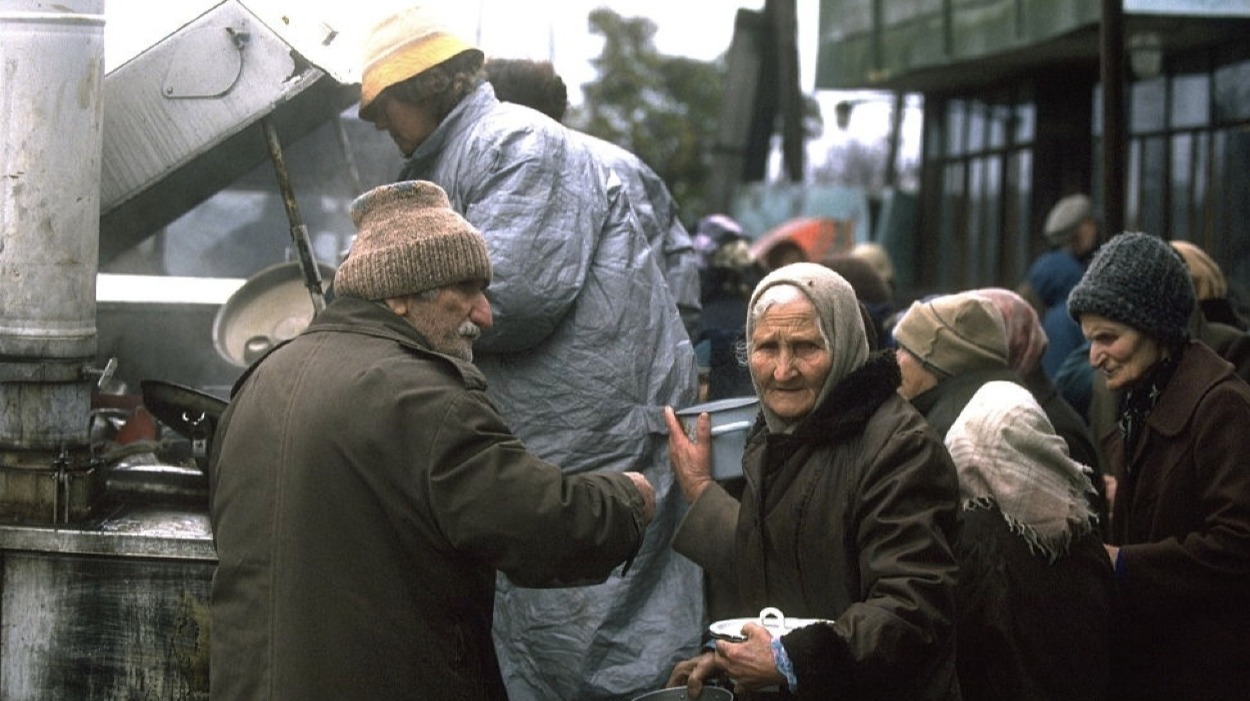 How Easily One Forgets...
Contrast the following with the widely held misconception that Abkhazia's problem with Georgia resulted from its being a mere puppet of the Kremlin's 'anti-Georgian' politics?
Most of the 1990s, especially when Shevardnadze-protegé Andrei Kozyrev served as Boris Yeltsin's Foreign Minister, Russia's policy was by NO means pro-Abkhazian, a CIS-blockade being imposed along Abkhazia's River Psou border with Russia. Boris Yeltsin, together with Georgia, put Abkhazia under sanctions.
Under Yeltsin, in 1994, (immediately after the end of the Georgian-Abkhazian war), Abkhazia was subjected to a severe economic and political blockade. According to these sanctions, no Abkhazian man aged from 16 to 65 could legally cross the Russian-Abkhazian border along the River Psou. The list of what could be taken in and out of the blockaded republic could be written on a scrap of paper. Even ordinary antibiotics, without which no medical institution could function, were prohibited.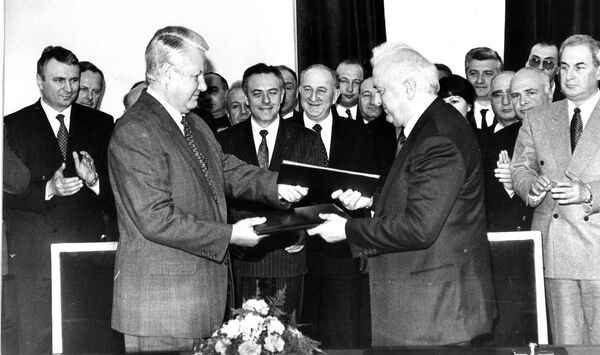 Russian President Boris Yeltsin and Georgian President Eduard Shevardnadze after signing the Treaty of Russian-Georgian Friendship, Good Neighborliness, and Cooperation. Behind Andrei Kozyrev and Jaba Ioseliani (February 3, 1994). @CaucasusArchives
See also: Russian Officer Views Abkhaz Conflict (27 April 1993)
On March 1996 Russia-Abkhazia border incident took place over Sukhum port when Russian border guards attempted to prevent a Turkish ship from entering Sukhum port referring to a January CIS-imposed blockade. Abkhazia leaders accused Russia of violating human rights and of attempting to stir up war in the region by enforcing a blockade against Abkhazia.
Same year there were rallies in Abkhazia against the blockade (Reuters).

News from FBIS "Foreign Broadcast Information Service"

and

See the Photos by Bernard Bisson: The 'Action Against Hunger' NGO in Abkhazia (1998)

'Catastrophic' Bread Shortages in Abkhazia
Tbilisi Radio, Tbilisi Network in Georgian, December 13, 1994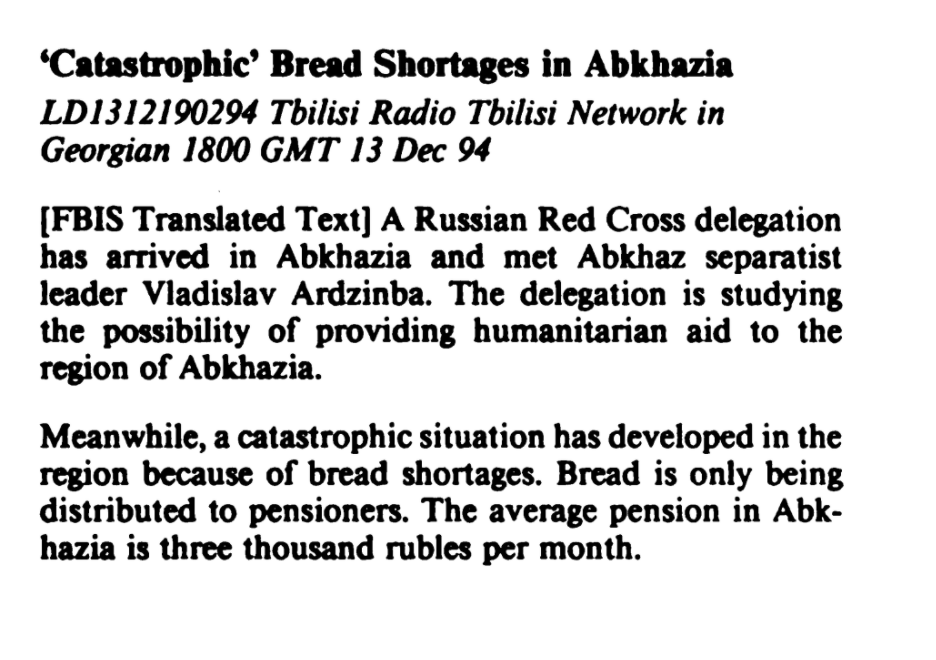 Abkhazia's Russian Community Protests Sanctions
Moscow Ostankino Television First Channel Network in Russian. September 20, 1993.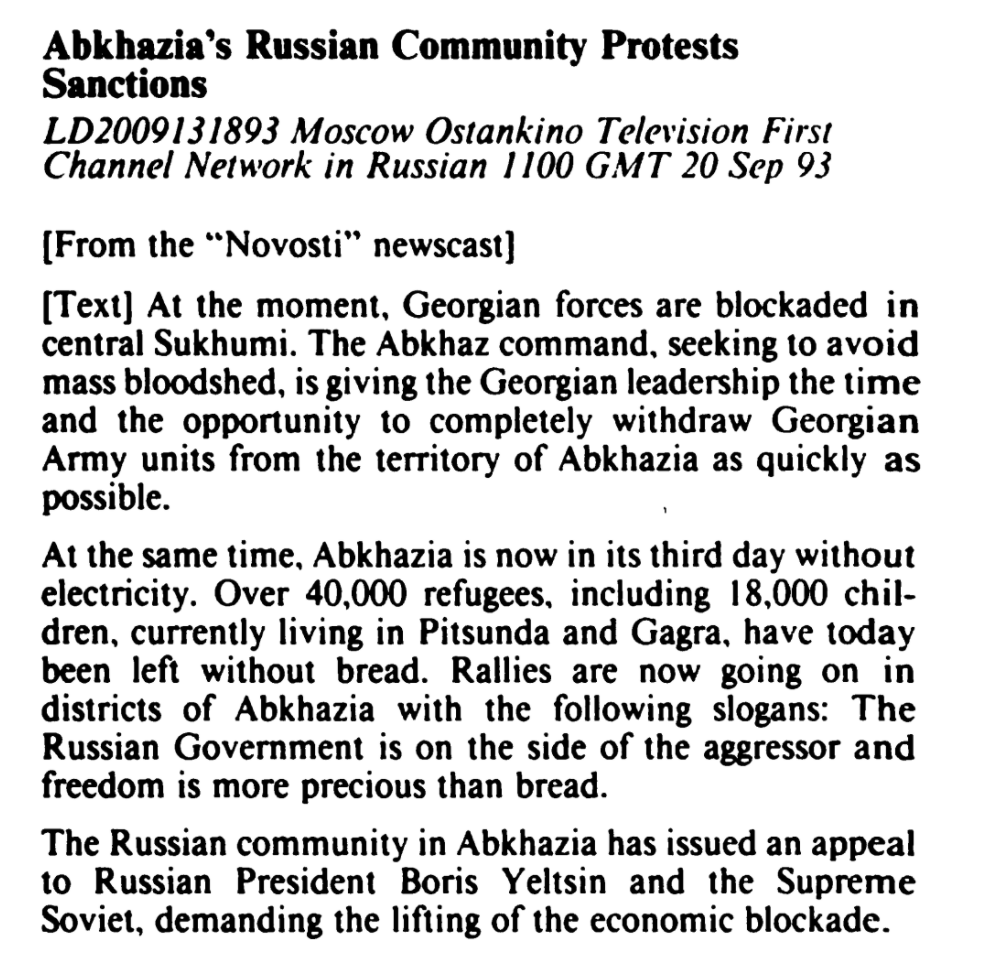 Abkhazia Ready for Georgia Talks if Sea Blockade Lifted
Moscow ITAR-TASS in English October 25, 1995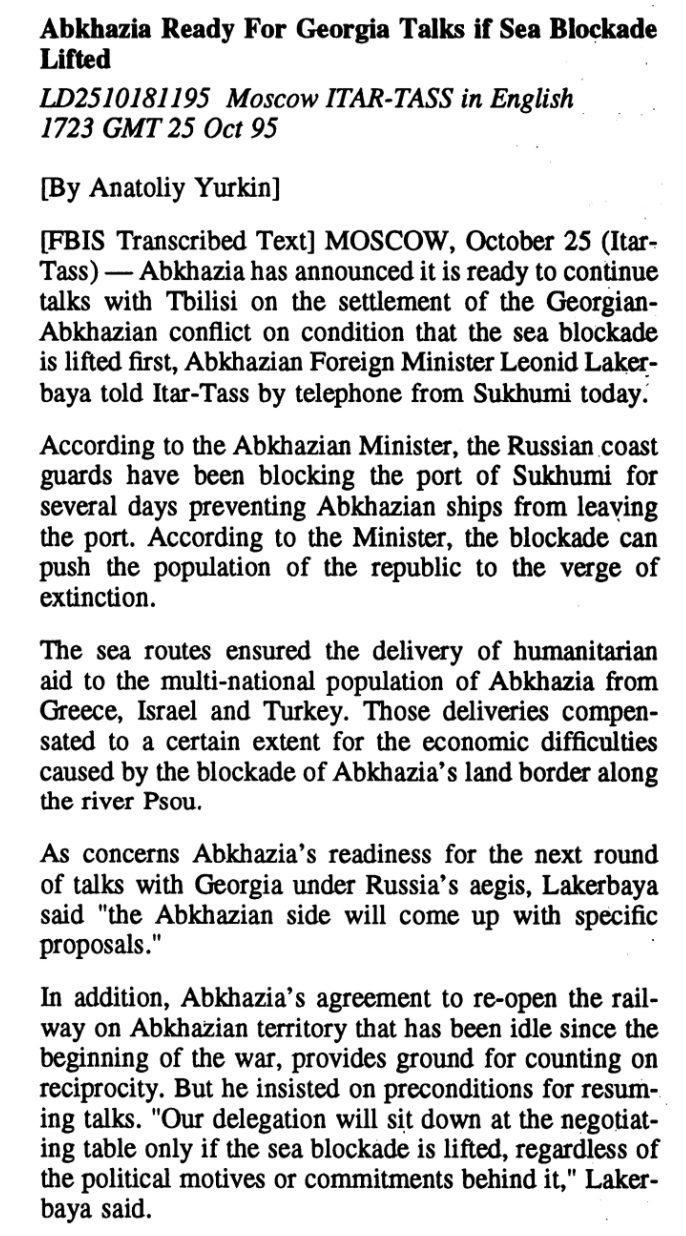 Shevardnadze Plea to CIS on Abkhazia Deplored
Moscow, SOVETSKAYA ROSSIYA in Russian. January 18, 1996 p.7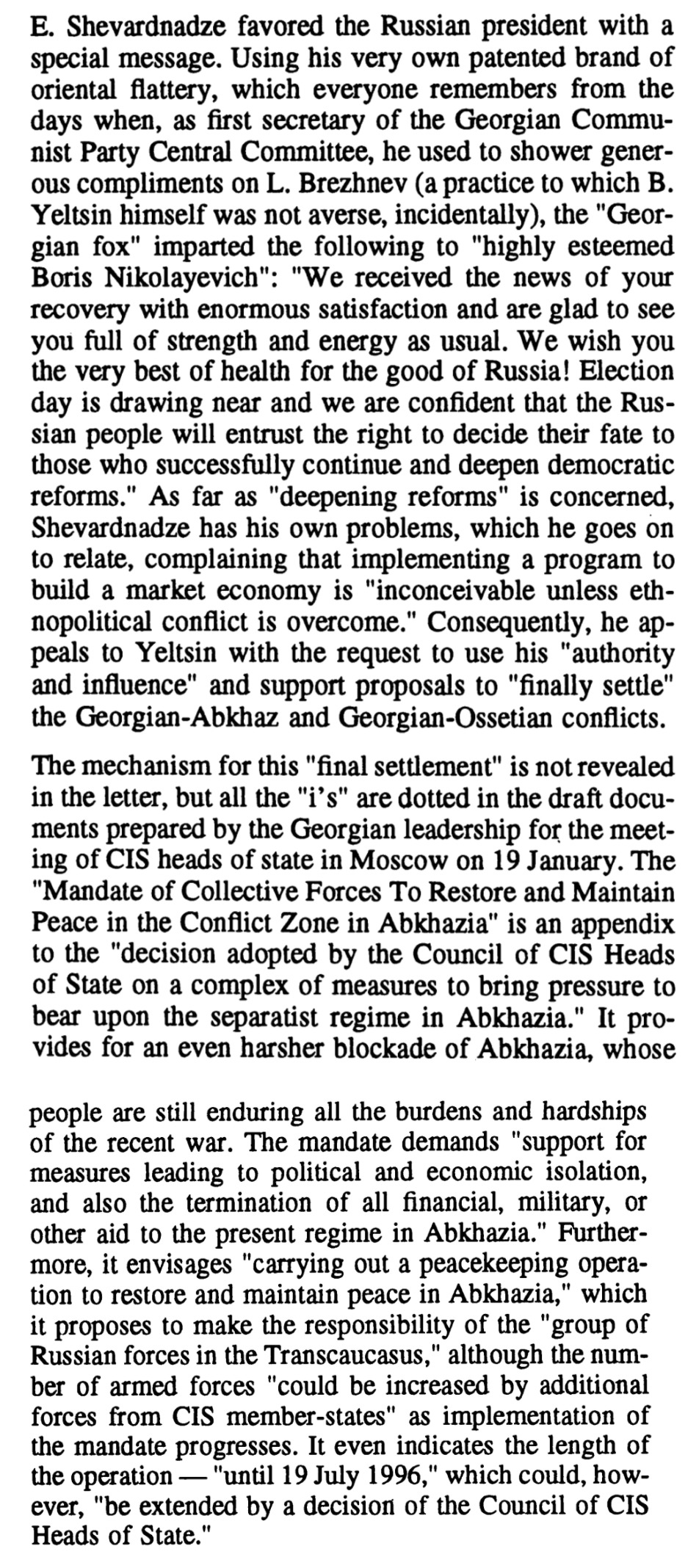 Abkhazian Official Condems CIS Decision on Sanctions
Moscow INTERFAX in English. January 20, 1996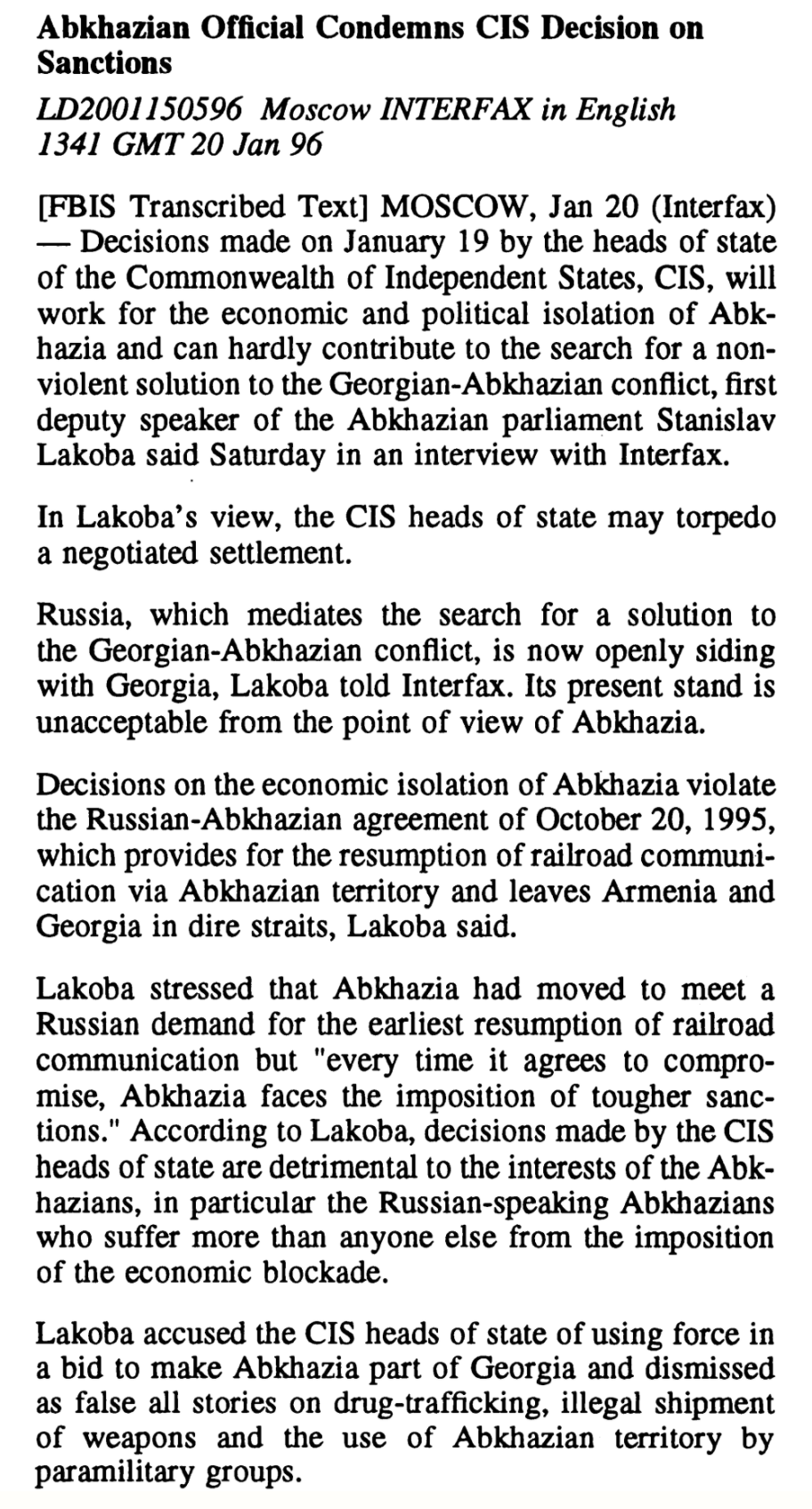 Abkhaz Parties Appeal to Yeltsin to Lift Blockade
Sukhum, Republic of Abkhazia Radio in Russian. January 9, 1996
(German Foreign Minister) Kinkel Supports Sanctions Against Abkhazia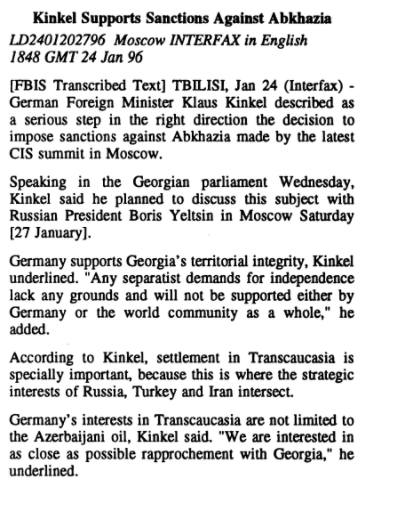 The 'Action Against Hunger' NGO in Abkhazia.
Photos by Bernard Bisson (1998)