War in Abkhazia: Sukhum's opinion [Georgia Times]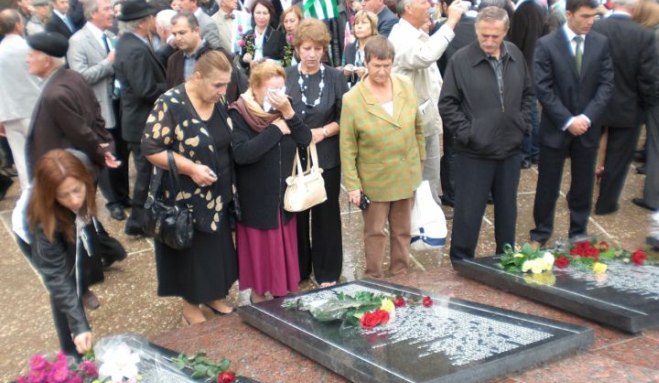 August 14 was a mourning date for Abkhazia and Georgia: 18 years ago, in 1992, a ferocious war started between the Georgian and Abkhaz armies. Abkhaz statehood, which irritated Tbilisi even as autonomy, was put at stake. Georgian State Council brought half-legal troops in the territory of the republic under a false pretext. The Abkhaz will remember the Georgians' guile and atrocities for as long as the witnesses and participants of the war are alive. One of them, Abkhaz historian Aslan Avidzba, shared his recollections and reflections with GeorgiaTimes.
- Please, tell us where you were on the day the Georgian troops entered Abkhazia.
- I was in Abkhazia, at home; it was Friday, August 14, a hot summer day. The war began. I learnt about it from hearsay, like everyone else. Then, TV reported the Georgian State Council troops being brought into Abkhazia. Our parliament adopted a resolution on mobilization of men from 18 to 40 but mobilization was voluntary at that time.
- Did you have an immediate impression that Georgians came with evil, hostile intentions? In Georgia, they say they had a right to transfer the troops throughout Abkhazia so long as it was part of their country.
- There was a feeling of a real war because it had been felt in the Abkhaz air for a year or two by that time. When someone brings armor and planes into the country and starts gunning beaches and taking hostages, everything becomes clear. There were no legitimate authorities in Tbilisi then, and the troops resembled some rabble that had been released from prisons by the amnesty announced by the same kind of criminals that came to power in Georgia, such as Otar Iosiliani, Tengiz Kitovani and the like. Of course, their aim was to deprive Abkhazia of its statehood, even the statehood it had while being part of Georgia. But the purpose of Georgia's "brave defenders" was common plundering. Here, they mostly violated the people.
- They say in Georgia that the Abkhaz side was the first to fire. The troops came but they did not start any military actions.
- It is difficult to say now who made the first shot. Vladislav Ardzinba who was the leader of Abkhazia had stated before the war: "We will not be the first to shoot". Military actions started not at Inguri, at the frontier, but at the outpost in the village of Okhurey located on Abkhazian central road. The first scuffle took place their. There were no losses but about 15 Abkhaz were taken prisoners. After that, they came to Ochamchira and seized the head of administration hostage together with the regional chief of police. Why taking hostages and prisoners if they had no intention to launch a war? Today, Georgian excuses look like speculation.
- Two years ago, Eduard Shevardnadze declared that he allowed to bring in the troops solely for the protection of railways, while Tengiz Kitovani did not listen to him and attacked Sukhum.
- Yes, Shevardnadze did say that. On 13 August 1992, he received a phone call from Ardzinba. It had become clear that the Georgians were relocating their troops. Ardzinba made a warning: "If you bring in troops, it will trigger a war". There are a lot of versions now why Shevardnadze surrendered to his subordinates. There is an opinion that he did it under the Russian special services' pressure or wanted to repress Abkhazia by military way. The decision on bringing the troops in had been taken at the State Council meeting three days before that, on August 11. Besides, hostage taking had been previously staged in Megreli by the deposed President Zviad Gamsakhurdia's supporters. They were brought to Galskiy region of Abkhazia. Everyone knew well that the Abkhaz did not take those hostages, so Georgians started offering other explanations, such as railway protection. However, if the people are going to defend a railway, they do not come to the country by planes or by tanks. The troops were moving far away from the railway, plundering, violating and killing around as they advanced.
- Did Vladislav Ardzinba give his consent for bringing the troops in, as they say now in Georgia?
- That is another speculation. Ardzinba never gave his consent. Moreover, I repeat that on August 13 he warned about the war. On August 14, Ardzinba called Shevardnadze who said: "I do not know anything about it; I am looking for Kitovani now and we will settle the issue". In several hours, Shevardnadze called him again, asking to call the Supreme Council of Abkhazia. He wanted to come on a white horse, dissolve the parliament and arrest Ardzinba. That was the point.
- At that time, hundreds of thousands of Georgians lived peacefully in Abkhazia to become refugees later on, did not they? 
- Today, 100 thousand Georgians still live in Abkhazia. Part of them went away with the troops. But I cannot say we had led a peaceful life before the war. In fact, Georgian consciousness started growing in the times of the USSR collapse. Let me draw a parallel: Hitler restored national consciousness before the war by means of propaganda of the Germans' uniqueness. When Gamsakhurdia came to power, a similar thing happened in Georgia. It was stated officially that Georgia was for the Georgians, that it was the best nation and the rest of the peoples were to play the role of an appendix, a fertilizer for the Georgian nation. What happened in Tbilisi could not but touch Abkhazia. There were twice as much Georgians than the Abkhaz there as a result of Soviet Georgianization of the republic. With the fifth column behind the back, it was impossible to hold Sukhum. By autumn 1992, the density of local Georgians in the Georgian army fighting in Abkhazia exceeded 50 percent. They left because they bore arms against the Abkhaz army. I can produce the data of the UN mission that held an inquiry in autumn 1993 in connection with numerous statements about genocide over Georgians. UN admitted that the Georgian population had left before the confrontation with the Abkhaz army. There was no genocide, or any exclusion of the so-called "peaceful" Georgian population: it left with the army it was fighting in.
- Now Georgians say that you, the Abkhaz, are a brotherly nation and they regret what they have done. Some of them are even ready to apologize. Do you regard them as brothers with whom you might set up friendly relations?
- How is it possible if 18 years ago we were enemies, and the Georgians took the Abkhaz as enemies, blood-suckers crawling along the body of the Georgian nation, separatists who wanted to destroy Georgia and the Georgian nation, although there was no reason to say so at that time? Even if today all the Georgians say that they repent and are ready to fall on their knees before the mothers who lost their children I do not believe it will be done from the heart; these are speculative statements. The policy pursued by Georgian state can hardly be called the policy of repentance. It does not differ from the policy of Shevardnadze who brought troops here. Just remember what happened two years ago in Tskhinval. Those events led to recognizing new states. I personally, as well as many others in Abkhazia, do not have any brotherly feelings towards Georgians. I understand that we should set up neighborly relations with time. But will you say "hello" to your neighbors if they point a gun at you? Georgia being repentant is out of the question today.
- There is an opinion that the Abkhaz would fling into the Georgians' arms if it were not for the "third power", Russia. 
- No. We will not be able to embrace a nation, a state that wanted to drown us in our own blood and to commit genocide against us. It happened under our eyes. It was witnessed by my generation. People who did not witness it may say so, but as long as my generation is alive, we will remember it. The more so, as Tbilisi continues its military rhetoric. They still say that Abkhazia is part of Georgia and their nation, and it is very difficult to set up any personal relations against this background.
Conversation held by Svetlana Bolotnikova
Source: Georgia Times