Essays on eastern questions: The Abkhasian insurrection, by William G. Palgrave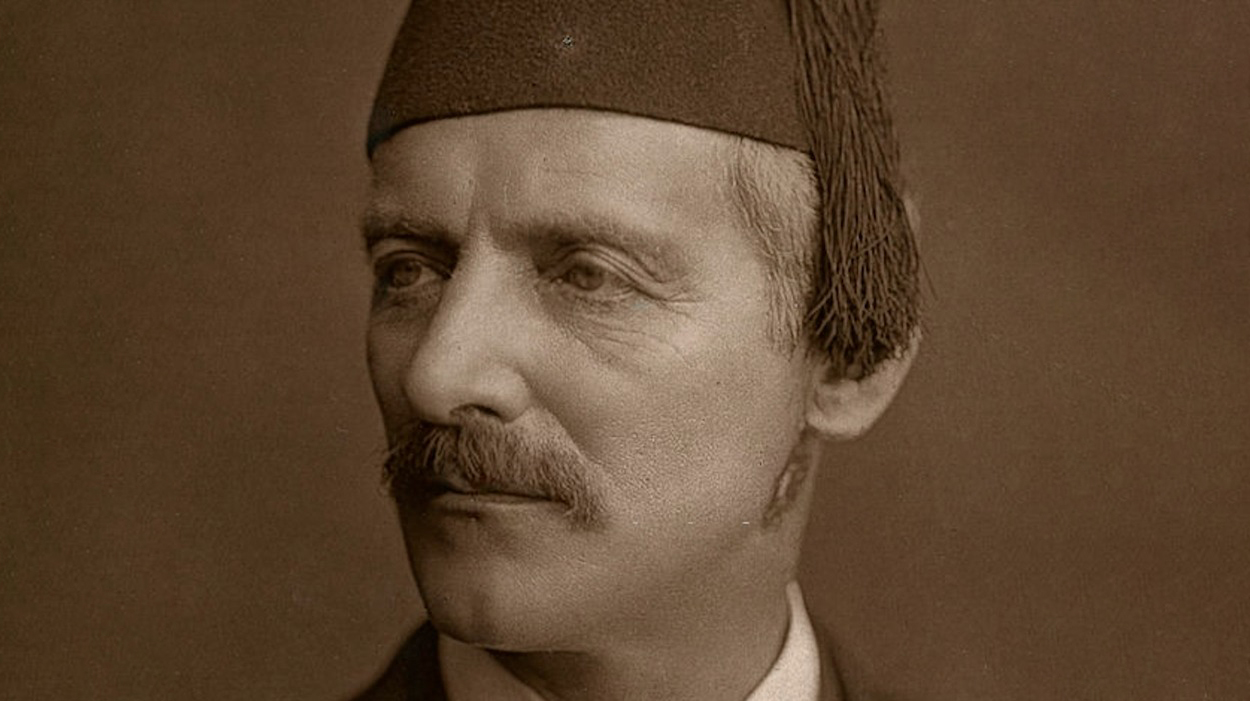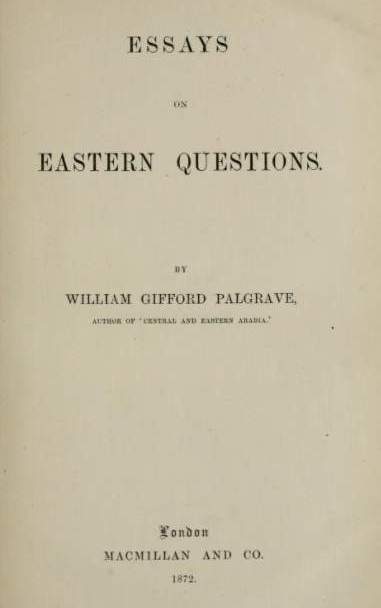 The Abkhasian insurrection
Essays on eastern questions: Chapter VIII
Author: William Gifford Palgrave
Publisher: MacMillan & Co.
Place of Publication: London, UK
Year: 1872
Number of pages: 21 [Essays on eastern questions, 374 pages]
Language: English 

Palgrave, William Gifford (1826–1888), traveller and diplomatist, was born at Westminster, London, on 24 January 1826. He was the second son of Sir Francis Palgrave (1788–1861) and Elizabeth Turner. After serving for a time in the Indian army, Palgrave converted to Roman Catholicism and worked as a missionary in southern India until 1853. He began his long engagement with the Arab world in 1855 as a missionary in Syria, where he witnessed the persecution of Syrian Christians.
After travelling for a year from Syria, through Najd, and on to Bahrain and Oman, he returned to Europe, where he wrote a narrative of his travels. This narrative became a bestseller and has been reprinted many times. It makes no mention of the covert motives for his journey.
After writing this book, Palgrave made yet another volte-face and renounced the Catholic church in 1865. He then entered the British Foreign Office and was appointed consul at Sukhum-Kale (Sukhum, Abkhazia) in 1866, and moved to Trebizond (Trabzon, Turkey) in 1867. In 1868 he married Katherine, the daughter of George Edward Simpson, of Norwich, by whom he had three sons. He was appointed consul at St. Thomas and St. Croix in 1873, Manila in 1876, and in 1878 in Bulgaria, where he was appointed Consul-General. In 1879 he was moved to Bangkok. In 1884 he was appointed Minister Resident and Consul-General to Uruguay, where he served until his death in 1888.
The Abkhasian insurrection
Chapter VIII: Essays on eastern questions 

The events recorded in this Essay had some degree of publicity at the time, and were considerably distorted and misrepresented in European periodicals. Circumstances rendered me, shortly after, a resident in Abkhasia itself, and thus gave me special facilities for investigation of what had happened. In the facts here narrated, we have a fair sample of one of those many outpost struggles, in which Christian Russia has been pitted against semi-barbarous Caucasian Islam; the ultimate result has been much the same in every instance. It may interest the reader to know, that in the following year between twenty and thirty thousand of the Mahometan remnant in the West Caucasus provinces emigrated into Turkey, and settled there, thus making the loss of Russia the gain of her neighbour. 
The full text in PDF can be downloaded by clicking here (540 KB)

ESSAYS ON EASTERN QUESTIONS | CHAPTERS:
I-III. Mahometanism in the Levant
IV. The Mahometan 'revival'
V. The Turkomans and other tribes of the northeast Turkish frontier
VI. Eastern Christians
VII. The monastery of Sumelas
VIII. The Abkhasian insurrection
IX. The poet 'Omar
X. The brigand, Ta'abbet Shurran
The full book in PDF can be downloaded by clicking here (8.26 MB)
See also:

+ Mr Palgrave in the Dismal Swamp | The Pall Mall Gazette, 1867