Meeting of Viacheslav Chirikba and Anna Capello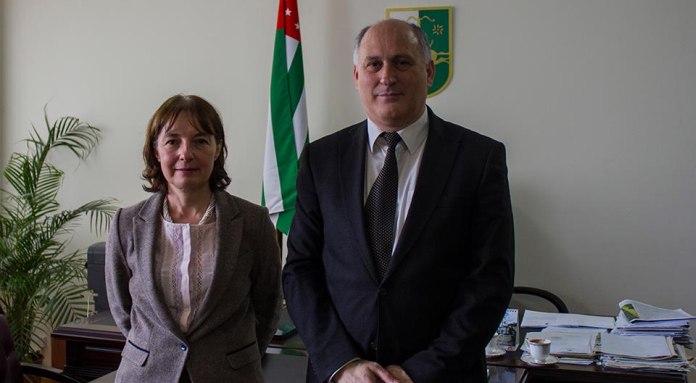 On February 19, in the Abkhazian Foreign Minister was held a meeting of V. Chirikba with the Head of Co-operation Division of the Directorate of Political Affairs of the Council of Europe Anna Capello. Anna Capello told the Minister about the projects planned by the Council of Europe, in particular, on foreign language training for secondary school teachers and professors of the Faculty of Philology, as well as the project on restoration of architectural monuments."
"Learning of foreign languages is quite a priority for us. For example, 10 years ago it was difficult to find someone fluent in English. Today the situation is much improved, though there is still an acute shortage of specialists in French and Spanish. Today, Spanish is especially in demand, since we established diplomatic relations with several countries of Latin America " said the Minister. Viacheslav Chirikba also stressed the importance of introducing of modern techniques into the learning process, especially with respect to the teaching process of Abkhazian language.
Speaking about the restoration of monuments, the Minister emphasized the high importance of the given project: "We need the assistance in preservation and reconstruction of historical monuments of great cultural value. Many of them are on the territory of Abkhazia and their condition requires very careful study," said Chirikba. Anna Capello expressed willingness to discuss a specific plan of action in this direction.
During the meeting were also discussed other issues of mutual interest.