Controversial Prisoner Exchange Throws Abkhazian Leadership into Crisis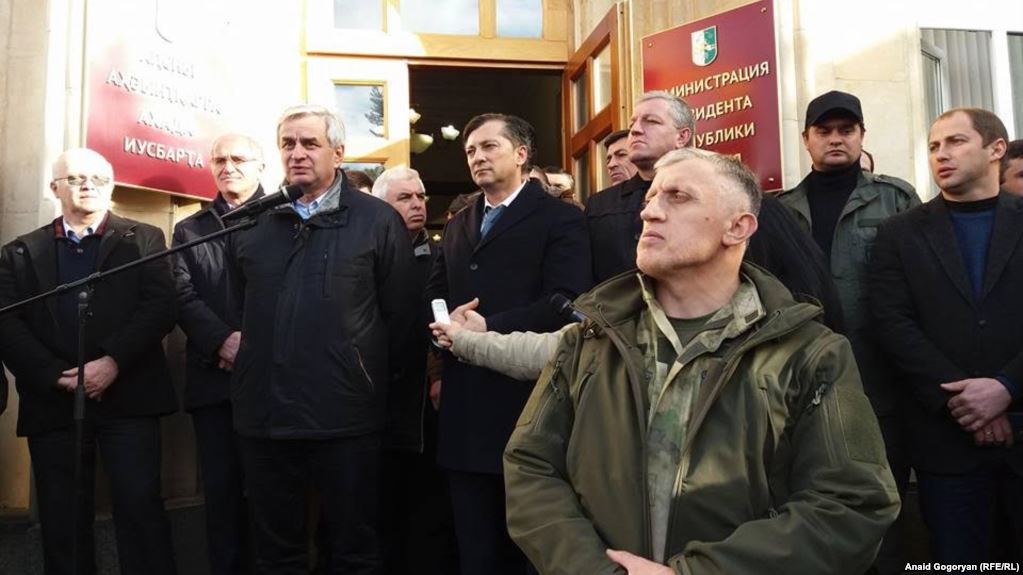 by Bradley Jardine | Eurasianet.org
Abkhazia's release of a Georgian prisoner has resulted in large-scale protests in the breakaway republic and forced its de facto leader into crisis mode.
On December 25, the Abkhazian authorities released Giorgi Lukava, who had served seven years of a 20-year sentence, to Georgian officials across their de facto boundary.
Lukava was part of the pro-Georgian "Forest Brothers" paramilitary group, which carried out a guerrilla campaign against the Abkhazian authorities for many years, before disbanding in 2004. The group was also responsible for killing Abkhazian law enforcement officers as well as civilians.
The news of Lukava's release took many in Abkhazia by surprise, and some criticized the idea that it was an "act of goodwill," as the authorities in Sukhumi framed it. Responding to a local journalist's question on December 26 – "What kind of good-will gesture is it to release a murderer?" – Abkhazian de facto Foreign Minister Daur Kove sought to quell tensions.
"I think that in the near future we will have a comment, explaining how and why Lukava was released," Kove said. "I can only say this is a continuation of the story that was connected with the exchange of four guys who were transferred."
In 2016, four citizens of South Ossetia were released from Georgian prisons, in exchange for Abkhazia's pardon of eight Georgian citizens serving prison sentences in Abkhazia.
"Lukava's name was also on that list," said Kove. "But for some reason he was not transferred at that time."
That explanation failed to mollify many Abkhaz, and on January 3 some took to the streets in protest.
The same day, the territory's parliament formed a commission charged with investigating the circumstances surrounding Lukava's pardon.
"The deputies have several questions - one of them is whether the president had the Constitutional right, under our laws, to singlehandedly sign a decree on the pardon," said the commission's head, Raul Lolua.
Vice-President Vitaly Gabnia also expressed concern about the pardon. "If we pardoned a person convicted of such grave crimes without our knowledge, then we need to say that a mistake was made – and there must be someone responsible," he said.
On January 5, de facto President Raul Khajimba met with protesters in a bid to restore order, and hit back at his political critics in a television interview.
"This decision was taken openly. The first letter I received in office was from the President of South Ossetia in September 2015 requesting a prisoner exchange," he said in the interview. "The transfer of Giorgi Lukava is an integral part of the process of exchanging prisoners."
Khajimba added that an appeal was made to Parliament before any decision was made.
"All the deputies who were then there confirmed that it is necessary to do this," he said. "This process began in March and lasted almost a year."
The president then suggested opposition forces were exploiting the situation for political gain. He also stressed that the right of pardon is a presidential power enshrined in the constitution, and that he acted lawfully: "Prudence should be higher than our ambition. If such a norm (prison exchanges) is considered unacceptable, then it can be abolished."
Khajimba's counterpart in South Ossetia, Anatoly Bibilov, issued a statement of support of Khajimba, saying he was the one who called for Lukava's release.
"We very much hope that by helping our brotherly Ossetian people through the good will of President Khajimba, will not cause social and political tensions in Abkhazia," Bibilov said.
But a previous Abkhazian Minister of Foreign Affairs, Vyacheslav Chirikba, criticized the move, writing on Facebook:
"I was asked in Geneva to consider pardoning Lukava and extraditing him to Georgia. On arrival, he contacted our SGB on this matter, it turned out that he had very serious crimes against our people and he was not liable to pardon. The question was then closed. What happened now?"
Some analysts interpreted the protests as the result of growing Russian influence in the territory. Russia is Abkhazia's primary patron, and one of only a handful of country's to formally recognize its independence.
"Just a pretext to demonstrate anger with a weakening local state system and growing discontent about increasing Russian influence in the region," regional analyst Olesya Vartanyan wrote on Twitter. "Discontent and protest in Abkhazian society has been growing over a longer period, especially with decreased finances coming from Russia after the 2014 annexation of Crimea, and lack of any serious reforms that are so much needed in this de facto entity." 

Source: Eurasianet.org