US Ambassador: 'Georgia should have contacts with Abkhazia'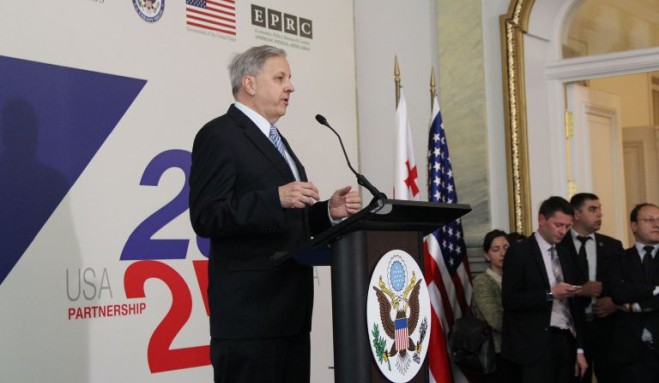 OC-Media -- The US Ambassador to Georgia, Ian Kelly, has suggested Georgia should 'of course […] have contacts with civil authorities' in Abkhazia, and possibly in South Ossetia. He supported Georgian PM Giorgi Kvirikashvili's appeal to Russia to improve relations and calling for 'direct dialogue with the Abkhazians and the Ossetians'. Kvirikashvili has come under intense criticism from the opposition since making the appeal last week. 
'I support the prime minister's initiative to reach out. I understand his frustrations, because we've had 10 years of no progress and it's not in the interest of the Georgian people to have growing borderisation, lack of contacts, lack of trade', Kelly told Netgazeti on 15 March.
He also said Georgia should be cautious in the process. 'I've been dealing with the Soviet Union and then Russia for […] over forty years — and you have to go into it with your eyes open and be very realistic, but I do think that [Georgia] does need to have a pragmatic dialogue with Russia', he said.
'I think also that Georgia needs to have more contacts with, especially with Abkhazia. Not so sure about South Ossetia' he said. This, he added, included contacts 'with people' but also 'to get things done, of course you have to have contacts with civil authorities', he said.
'I agree with the prime minister, there needs to be a new approach, so why not try a new approach', he concluded.
Kelly is due to leave his post as ambassador to Georgia at the end of March, and has said he will take a post teaching at Chicago's Northwestern University
Kvirikashvili had appealed to Russian authorities on 9 March to 'lead our relations out of this vicious cycle', as well as calling for 'direct dialogue with the Abkhazians and the Ossetians'.
He was heavily criticised by opposition groups for this, with a number accusing him of being 'pro-Russian'. Critics said the statement was pretext for taking a step back in Georgia's policy of 'non-recognition and engagement'.
After the government came under fire for the offer of 'direct dialog', Ketevan Tsikhelashvili, Georgia's Minister for Reconciliation, clarified that Kvirikashvili had meant talks 'with the Abkhazians and the Ossetians — their society, with whom we envision living with in future and building a future'.
Kvirikashvili's appeal 'endangers Georgia's national interests'
On 15 March, several opposition parties including the United National Movement (UNM), European Georgia, and the Republicans, released a joint statement criticising the PM's statement. In it, they said Kvirikashvili's appeal 'endangers Georgia's national interests on the international arena and significantly weakens the country with regard to Russian Federation'.
The PM's statement opposes one of the main pillars of Georgia's 'deoccupation policy', they said, that the only side Georgia recognises in the conflict is Russia.
They also called on the government to create a specific format where officials will answer questions prior to and after Geneva International Discussions. The Geneva Discussions were set up in the aftermath of the August 2008 war. They are co-chaired by representatives of the EU, UN, and OSCE and involve negotiators from Georgia, the United States, Russia, Abkhazia, and South Ossetia.
The reaction in Abkhazia and South Ossetia
On 13 March, Abkhazia's Foreign Minister, Daur Kove, responded to Kvirikashvili's statement.
'The problem is that we have not yet seen any real steps on the part of Georgia, which would facilitate the establishment of dialogue and the settlement of the conflict as a whole', he told Abkhazian state-run news agency Apsnypress.
'During the Geneva international discussions, Abkhazians are faced with a complete lack of understanding from the Georgian side of the problems that exist, and a categorical refusal to adopt a joint document on the non-use of force' he added.
South Ossetia's foreign minister, Dmitry Medoyev, called Kvirikashvili's statement 'pretty odd' and 'ridiculous'. In an interview with Netgazeti, he said it's unclear 'how Russia stands in Georgia's way' in talking with Ossetians, as there are Ossetians living in eastern Georgia and Tbilisi.
On 12 March, Russia's Foreign Ministry issued a short statement saying they are 'satisfied' with the spirit of Georgian Prime Minister's statement on 'improving bilateral relations', and are 'ready to go as far as Tbilisi is ready to go'.
The next day, Georgia's Parliamentary Chair Irakli Kobakhidze said Russia's response 'was not an expression of a constructive approach'.
[Read more about Kvirikashvili's statement on OC Media: Georgian PM says Russia's response to his appeal 'leaves space for conversation']
Source: OC-Media