Georgia accused of targeting civilians, by Tim Whewell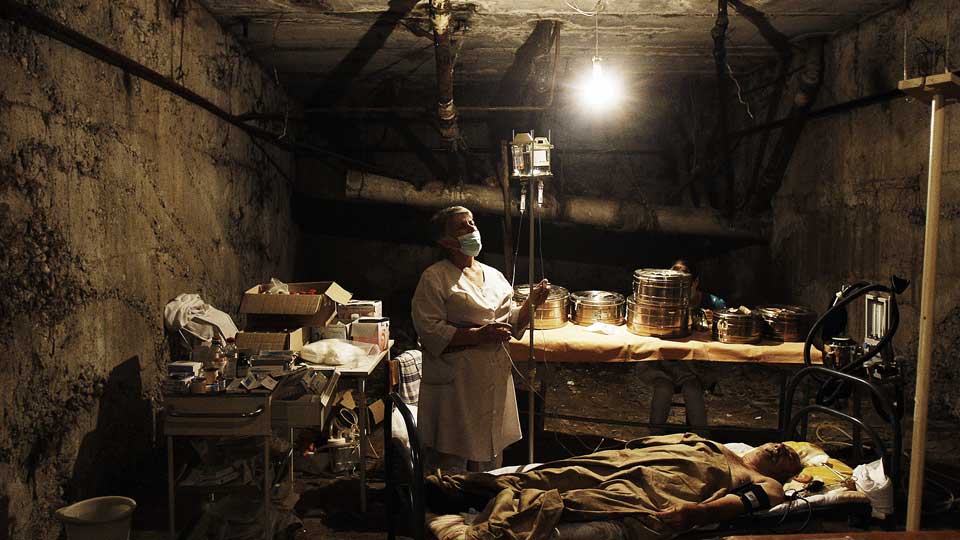 BBC File On 4 [What really happened in South Ossetia?] 
The BBC has discovered evidence that Georgia may have committed war crimes in its attack on its breakaway region of South Ossetia in August.
Eyewitnesses have described how its tanks fired directly into an apartment block, and how civilians were shot at as they tried to escape the fighting.
Research by the international investigative organisation Human Rights Watch also points to indiscriminate use of force by the Georgian military, and the possible deliberate targeting of civilians.
Indiscriminate use of force is a violation of the Geneva Conventions, and serious violations are considered to be war crimes.
The allegations are now raising concerns among Georgia's supporters in the West.
British Foreign Secretary David Miliband has told the BBC the attack on South Ossetia was "reckless".
He said he had raised the issue of possible Georgian war crimes with the government in Tbilisi.
The evidence was gathered by the BBC on the first unrestricted visit to South Ossetia by a foreign news organisation since the conflict.
Georgia's attempt to re-conquer the territory triggered a Russian invasion and the most serious crisis in relations between the Kremlin and the West since the Cold War.
And Georgians themselves have suffered. We confirmed the systematic destruction of former Georgian villages inside South Ossetia.
Some homes appear to have been not just burned by Ossetians, but also bulldozed by the territory's Russian-backed authorities.
The war began when Georgia launched artillery attacks on targets in the South Ossetian capital, Tskhinvali, at about 2330 on 7 August 2008.
Georgia said at the time that it was responding to increasing attacks on its own villages by South Ossetia militia, although it later said its action was provoked by an earlier Russian invasion.
Eye-witness account
Georgy Tadtayev, a 21-year-old dental student, was one of the Ossetian civilians killed during the fighting.
His mother, Taya Sitnik, 45, a college lecturer, told the BBC he bled to death in her arms on the morning of 9 August after a fragment from a Georgian tank shell hit him in the throat as they were both sheltering from artillery fire in the basement of her block of flats.
Mrs Sitnik said she subsequently saw the tank positioned a few metres from the building, firing shells into every floor.
Extensive damage to the five-storey block appeared consistent with her version of events.
She said she and her son were watching television when the Georgian attack began.
"They started firing not from rifles, but from heavy weapons. Shells were exploding."
"We jumped up straight away, switched off the lights and ran down to the cellar."
"And we sat here on boxes. We thought it would end, but the firing got heavier and heavier," she added.
"They went on firing all the next day without stopping. At some point there was a pause, and we saw Georgian soldiers going along the street in their Nato uniforms," according to Mrs Sitnik.
"Then they started firing again, even more heavily. The Grad rockets were coming over all the time."
"How can you trust those people now? What possible friendship can there be? Let them all be cursed, cursed for the deaths of our children."
Neighbours said another resident of the block, Khazbi Gagloyev, also died of wounds received during the attacks.
'Basements targeted'
The Russian prosecutor's office is investigating more than 300 possible cases of civilians killed by the Georgian military.
Some of those may be Ossetian paramilitaries, but Human Rights Watch believes the figure of 300-400 civilians is a "useful starting point".
That would represent more than 1% of the population of Tskhinvali - the equivalent of 70,000 deaths in London.
Allison Gill, director of the Moscow office of Human Rights Watch, said: "We're very concerned at the use of indiscriminate force by the Georgian military in Tskhinvali.
"Tskhinvali is a densely populated city and as such military action needs to be very careful that it doesn't endanger civilians."
"We know that in the early stages there were tank attacks and Grad rockets used by Georgian forces," she added.
"Grad rockets cannot be used in densely populated areas because they cannot be precisely targeted, and as such they are inherently indiscriminate.
"Our researchers were on the ground in Tskhinvali as early as 12 August.
"And we gained evidence and witness testimony of Grad rocket attacks and tank attacks on apartment buildings, including tank attacks that shot at the basement level.
"And basements are typically areas where civilians will hide for their own protection.
"So all of this points to the misuse, the inappropriate use of force by Georgia against civilian targets," according to Alison Gill.
Human Rights Watch will talk only of the "possible" deliberate targeting by Georgian forces of individual civilians, a still more serious charge, though some Ossetians the BBC spoke to in Tskhinvali claim to have witnessed such cases.
Wreckage
Marina Kochieva, a doctor at Tskhinvali's main hospital, says she herself was targeted by a Georgian tank as she and three relatives were trying to escape by car from the town on the night of 9 August.
She says the tank fired on her car and two other vehicles, forcing them to crash into a ditch.
The firing continued as she and her companions lay on the ground.
She showed the BBC the burnt-out wreckage of the car on the town's ring-road, riddled with bullet holes and with a much larger hole, apparently from a tank round, in the front passenger door.
Ms Kochieva says a nurse from her hospital was killed while fleeing Tskhinvali in similar circumstances.
She says she counted 18 burnt-out cars on the ring-road on 13 August, at the end of the war, suggesting there may have been more casualties.
Asked if, at night, Georgian soldiers might not have suspected her car of carrying Ossetian fighters, Ms Kochieva said: "Fighters wouldn't have gone away from town, they would have gone towards town. We were escaping like other refugees.
"The Georgians knew this was the 'Road of Life' for Ossetians. They were sitting here waiting to kill us," she said.
Georgia's Foreign Minister Eka Tkeshelashvili told the BBC, "I can firmly say that the Georgian military, on intention, never attacked directly any civilian object.
"On the surface, the damage to some of the houses in Tskhinvali that can be observed might lead to this conclusion. But to see if some is damage inflicted by direct targeting, for that an in-depth military assessment needs to be done.
"I think the best response is a fully-fledged independent, impartial international inquiry into the issue," she added.
Her British counterpart David Miliband, who visited Georgia immediately after the war to show solidarity with its government, said he took the allegations of war crimes "extremely seriously" and had raised them "at the highest level" in Tbilisi.
Apparently hardening his language towards Georgia, he called its actions "reckless".
But he added: "The Russian response was reckless and wrong".
"It's important that the Russian narrative cannot start with Georgian actions; it has to start with the attacks on the Georgians from the South Ossetians and that is the tit-for-tat that got out of control," he said.
Revenge
The BBC saw evidence of the cycle of revenge since the war, with the demolition of most houses in the former ethnic Georgian villages on the northern outskirts of Tskhinvali.
The houses, whose occupants fled during the war to other parts of Georgia, were burnt by Ossetians immediately after the fighting.
They are now expected to be replaced by a brand-new housing complex with a cinema and sports facilities to be financed by the city of Moscow.
Zaur Gagloyev, a 20-year-old former law student, now unemployed, claimed he was one of those responsible for the burning.
"There were so many provocations in these villages by Georgians," he said.
"For example, they were taking Ossetians as hostages and that's why I feel so angry."
Mr Gagloyev added: "If you want an advice on how to burn a house, just set light to a curtain and the whole house will catch fire."
Asked if he was guilty of ethnic cleansing, he replied, "No, it wasn't ethnic cleansing.
"No-one was killed there. We just let them go from our land. I don't know whether they will return or not," he added.
"But I did everything I could for them not to return. Never. You can call it ethnic cleaning, but I think I just did it to prevent a future war," he said. 
Source: BBC News