"Official Abkhazia": What Is It and What Does It Mean for Our Republic? By Indira Bartsits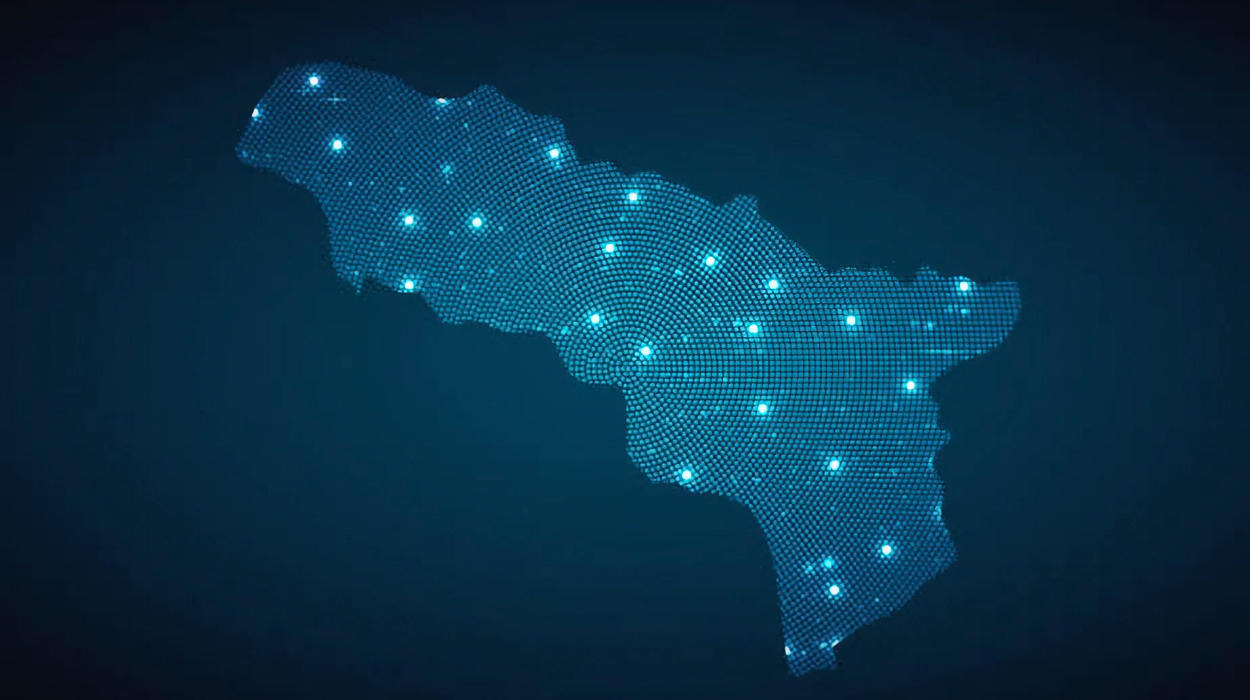 Humanity's development of the global network has reached a point where today, even a three-year-old child can open any webpage on a touchscreen phone. The Internet has opened up new opportunities for the entire world, and today, the concept of the World Wide Web, a network designed for storing, processing, and transmitting information, is universally understood.
Many may not recall that the idea of building an information network was first proposed in 1961 by American scientist Joseph Licklider (1915-1990) in an article dedicated to the concept of a 'Galactic Network.' Another American scientist, Leonard Kleinrock (now 89 years old), a pioneer in Internet technology, provided the theoretical foundation for packet switching in computer networks in his 1961 publication. He was the one to describe the technology capable of breaking files into parts and transmitting them across the network.
The first practical step towards creating the Internet was taken by the The Advanced Research Projects Agency (ARPA) [The Advanced Research Projects Agency (ARPA) gained a "D" when it was renamed the Defense Advanced Research Projects Agency (DARPA) in 1972. The Agency's name briefly reverted to ARPA in 1993, only to have the "D" restored in 1996. -Ed.] in the USA. In 1967, ARPA introduced a plan to build the packet-switching network ARPANET. The first node connected to ARPANET was the Network Measurement Center at the University of California, Los Angeles (UCLA), led by Kleinrock.
A significant moment in history was marked on September 2, 1969, when a team led by Leonard Kleinrock established a data transmission channel between two computers via cable. This event is globally acknowledged as the dawn of the Internet era.
In 1995, the National Science Foundation (NSF) transferred the responsibility for the Internet to the private sector, fostering the expansion of commercial providers and consumers of Internet services. This shift quickly connected millions of computers and hundreds of millions of people worldwide.
In the Soviet Union, the first developments in computer communication date back to 1952, mainly within the military-industrial complex, aimed at enhancing the country's defence capabilities. By 2018, the Runet audience had reached 90 million people.
On May 24, 1993, the RELARN (Russian Educational Academic Research Network) association was established in Russia to support the development of the Internet through state funding.
Finally, on December 4, 1993, major Russian providers signed an agreement "On the Procedure for Administering the RU Zone." Following this, the duties of administering and technical support of the domain were transferred to the Russian Research Institute for Public Networks Development (RosNIIROS), which then submitted an application to the International Network Information Center InterNIC for the registration of the .ru domain.
The Expansion of Internet Technology in Abkhazia
The number of internet users around the globe increases every second. Abkhazia gained access to the global network in 1998, thanks to the Soros Foundation's Abkhazian branch, which facilitated satellite internet access for its population. This delayed entry into the digital world was a consequence of the republic's lack of international recognition and the ongoing unresolved Georgian-Abkhazian conflict.
The first Internet connection in the state information agency "Apsnypress" was established on October 18, 2001, a milestone made possible by enthusiast Oleg Lobanov (Telecommunication Company "A-Telecom").
During those times, Abkhazia was under tense conditions, especially with band formations led by the Chechen field commander Ruslan Galayev invading from Georgia. [As the second Chechen war raged in 2001, Ruslan Gelayev, who had previously fought alongside Basayev during the Georgian-Abkhazian war on the Abkhazian side, led a group of Chechens from eastern Georgia's Pankisi Gorge. This movement, reportedly with official support, aimed to break out of the upper Kodor Valley. Gelayev was allegedly hired by then-Georgian President Eduard Shevardnadze for a failed incursion into Abkhazia. The crisis resulted in the deaths of forty people, including nine U.N. peacekeepers. Their helicopter was shot down over the Georgian-controlled part of the valley on October 8. -Ed.] This situation necessitated swift dissemination of information globally.
Abkhazia's first mobile operator, "Aquafon-GSM", emerged in 2003, followed by the joint venture LLC "A-Mobile" in November 2006.
Post-2008, after Russia recognised Abkhazia, the situation improved significantly. Russian communication channels were officially provided to Abkhazian operators, leading to the modernization of their telecommunications infrastructure.
However, Abkhazia still lacks a national domain due to its limited international recognition. National domains are distributed by the international Centre ICANN, which, for example, allocated the domain name USSR.su. If Abkhazia gains broader recognition, it could potentially acquire domain names like .ab or .ap.
Efforts by state agencies and private groups to register a domain name specifically for the Republic of Abkhazia through international organisations and Russian partners have been ongoing since 2010. Entities like RUP "Abkhazsviaz" and APS have tried but have not yet succeeded due to various obstacles, including financial constraints.
In response to these challenges, the Agency for Government Communications decided in 2017 to launch a national internet segment using the domain name www.apsny.land. This domain currently links to the web resources of over 50 official organisations and departments hosted on a platform within Abkhazia.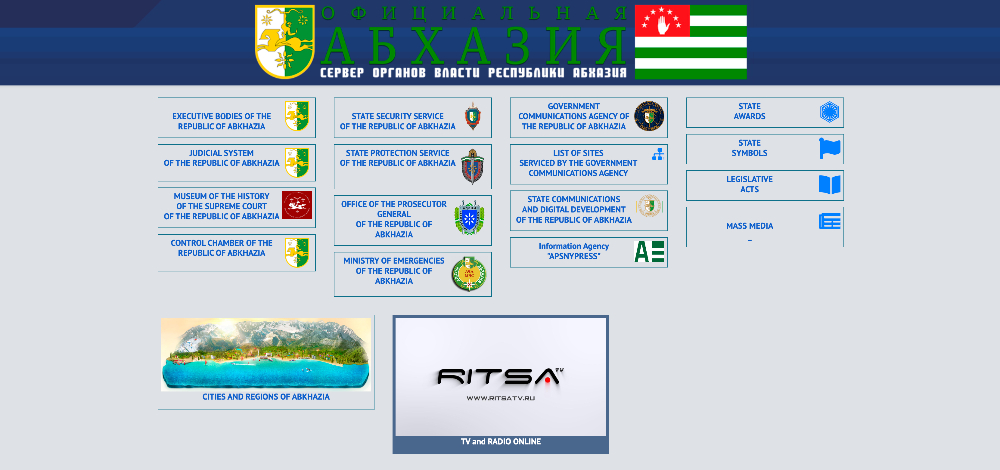 The Agency for Government Communications of Abkhazia (APS) was established by a decree from the first president, Vladislav Ardzinba, on October 15, 1999. For over two decades, APS has been providing special communication and information services to government bodies, organisations, and institutions, playing a crucial role in both the digital and overall security infrastructure of Abkhazia.
The Agency for Government Communications (APS) in Abkhazia operates under the direct supervision of the state's head. Today, APS's capabilities include utilising cutting-edge technologies and services for connectivity, aiding in the creation of corporate networks with data storage servers, and providing a comprehensive suite of hardware and software for setting up security and fire alarm systems, access control, video surveillance, automatic fire extinguishing systems, and control and dispatch systems for various facilities.
Since 2017, APS has been offering web development services (including websites and portals) and hosting for government institutions, organisations, and companies. It also provides technical maintenance and support. All services are hosted on the technical infrastructure of its own data centre, equipped with redundant uninterrupted power supply systems, all located within Abkhazia.
Despite these offerings, not all state departments and institutions utilise the services of APS. This may be due to either a lack of awareness or a reluctance to allocate an average of 35,000 rubles (around $390) from the state department's budget for website creation and promotion in the modern internet landscape.
For 30 years, there has been no legislative regulation concerning the state of official information resources of government and administrative bodies in Abkhazia. The decision to find website developers within or outside Abkhazia typically lies with each head of department. However, the issue arises when there is a change in leadership or personnel responsible for information support; often, website maintenance and functionality decline drastically. Furthermore, tracing the ownership or responsibility for these sites can be challenging, with many sites appearing 'anonymous' or untraceable online.
Official government bodies, especially those within the Cabinet of Ministers, are expected to maintain websites—albeit simple—with accurate information about the new leadership, team, departmental goals, tasks, and work carried out. The digitization effort, like the one in the Ministry of Justice, is crucial in the rapidly evolving digital era. The content quality, information delivery, lack of feedback, and access to departmental resources and services require serious analysis.
Exceptions to this rule include the website of the Administration of the city of Sukhum, the Ministry of Culture, and "Apsnypress," serviced by APS "Official Abkhazia".
Today, Abkhazia has a growing number of ambitious and successful IT professionals, some of whom own their businesses or work informally, often without formal licensing, certification, or even a degree in higher or secondary technical education. These specialists either develop websites for organisations themselves or act as intermediaries between Abkhazian departments and IT professionals outside the state, sometimes of questionable origin and affiliation. Initially, these relationships may yield impressive results: sophisticated websites, dynamic photos, and special effects. However, over time, issues like website crashes, partial photo loading, or service suspension due to insufficient funds may arise.
Operational information updates are also a concern, with the latest information on state institution websites often being outdated by months, a year, or even several years.
For instance, the official website of the state Association of Pension Funds "Resort Pitsunda" falls short in terms of both information content and technical standards.
Especially problematic is the issue of organisational websites following a change in power. This started in 2004, when the official internet resource of the country's first president, Vladislav Ardzinba, became a private site and its fate remains unknown, with the information it hosted completely disappearing.
The Digital Landscape and IT Talent in Abkhazia
Changes in power and active personnel policies in Abkhazia naturally impact the websites of governmental bodies. The attachment of a website to an individual or a private developer often leads to loss of access when leadership changes, forcing new management to recreate these sites and allocate additional state budget funds for the purpose.
There's a growing realisation of the need to standardise the registration, creation, hosting, and servicing of official web resources of government and administrative bodies, as well as municipal entities. Such standardisation could pave the way for the creation of a digital government, akin to the model implemented in Tatarstan (Russian Federation).
An official website should be a state-created product within the country, supported by the appropriate technical infrastructure.
Currently, the cost of developing a website through the Agency for Government Communications in the APSNY.LAND zone averages around 35,000 rubles. This is a manageable expense for many Abkhazian departments, ensuring the security and maintenance of their websites.
The number of skilled IT professionals in Abkhazia is noteworthy. They work successfully both in APS and in the two mobile communication companies - JSC "AQUAFON-GSM" and LLC "A-Mobile". These IT experts are ambitious and successful, owning individual enterprises or working informally, sometimes without official licensing, certification, or higher technical education.
Among them is Denis Danko, a pioneering post-war IT specialist in Abkhazia. As a teenager, he was invited to the Abkhazian Ministry of Foreign Affairs to type texts for emerging Abkhazian diplomacy. Danko grew in his field and has worked at an international level, including a stint at the UN.
Today, Abkhazia boasts many individuals like Denis Danko, including IT specialists who contribute significantly to digital advancements in Russia and other countries. This talent pool is a testament to the fact that Abkhazians are capable digital technology specialists who do not necessarily need to leave their homeland for Silicon Valley or Skolkovo. Their work often goes unnoticed due to its behind-the-scenes nature.
The Abkhazian state must nurture and support these local intellectual talents. Identifying and encouraging school children with a keen interest in computers, the internet, and IT technologies is crucial and not prohibitively expensive.
In Sukhum, the unique "STEM Laboratory" project by the Dzhonua brothers is making strides in teaching children computer literacy, languages, and intellectual development. Unfortunately, this initiative is unique and has no counterparts in other regions of Abkhazia.
In Moscow, Vakhtang Tuzhba, an active member of the Moscow Abkhaz diaspora, has been successful in this field. Tuzhba, an entrepreneur and founder of the revolutionary service @tapper.cloud and the venture startup studio @foundarium, has announced the potential introduction of new payment services in Abkhazia through "A-Mobile" offices in collaboration with @tinkoffbahk.
There are also students in Abkhazia who have completed internships in IT and web development. One such example is Daniel Gunba, an IT specialist and entrepreneur in the virtual gaming business based in Malta, showcasing the global reach and capability of Abkhazian talent in digital technologies.
Educational Progress and Digital Infrastructure in Abkhazia
As time progresses, the increasing competition in the educational sector is gradually transforming it into a lucrative business. Soon, cities and regions in Abkhazia will likely witness the emergence of relevant educational centres. Hence, the importance of teaching computer literacy and information security cannot be understated, although the term 'computer' itself seems outdated with the ubiquity of smartphones. Nevertheless, analog digital communication is preserved due to its reliability, especially during nationwide power outages.
Currently, the Agency for Government Communications (APS) employs highly educated specialists who successfully safeguard Abkhazian websites against frequent hacker attacks, a byproduct of the current geopolitical situation and the country's partial international recognition.
"Official Abkhazia," as represented by the APS, has garnered recognition in the global internet community. An example of this is when measuring internet speed from the APS network, the provider is accurately identified as the Government of Communication Agency Republic of Abkhazia. This recognition is evidenced by a photograph from the computer of APS Director Givi Achba (Aps-abkhazia.su).
Since 2017, the APS has been offering government institutions, organisations, and companies services for developing web resources (websites and portals) and hosting them on the Internet, along with technical maintenance and support. All these services are provided from the technical base of its own data centre, equipped with redundant uninterruptible power supply systems. Clients are encouraged to select solutions that best fit their organisational activities and service development prospects.
The APS currently provides hosting and has created and secured over twenty departmental and organisational websites.
Ministries of the Republic of Abkhazia
State Committees of the Republic of Abkhazia
State Administrations of the Republic of Abkhazia
State Services of the Republic of Abkhazia
Judicial System
Courts of General Jurisdiction
Local Government Bodies
Public Information and Other Organisations
This article was published by AbkhazInform and is translated from Russian.