It is terrible, not to say a horror! By Inal Khashig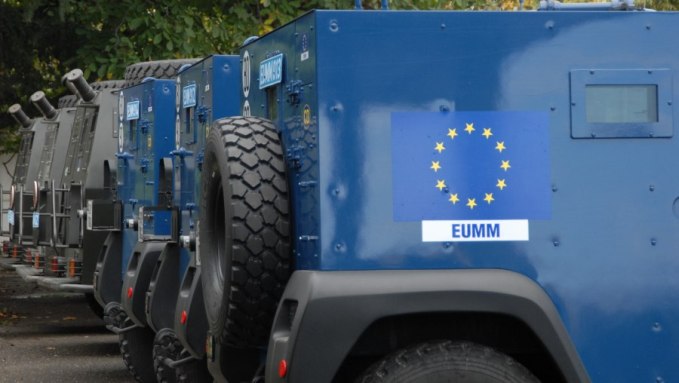 Ekho Kavkaza -- The Ministry of Foreign Affairs of Abkhazia, dissatisfied with the refusal to register very serious incidents in the border-area, including several murders, slammed the "door" in the face of the head of EU Monitoring Mission in Georgia, General Andrzej Tyszkiewicz. Now the road to Abkhazia is for him barred – the Pole has been declared 'persona non grata'. Naturally, the EU has not stood aside but has stood up for their representative. Catherine Ashton has done this herself.
If the EU had expressed in such strong terms their dissatisfaction with Georgia on this or that occasion, then Tbilisi, as has happened more than once, would have expressed deep remorse and would have tried, bowing and curtseying the while, to recoup the situation from a safe distance. But, unlike the Georgians, the Abkhazians could be tipped into a deep swoon by a screech from the EU – it does not, after all, sound to them at all like the voice of God. Whilst European bureaucrats might strive to give Abkhazia a dressing down for improper behaviour, in Sukhum this is perceived as a scene from some infinitely distant Broadway show, amusing but totally divorced from real life. Their scorn is completely understandable. Abkhaz-European cooperation, already stalled at each bump in the road, after the recognition of Abkhazia's independence by Russia, became altogether an issue in itself. It is not that the EU is no longer interested in Abkhazia – it still is; all the programmes are now simply conditional upon the categorical imperative: any help or cooperation is to be offered courtesy only of Georgian palms. The Abkhazians, even during the blockade of the nineties, tried to reject such proposals, and now, when most of the problems are solved by Russian money, "stale honey-cakes" from Brussels attract them no more than a serious art-collector is attracted by cheap souvenir postcards.
Nevertheless, we cannot say that Europe is of no interest to the Abkhazians. It is of interest. It is just that the conditions for possible cooperation discourage any desire to pursue it. Boris Yeltsin, trying to help his friend Eduard Shevardnadze crush the Abkhazians, once drove us into a total economic blockade and political isolation, the result of which was universal and grinding poverty. Under Putin, the policy changed dramatically. The Kremlin lifted the blockade and began to grant citizenship and pensions, to repair roads, schools and hospitals, to help the Abkhazian army, etc. And all without any onerous conditions. Later – after recognition – Moscow began to insist on certain obligations in exchange for aid, but this happened when Abkhazia and was already deeply integrated into the Russian space.

In general, two powerful geopolitical players, Europe and Russia, began their "conversation" with Abkhazia almost in the same key. Then, one of them, changing its strategy, became a friend and partner, whilst the other was an ill-disposed stranger, and as such it remains.

It is clear that the old lady that is Europe cannot be so easily reconstructed, but even a few light, barely noticeable dance-steps away from the general line could improve the atmosphere of cooperation, even if homeopathic Abkhazia is hardly the most urgent problem for European civilisation. A start could be made, for example, by trying to work on educational programmes. Whilst Mr. Tyszkiewicz scornfully brushed aside the Abkhazian dead, an altogether large-scale Russo-Abkhazian Humanitarian Forum was taking place in Sukhum. It was announced there that Moscow would this year set aside 150 places in the best Russian universities for Abkhazian applicants. As to how many of our citizens will be able to go this year to study in Europe there is a shameful silence. Perhaps that is precisely why the formidable Catherine Ashton will remain for the Abkhazians just a laughable cartoon-character.
This article was published by Ekho Kavkaza and is translated from Russian.