Murat Yagan dies in Canada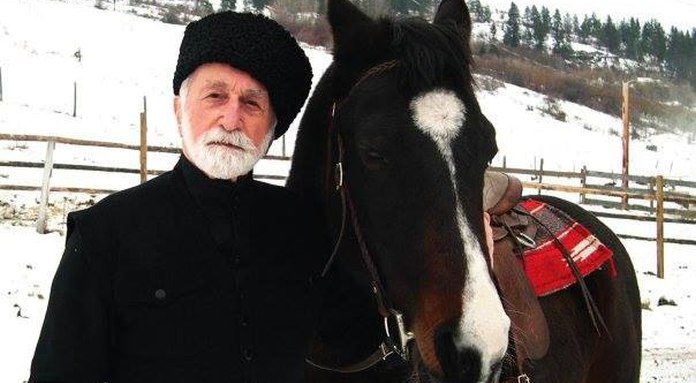 The well-known figure from the Abkhazian diaspora, Murat Yagan, has died in Canada at the age of 98.
Murat Yagan was born in Turkey. Here he received his education and began work. As a result of various temporal and spiritual searches he found himself in Canada, where he later founded the society "Kebzeh".
Murat Yagan's book "I Come from Behind Kaf Mountain" is his spiritual autobiography. It has been translated into Russian and Abkhaz.
In 2002, by decree of the first President of Abkhazia, Vladislav Ardzinba, Murat Yagan was awarded the highest award of the state, the Order "Akhjdz-Apsha" [Honour and Glory] (first class).
At the ceremony, held on 6 April 2002, in the premises of the Abkhazian State Drama Theatre named after S. Chanba, Murat Yagan said: "I am grateful for the honour, but I am embarrassed that I cannot express my gratitude in the native Abkhaz language". At the same time, he stressed that he considers it a great honour to have been awarded this Order of his historical homeland. "I am infinitely happy and confident that we are destined for a bright future. I hope all our dreams will come true," said Murat Yagan.
The last time that he communicated with his historical homeland was to offer congratulations on the 20th anniversary of the Victory in the Great Patriotic War of Abkhazia (1992-93).
"It is with great joy in our hearts that we celebrate the twentieth anniversary of the Victory, which brought the independence of our beloved Apsny. We, the members of the Kebzeh community, although considerably distant from you, are with you heart and soul. We greatly value your dedicated service to the country in order to ensure lasting peace and international respect for Abkhazia ... Forever in our hearts will remain etched the memory of those who gave the most precious thing, namely their lives, for their motherland, ensuring that great Victory which we celebrate today," were the words contained in the telegram that was sent to Sukhum on 30 September this year.