Meeting with the Delegation of the PRC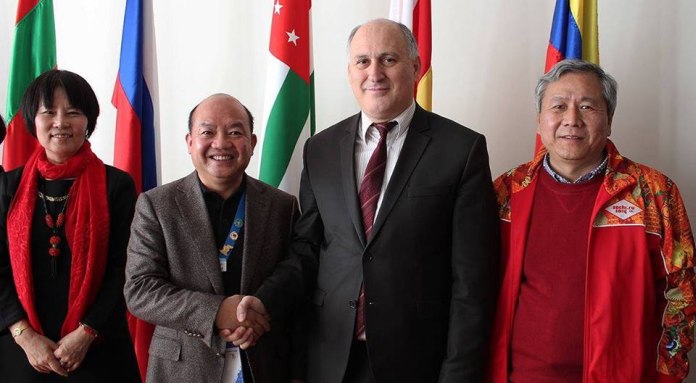 On February 13 the Foreign Minister of the Republic of Abkhazia Viacheslav Chirikba held a meeting with the delegation of the People's Republic of China. The Deputy Foreign Minister Irakli Khintba, the Honorary Consul of the Republic of Abkhazia in the PRC Ge Zhili, the Honorary Consul of the Republic of Abkhazia in Nizhny Novgorod Oblast Vladimir Litvinchuk and Officer of the Department of Latin America, Asia, Africa and APR L. Nersesyan.
Greeting the guests from China, the Minister noted: "Rich history, culture, art and literature of China are well known in Abkhazia and it is a good basis for establishment of a cultural dialogue between little Abkhazia and big China. From economic and technological prospective China is a leading country and establishment of comprehensive relations with this great power is very important for us. We hope that relations which we are founding these days due to the efforts of our Consul Ge Zhili will become a good basis for fruitful and effective cooperation between the Republic of Abkhazia and the People's Republic of China".
Chinese businessmen noted unique natural conditions of Abkhazia which create prospects for broad development of tourism and agriculture. «For the last thirty years China has been effectively developing, for example the Yunnan Province is visited by 30 million tourists a year. We can apply the experience which we have attained during these years in Abkhazia.», - the Head of Delegation, businessman Wang Tianquan noted. «During the Soviet period this sphere was one of the most developed in Abkhazia and I think that if you use modern technology you will continue to produce a quality service», - Wang Tianquan noted.
Issues of prospective cooperation and establishment of the Abkhaz-Chinese contacts in the spheres of education, culture and sports were also discussed at the meeting.