Non-Political Discussion on Road Safety in Abkhazia
SUKHUM / AQW'A — The Public Chamber of Abkhazia held a two-hour discussion on road safety and the performance of the traffic police. Minister of the Interior, Walter Butba, and his deputy, Beslan Chkadua, addressed questions from the public. The Minister emphasized the importance of keeping the discussion apolitical, and his deputy then presented statistics on road accidents.
Beslan Chkadua reported that in 2022, 84,000 traffic offenses were committed, resulting in fines of over 71 million rubles (around $1M) being collected from violators. Tragically, 64 people lost their lives and 296 were injured in accidents. The most frequent offense was exceeding the speed limit, with over 22,000 cases; followed by improper overtaking and maneuvering; and finally, driving under the influence of alcohol or drugs, with 6.5 thousand cases. A staggering 50% of all violations were committed by individuals between the ages of 20 and 30. Despite the number of vehicles in the republic increasing from 38,000 in 2017 to 70,000 in 2022, the traffic police workforce has faced a significant shortage, with only 300 employees now serving 70,000 vehicles, compared to 500 employees for 38,000 vehicles. There appears to be a lack of interest in working for the traffic police.
According to Beslan Chkadua, the traffic police are facing an issue with inadequate technical equipment. Currently, there are only seven cameras for photo and video recording on the section of the road from Psou to Sukhum, despite a high frequency of speed limit and overtaking violations. He emphasized the need for more cameras to be installed in this area.
Walter Butba informed that each camera costs 2.5 million rubles (around $35,000), and that the Ministry of Internal Affairs periodically purchases and installs them. However, he noted that the cameras are frequently damaged or destroyed within ten days and that the department faces resistance from drivers. Additionally, the equipment often malfunctions due to inconsistent power supply.
The cameras are also necessary for monitoring compliance with seat belt regulations for drivers and front seat passengers, as there are many violators, making enforcement difficult.
There is a belief that seat belts are ineffective at speeds over 120 km/h, however, Walter Butba disagrees with this perspective. He stated that such high speeds are rare during collisions, and that involved parties typically have the opportunity to slow down. He emphasized that nearly 40 people in Abkhazia could have been saved from road traffic fatalities each year if everyone had been wearing seat belts, as two-thirds of these deaths could have been prevented.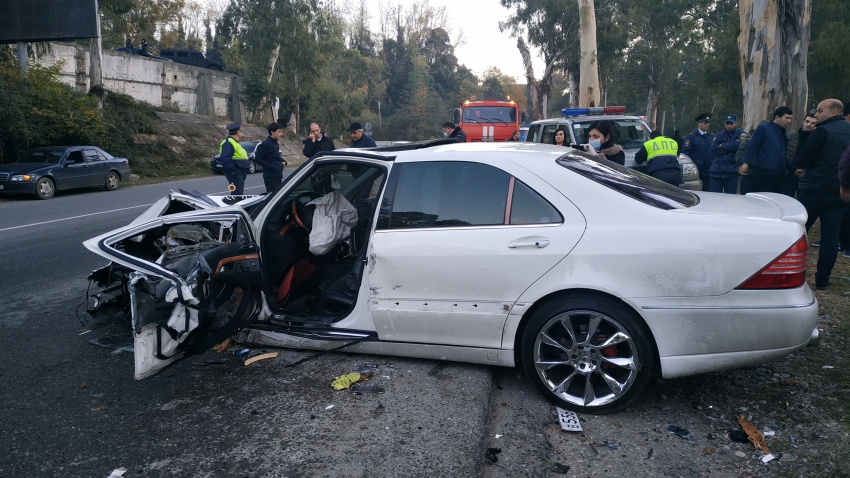 Despite having a population of only 250,000, an average of 70 people lose their lives annually in road accidents in the republic.
Ruslan Khashig, a member of the Civic Chamber, posed several inquiries during the discussion:
"There is a lot of conflicting information in society regarding the cameras. Who terminated the agreement for the cameras installed in the seventeenth year? Who owned them? How many fines were issued using the cameras? How many accident cases were taken to court, and how many individuals were punished? Has the Control Chamber examined the work of the traffic police, and if so, what were the results? Are the leadership of the Ministry of Internal Affairs and the government considering creating motorsport facilities for individuals to pursue their interests? Additionally, why is there a lack of statistics on the Ministry of Internal Affairs' website, and why did it take so long to restore this section to the site?
Beslan Chkadua responded to a question regarding the cameras:
"The cameras were property of the Transbezopasnost company until 2020 under a contract that had specific terms. In 2020, the contract was terminated as the cameras were fully paid off. All revenue from fines still goes to the state budget, and the cameras are now owned by the Ministry of the Interior and listed on their balance sheet. In 2022, 22,056 violations were detected through the use of these cameras.
Walter Butba added that although commercial companies offer to install cameras, they do so at inflated prices and want to gain a profit and control the flow of information in the country. He believes that these companies should not have access to information as it affects security issues such as motorcades. The minister stated that the government has approved a targeted security program costing 200 million rubles, designed to run for three years. The Ministry of Internal Affairs is setting up its own Information Processing Center, which requires software and experts. He noted that the leadership of the Ministry of Internal Affairs is unaware of how many fatal accident cases go to court as all materials are handed over to the prosecution office and their progress is not monitored.
Walter Butba's response to the Control Chamber inspection question was convoluted, making it difficult to grasp the point. He stated that he is aware of all these problems, which are mostly systemic in nature. He declined to label it as corruption, but noted that these issues can be solved if the system is properly managed. He stressed the importance of finding and solving problems at home, but also acknowledged that other aspects are being considered through the prosecutor's office and legal plane. He emphasized that he does not intend to cover up any wrongdoing or destroy what is currently in place, as there is a shortage of human resources and professionals.
Walter Butba replied that the creation of a racetrack for motorsports enthusiasts is not a priority for the Ministry of Internal Affairs, as it is currently facing many more pressing issues. When asked if the Ministry keeps statistics on officials who violate traffic laws, he stated that the Ministry does not keep such data but will report any information it receives regarding violations to the superiors.
He added that the parliament has approved the Ministry's proposal to revoke a driver's license after the first instance of drunk driving and reminded that tinting the windshield and front-side windows is forbidden. He mentioned that the president set a positive example by having the windows on the cars of his convoy tinted, despite objections from his security personnel.