Viacheslav Chirikba and Herbert Salber discussed the agenda of the forthcoming round of the Geneva Discussions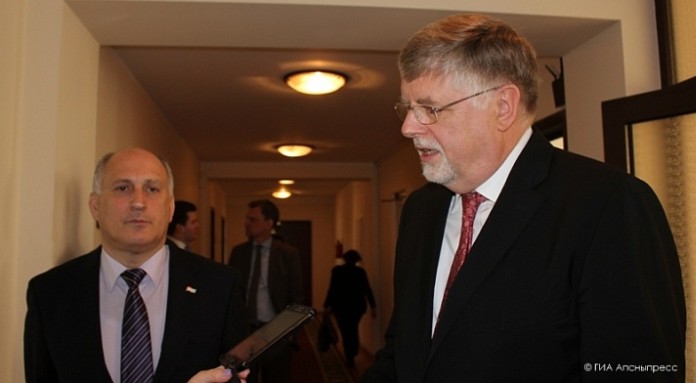 SUKHUM -- "We discussed in detail the problems of the last round of Geneva discussions, as well as the format and agenda of the forthcoming round, - commented on the results of the meeting Viacheslav Chirikba. - Encouraging results have been achieved for the search of missing persons and the return of the cultural heritage of Abkhazia".
According to him, the priority themes for the Abkhaz side to be put to the site of the Geneva discussions are safe resumption of the mechanism of incident response, as well as issues of visa policy, studying abroad, recognition of documents of the RA. Working groups already on their performance in international negotiations. However, mutual understanding on the problems of refugees has not been reached yet and the Abkhaz side is against this discussion at Geneva site. In addition, as emphasized Herbert Salber, work on the draft treaty on the nonuse of force is contuining. "There are certain expectations. Work on the text of the document is on the go. And, perhaps, certain results will be achieved", - said Salber.