NKR Foreign Ministry delegation participating in the anniversary events in Abkhazia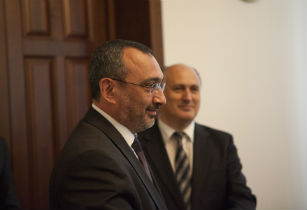 The delegation of the Foreign Ministry of the Nagorno Karabakh Republic, headed by Minister Karen Mirzoyan, is participating in the events dedicated to the 20th anniversary of the Foreign Ministry of the Republic of Abkhazia.
The NKR Foreign Minister delivered a speech at the ceremonial meeting taken place on May 17, congratulating the Abkhaz colleagues and noting that the people of Artsakh were attentively following the developments in Abkhazia and were glad for its successes.

"The events, which have been taking place in the world for the recent years, prove that the realization of peoples' right to self-determination remains the most optimal means for the resolution of international disputes", Karen Mirzoyan, in particular, emphasized.

The same day, a meeting of the delegation of Artsakh with Minister of Foreign Affairs of Abkhazia Viacheslav Chirikba took place, at which the parties discussed the prospects of further cooperation between the Foreign Ministries of the two countries and the issues of mutual interest.

In the framework of the festive events, a meeting of the Foreign Ministers of Abkhazia, South Ossetia, Transdniestria, and Nagorno Karabakh took place, at which the development and consolidation of bilateral and multilateral cooperation were discussed.

During the visit, a meeting of the delegation of Artsakh with representatives of the Armenian community of Abkhazia also took place.
Source: Armenian News - Tert.am