Statement by the Ministry of Foreign Affairs of Abkhazia in response to statement of Hillary Clinton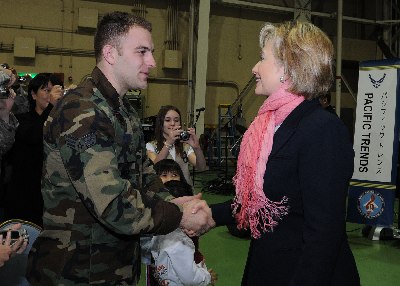 Hillary Clinton greets military members and their families at Yokota Air Base Japan
Statement by the Ministry of Foreign Affairs of Abkhazia.
Hillary Clinton, the US State Secretary has made another appeal to Russia to withdraw its military forces from Abkhazian and South Ossetian territories. It reflects shallow and biased attitude to the conflict between Abkhazia and Georgia and consequences of the August 2008 war.
In fact, she called our country "occupied Georgian territories"
It is necessary to mention that Russian military presence in Abkhazia is in accord with interstate agreements between Russia and Abkhazia. Russian troops guarantee security in the region and can prevent aggressive actions from Georgia which with the tacit consent of the United States is preparing for the new plan of attack.
Such open pro-Georgian position of the United States which is one of the co-chairs of the Geneva Discussions raises reasonable doubts in Abkhazia concerning appropriateness of its further participation in this international forum.
In response to such statement Abkhazian side proposes the US State Department to give better explanation for the meaning of the words such as "occupied Georgian territories" and "inflexible support of Georgian integrity", by this to ground its position more clearly since such statement provokes aggressive aspiration of Georgia to restore its "territorial integrity" by force with more open US support.
Speaking of the firm intention to support Georgia United States also should understand that Abkhazia is strictly adherent to strengthening its independence and democracy for the sake of peace and stability in entire region.
No other country in the world has been placing such a big number of military bases as the US has. In this case, following Mrs Clinton's position means that Iraq, Afghanistan, Columbia, Japan, Korea, Philippines and European countries such as Portugal, Netherlands, Iceland, Greece, Germany, Italy and Kosovo with troops of many thousands are territories occupied by the United States.
The Government of Abkhazia is concerned with such unambiguous statement by the Head of the US State Department and has to modify its position on the Geneva Discussions.
7th of October, 2010