Tensions Rise in Abkhazia on Eve of Unpredictable Presidential Run-Off, by Liz Fuller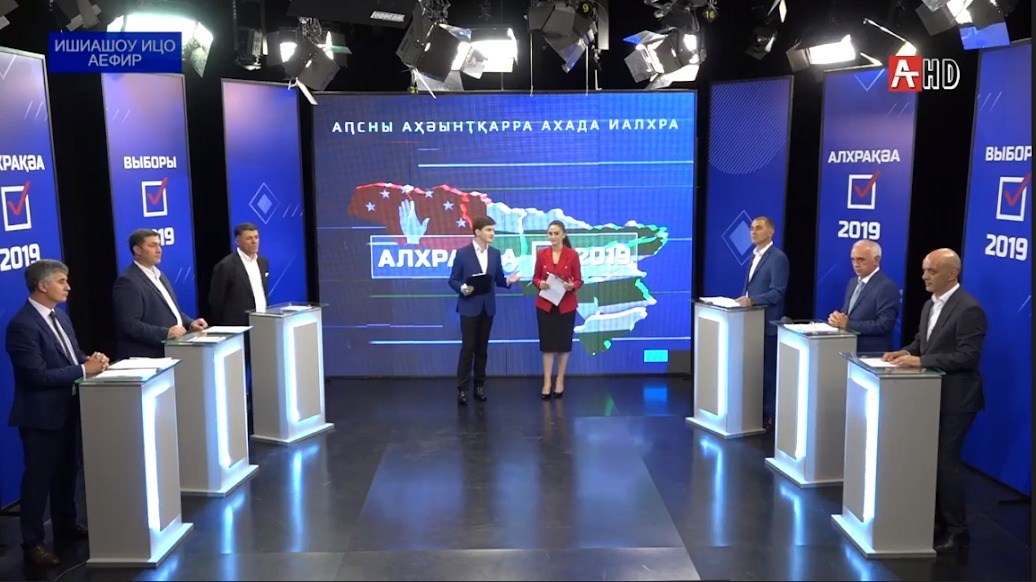 Liz Fuller | Special to Abkhaz World
As widely predicted, voting in the 25 August presidential ballot in Georgia's breakaway Republic of Abkhazia proved inconclusive: none of the nine candidates garnered the 50 percent plus one vote required for an outright win.  Consequently, a run-off has been scheduled for 8 September between the two highest placed candidates, incumbent de facto president Raul Khajimba, and Alkhas Kvitsinia, who is backed by a coalition of opposition parties. The two polled 24.83 and 22.91 percent of the vote respectively. http://apsny.ru/news/index.php?ID=41705 Oleg Arshba, who placed third, received 22.56 percent, just 287 votes fewer than Kvitsinia.
The outcome of the first round of voting reflects both widespread popular disillusion with the current leadership and the lack of a convincing strong alternative. Initially, it was anticipated that the ballot would be a two-horse race between Khajimba, a Soviet-era KGB officer who came to power in 2014 http://www.rferl.org/content/caucasus-report-abkhazia-khajimba/26550800.html as a result of what many Abkhaz regard as a constitutional coup that culminated in the forced resignation of then President Aleksandr Ankvab, and Aslan Bzhania, head of the APRA Fund for Socio-Economic and Political Research and one of the leaders of the Bloc of Opposition Forces established in January 2015. Bzhania placed second to Khajimba in the August 2014 presidential ballot, which Khajimba won by the slenderest of margins – just 559 votes more than the required 50 percent.
In mid-April, however, Bzhania was hospitalised with what Moscow physicians diagnosed as viral pneumonia. One month later, his supporters claimed on the basis of medical analyses conducted by a Munich laboratory that Bzhania had been poisoned with heavy metals, https://civil.ge/archives/306266 and demanded that the election be postponed. The date was duly put back from 21 July to 25 August, but on 14 July Bzhania announced from Germany, where he was taken for medical treatment, that his health precluded his participation in the ballot. He therefore called on his supporters to back Kvitsinia, chairman of the opposition party Amtsakhara (Keep the Home Fires Burning), whose core membership is veterans of the 1992-1993 war that ended with the loss of Georgia's jurisdiction over the region and Abkhazia's de facto independence.
Since January 2015, http://www.rferl.org/content/new-abkhaz-leader-election-promises-/26779335.html just months after the start of Khajimba's first presidential term, Amtsakhara has systematically criticised Khajimba for not only failing to deliver on his election campaign promises to to kick start the region's stagnating economy, raise living standards, renovate public buildings and highways, crack down on crime, reduce unemployment, and create a government of national unity that would include representatives of opposition parties. They also accused him of unwillingness to embark on dialogue with his political opponents to overcome the split in society caused by Ankvab's forced ouster.
At an emergency congress in October 2015, 3.000 Amtsakhara members passed a vote of no-confidence in Khajimba and demanded his immediate resignation. http://www.rferl.org/content/caucasus-report-abkhazia-khajimba-calls-to-resign/27329456.html  Then in February 2016, Bzhania floated the idea of a referendum of no confidence in Khajimba.  The opposition succeeded in collecting twice as many signatures as needed to force such a referendum, http://www.rferl.org/content/caucasus-report-abkhazia-early-presidential/27788330.html which was duly scheduled for 10 July, but it was declared invalid after only 1.23 percent of all registered voters showed up to cast their ballots. http://www.rferl.org/content/caucasus-report-abkhazia-referendum-fails/27856785.html
In early December 2016, just days after calling on Khajimba to step down as president, Bzhania was briefly detained and questioned by Russian police in Sochi. The Bloc of Opposition Forces responded with a new push for Khajimba's resignation that came perilously close to triggering a clash in Sukhum between the opposition and Khajimba's supporters. Following talks between the two camps mediated by parliament speaker Valerii Bganba, he, Khajimba, Bzhania, Kvitsinia and Nugzar Ashba, head of the public organisation Abzankhara, signed an Agreement on Social-Political Stability, under which Khajimba undertook to expedite constitutional reforms. The Bloc of Opposition Forces for its part agreed to drop its demand for Khajimba's resignation in return for the right to nominate candidates for a deputy prime minister and several other senior posts.
Even though the Bloc of Opposition Forces subsequently waived its right to nominate a deputy premier,  Khajimba or the parliament systematically rejected its nominees for other positions. In late July, Amtsakhara and the Bloc of Opposition Forces formally announced their withdrawal from the Agreement on the grounds that the Abkhaz leadership had not fulfilled its conditions. 
Opposition frustration did not, however, lead to a renewed, invigorated push for Khajimba's resignation. Rather, the opposition appears to have heeded the advice of former President Ankvab to take a longer-term approach and set about drafting a strategy for the 2019 presidential election, given that the population at large was tired of the serial confrontations between the Bloc of Opposition Forces and the president.
In January 2018, the Bloc of Opposition Forces, which by then numbered seven members, all committed to forcing Khajimba to step down, rebranded itself as the Union of Public and Political Organizations. http://www.kavkaz-uzel.eu/articles/315514/  Then in July, Khajimba responded to yet another demand by Amtsakhara for his resignation http://apsny.ru/news/?ID=35404&PAGEN_1=4 by proposing talks on reforming the political system. Amtsakhara and the United Abkhazia party headed by former Prime Minister Sergei Shamba accepted that invitation, but the talks proved inconclusive. 
Meanwhile, the economic situation continued to deteriorate while unemployment, violent crime and drug addiction reached record levels.  At the same time, the idea of a creating a third political force gained in popularity. In December 2018, academician and veteran political figure Stanislav Lakoba and Vadim Smyr, a former head of the Aruaa union of war veterans that supports Khajimba, announced the formation of a new movement named Common Cause that planned to field its own candidate in the 2019 presidential ballot. Its primary objectives were political reform and fighting corruption.
The perceived need for an alternative to either the current leadership or the main-stream opposition, a team with a better chance of tackling the formidable problems Abkhazia faces, contributed to the record number of presidential candidates. Ten men initially registered for the ballot, of whom six fought in the 1992-1993 war and five served at some point in the police or security services.
One potential candidate Astamur Otyrba, head of the state-owned tea producer Abkhazchay, was constrained to withdraw on 20 August after the Central Electoral Commission rejectedhis proposed running mate and he was unable to find a substitute. https://www.kavkaz-uzel.eu/articles/339279/
Of the two primary candidates, Khajimba commissioned a documentary film entitled Political Puzzle: A Five-Year Chronicle to showcase his achievements as national leader. https://www.kavkaz-uzel.eu/articles/338066/ Journalists have suggested that an ambitious program of infrastructure improvement in recent weeks was similarly intended to impress voters.
Kvitsinia's presidential program drew heavily on an extensive blueprint for reform of the executive branch, law enforcement and the judiciary that Bzhania unveiled in February. http://apsny.ru/news/?ID=33961&PAGEN_1=3  He argued that such reforms would facilitate economic reform and development and the fight against corruption. https://apsadgil.info/opinions/interview/alkhas-kvitsinia-vazhno-imet-chyetkoe-predstavlenie-o-tom-k-chemu-khotite-privesti-stranu/
Kvitsinia further deplored the weakening of cooperation with Russia, the blame for which he laid squarely on Khajimba, and vowed to reverse that trend.
The remaining seven candidates were
Astamur Tarba, 58, a war veteran and former State Security Service head who quit active politics in 2004 to go into business.

 

Tarba singled out as the key points of his political program

 

reforming the political system and legalising the shadow economy as prerequisites for bringing the region out of crisis onto the path of economic recovery.

 

http://www.abkhazinform.com/intervyu/item/9150-astamur-tarba-u-menya-i-moej-komandy-est-ponimanie-togo-kak-preobrazovat-stranu-dat-novyj-impuls-ejo-razvitiyu


Oleg Arshba, 55, a war veteran who has served in the security service, the Ministry of Defence, and as a deptuty foreign minister. Arshba was persuaded to run for president by former de facto President Ankvab, who like former Prime Minister Shamba is over 65, the upper age limit for prospective presidential candidates. Arshba named as his top priority restoring law and order, followed by economic development and making the system of government more effective. http://abkhazinform.com/intervyu/item/9239-oleg-arshba-reshenie-ballotirovatsya-v-prezidenty-mne-dalos-neprosto


Leonid Dzapshba, 59, spent virtually his entire career in the police, serving from 2010 – 2011 as interior minister.

 

He was subsequently implicated in the embezzlement of funds while president of the Football Federation of Abkhazia,

http://www.kavkaz-uzel.ru/articles/188415/

but not brought to trial. Dzapshba ran against Khajimba in the August 2014 presidential ballot, placing fourth and last with just 3.4 percent of the vote. In October 2015 Khajimba named him interior minister, but suspended him from that post the following summer after he threatened to dismiss any police officers who participated in the opposition orchestrated referendum of no-confidence in the president.

 

In February 2019

 

Dzapshba founded the political party Akzaara, which then nominated him as its presidential candidate.


Shamil Adzynba, 49, a war veteran and former businessman, was Shamba's running mate in the 2011 pre-term presidential election precipitated by the untimely death of incumbent Sergei Bagapsh. Following Khajimba's election as president in 2014, Adzynba served as first deputy prime minister under Beslan Butba, and then Butba's successor Artur Mikvabia. He resigned in 2016 to protest the appointment of government officials who failed to meet the legal requirement of fluency in the Abkhaz language.


Almas Djapua, 40,

 

a businessman and parliamentarian, was nominated by Common Cause.

 

He is categorically opposed to prospecting for oil off Abkhaz coast and in February caused headlines by implicating Ankvab and former Prime Minister Leonid Lakerbaya of signing in 2014 an agreement on the exploitation of offshore oil deposits that he claimed was not in the national interest but from which the two men stood to benefit personally.

 

https://jam-news.net/former-abkhaz-president-ankvab-accused-of-corruption-deal-in-oil-contracts/

 

Djapua pledged that his first act as president would be to annul that conctract (which the present government renewed in January 2019

http://apsny.ru/news/?ID=38475&PAGEN_1=39

He also advocates reform of the constitutional system and election laws in order to ensure maximum popular involvement in government, and a moratorium on sale of real estate to foreigners.


Astamur Kakalia, 43, is a war veteran and economist and was a member of de facto President Bagapsh's administration in 2004-2005.

https://sputnik-abkhazia.ru/reference/20190801/1028130559/Biografiya-Astamura-Kakaliya.html

His focus over the past nine years has been corruption and the measures needed to combat it, to which end he argues that Abkhazia should accede to the UN Convention against Corruption.


Artur Ankvab, 50, is a lecturer in history at the Abkhaz State University with little previous experience in politics.

 

Key points of his political program were a reform of the executive branch to reduce the powers of the president, and fighting corruption.

Khajimba declined to participate in a televised live debate between candidates on 23 August. He also refused to sign an Agreement on Social Accord drafted by the Public Chamber under which candidates affirmed their intention to ensure the vote was free, fair, and not marred by pressure on voters, as stipulated by the Republic of Abkhazia constitution. According to Public Chamber Deputy Secretary Daniel Ubiria, Khajimba considered it "illogical"  for him to sign the Agreement given that he had pledged to uphold the constitution when taking the presiential oath. http://apsny.ru/news/?ID=41374&PAGEN_1=9
Arshba too declined to take part in televised debates on the grounds that "nearly half the participants tried to turn the debate into cheap PR by spreading totally unfounded false information on questions of oil extraction and energy... It is difficult to comprehend the point of discussions about how to develop the state when your interlocutors are participants in a coup d'etat." http://apsny.ru/news/?ID=41666
The outcome of the voting on 25 August, while entirely predictable, has served only to compound tensions.
On 3 September Khajimba accused members of Kvitsinia's staff of seeking to pressure or intimidate Khajimba's supporters, and called on Kvitsinia personally to put an end to such behaviour. https://aiaaira.com/proisshestviya/item/3025-zayavlenie-predvybornogo-shtaba-raulya-khadzhimba
Kvistsinia's campaign staff immediately rejected those allegations as unsubstantiated and a provocation, and in turn alleged that "Khajimba supporters driving cars without license plates are entering Armenian villages on a daily basis and trying to intimidate the population." https://apsadgil.info/news/politics/shtab-kvitsinia-nou-khau-ot-shtaba-khadzhimba-zvonki-s-ugrozami-grazhdanam-s-nezaregistrirovannykh-n/
(Kvitsinia's campaign staff is headed by Beslan Eshba, who in January 2018 quit after serving for 18 months as a deputy prime minister, apparently frustrated by the impossibility of implementing his ideas for modernising the government apparatus. http://www.kavkaz-uzel.eu/articles/315691/)
As of 3 September, none of the defeated candidates had endorsed either Khajimba or Kvitsinia, thus making the result of the run-off more difficult to predict. On the one hand, the combined vote against Khajimba on 25 August was over 75 percent, confirmation of former Foreign Minister Vyacheslav Chirikba's observation four months ago that "it will take a miracle" for Khajimba to win a second term. https://www.kavkaz-uzel.eu/articles/335657/
Russian commentator Vladimir Novikov makes the point that Arshba, Tarba, Dzapshba and Adzynba polled   21.6, 6.6, 5.7 and 4.15 percent of the vote respectively, giving a combined total of 38.05 percent; if a majority of those voters switch their support to Kvitsinia it would give him a considerable advantage. https://eadaily.com/ru/news/2019/08/26/vybory-v-abhazii-s-chetvertyu-golosov-shansov-u-vlasti-byt-ne-dolzhno
That line of reasoning assumes, however, that Bzhania's unequivocal endorsement of Kvitsinia is enough to counter the reservations of those voters who associate him primarily with Amtsakhara's repeated disruptive public stand-offs with the authorities.
On the other hand, Khajimba may have opted to take advantage of a legal loophole to try to sabotage the outcome of the run-off and schedule a repeat vote.  Article 19 of the Law on Presidential Elections stipulates that in the event of a run-off, the winner is the candidate who garners the largest number of votes, provided that number is greater than the total number of votes cast against him, and provided that a minimum of 25 percent of all registered voters cast their ballots. In other words, if the number of votes cast for Candidate A is less than the combined votes cast for Candidate B and "against all,"  then the election is void and the Central Election Commission must schedule a repeat election. http://abkhazinform.com/dokumenty/item/8834-konstitutsionnyj-zakon-respubliki-abkhaziya-o-vyborakh-prezidenta-respubliki-abkhaziya
Voter turnout on 25 August was  65.5 percent; 1.9 percent of voters voted "against all." http://www.abkhazinform.com/item/9261-raul-khadzhimba-i-alkhas-kvitsiniya-vyshli-vo-vtoroj-tur-prezidentskikh-vyborov   
In an address to the population at large on 3 September, Kvitsinia said he is aware that anonymous appeals are circulating on social media calling on voters either to boycott the run-off or vote "against all." He called on voters not to fall for such appeals and thus play into the hands of those who "do not want what is good for our people." http://apsny.ru/news/?ID=41836
Seeking to stymie a possible Kvitsinia victory could, however, prove counter-productive for Khajimba insofar as Bzhania's health might well improve enough in the interim to enable him to run in a repeat ballot as the main opposition candidate.

Liz Fuller is an independent analyst who studied Russian and Georgian at the University of London. She joined Radio Liberty Research in Munich in 1980 and was editor of "RFE/RL Newsline" from 1998 until its abolition in May 2008.