Outcome of Abkhaz Presidential Run-Off Overshadowed by Dispute over How Election Law Should Be Interpreted, by Liz Fuller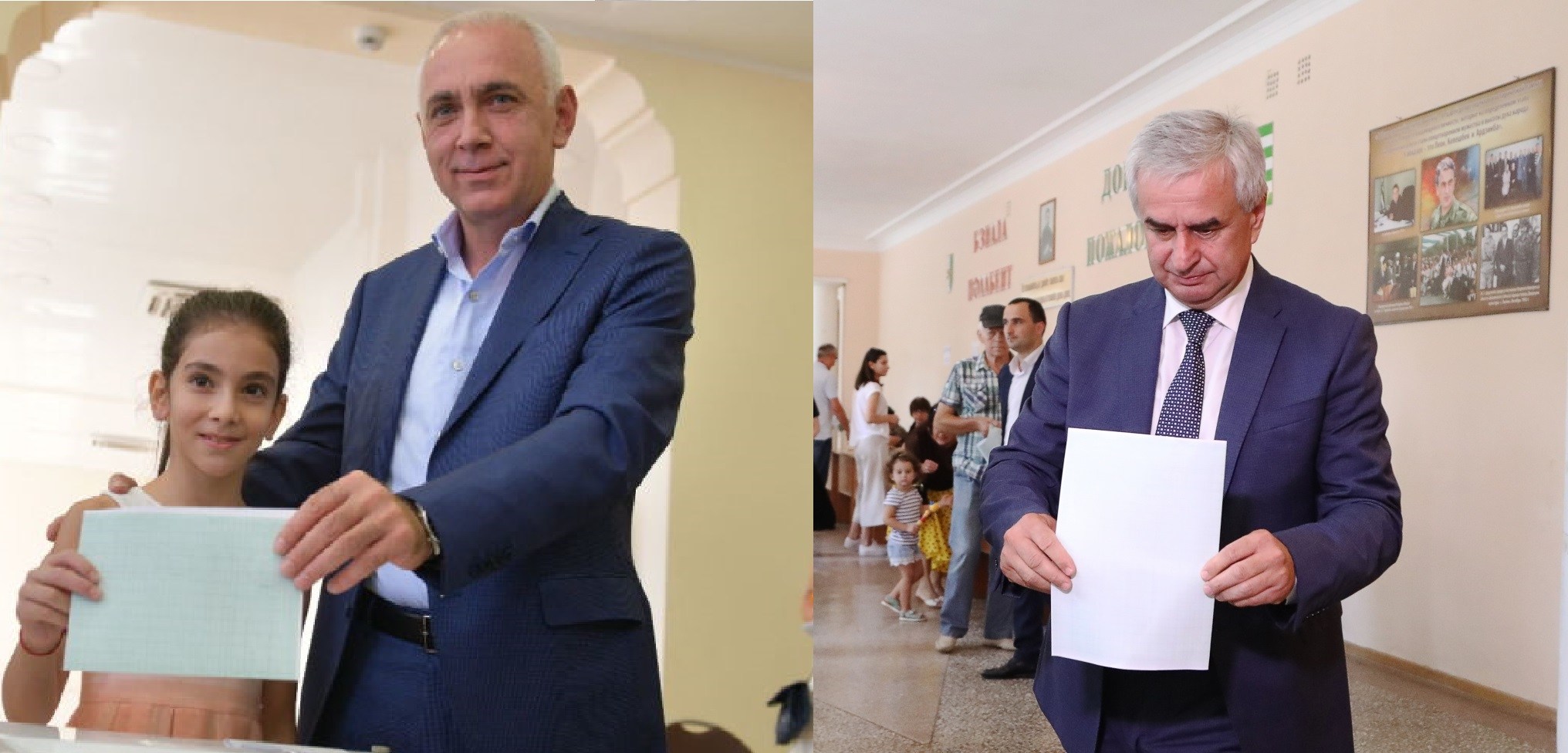 Liz Fuller | Special to AbkhazWorld
Georgia's breakaway Republic of Abkhazia is on the verge of a new stand-off between the leadership of incumbent de facto President Raul Khajimba and opposition parties which for the past five years have sought without success to force his resignation.
Earlier opposition criticism of Khajimba focussed on his failure to deliver on his 2014 election campaign promises to kick start the region's moribund economy, reduce unemployment and crime, and implement sweeping reforms. This time, however, the tensions derive from diverging interpretations of the article of the Republic of Abkhazia Law on the Presidential Election that outlines the procedure for determining the winner in a run-off ballot should the first round of voting prove inconclusive.
Of the nine candidates who participated in the first round of voting on 25 August, none polled the 50 percent plus one vote required for an outright win. [add link to my first AW article] A run-off was therefore scheduled for 8 September between Khajimba and Alkhas Kvitsinia, chairman of the opposition Amtsakhara (Keep the Home Fires Burning) party whose nucleus is veterans of the 1992-1993 war that ended with Georgia's retreat from and total loss of jurisdiction over Abkhazia. Kvitsinia was selected as the opposition presidential candidate in July after it became clear that APRA fund head Aslan Bzhania, who had placed second to Khajimba in the pre-term August 2014 presidential vote, was still too ill to participate. (Bzhania succumbed in April to what Moscow physicians diagnosed first as viral pneumonia, then as Guillain-Barre syndrome, a rare auto-immune disease. https://jam-news.net/abkhaz-opposition-splinters-in-run-up-to-presidential-elections/ Bzhania's relatives and supporters say medical tests conducted in Germany point to mercury poisoning they believe constituted a deliberate attempt on his life.)
In the first round of voting on 25 August, Khajimba and Kvitsinia polled 24.83 percent and 22.91 percent respectively. Former Deputy Foreign Minister Oleg Arshba, who was backed by Khajimba's predecessor as president, Aleksandr Ankvab, placed third with 22.56 percent, just 287 votes fewer than Kvitsinia. The remaining six candidates polled between 6.6 percent and 0.97 percent. Voter turnout was 65.18 percent.
In light of his inability to raise living standards, Khajimba's failure to win outright in the first round was no  surprise, especially given that five years earlier he had won in the first round by a margin of under 600 votes. At the same time, it is a measure of the extent to which Abkhaz society is divided that none of the six defeated candidates responded to the results by calling on their supporters to support either Khajimba or Kvitsinia in the run-off.
Khajimba's campaign staff immediately sought to secure the backing of Arshba and his supporters by offering the post of prime minister in the event of a Khajimba win to Ankvab, who was ineligible to run as a candidate as he is over the maximum age limit of 65. Predictably, given that it was Khajimba who orchestrated the constitutional coup that led to Ankvab's ouster in May 2014, that offer was rejected.
When it seemed unlikely that Kvitsinia would similarly offer the premiership to Ankvab (rather than to Bzhania),  on 4 September some of Arshba's supporters publicly urged voters to vote "against all." http://apsny.ru/news/?ID=41849  (The previous day, Kvitsinia had condemned as the work of "those who do not want good for our people" anonymous on-line appeals either to boycott the run-off or vote "against all." http://apsny.ru/news/?ID=41836   Ankvab, however,  warned that voting "against all" risked rendering the ballot void, thereby necessitating a repeat election.
Then on 5 September, the balance of forces changed when the CEC handed down its interpretation of the crucial Article 19 of the Law on the Presidential Election. The wording of that article is unclear and ambiguous, insofar as it does not clarify how votes cast "against all" candidates should be evaluated, meaning whether a simple majority is enough to win, or the winning candidate must poll more votes than the combined total cast for his rival and "against all."
Article 19 reads "the candidate who in the second round of voting receives the largest number of all ballots cast relative to the other candidate is considered to have been elected, on condition that the number of votes cast for that candidate is greater than the number of votes cast against him, if at least 25 percent of all citizens entered in the electoral roll participate in the voting. If neither candidate is elected President of the Republic of Abkhazia in the second round of voting, the Central Election Commission schedules a repeat election." http://abkhazinform.com/dokumenty/item/8834-konstitutsionnyj-zakon-respubliki-abkhaziya-o-vyborakh-prezidenta-respubliki-abkhaziya
According to its chairman Tamaz Gogia, the CEC solicited the opinions of the Republic of Abkhazia parliament, the Supreme Court, and the Constitutional Court on how that wording should be construed.  The parliament, which is currently in recess, referred the question back to the CEC. Consequently, the CEC accepted as binding an agreement hammered out between Khajimba's and Kvitsinia's respective campaign staffs under which a simple majority was enough to win, votes "against all" being regarded as for a hypothetical third candidate. In the event that more votes were cast "against all" than for either candidate, Gogia continued, the run-off would be declared void and a new ballot scheduled. The Constitutional Court and Supreme Court apparently endorsed that interpretation. http://apsny.ru/news/?ID=41865
The possibility that Khajimba might win the run-off by a simple majority may have been what impelled Arshba to affirm his unequivocal support for Kvitsinia just hours after the CEC announcement. http://apsny.ru/news/?ID=41864
In the event,  the support of Arshba and Ankvab did not translate into enough additional votes to give Kvitsinia the edge over Khajimba.  Even before all votes had been counted, Khajimba claimed victory, and on 9 September the CEC  declared him the winner with 47.39  percent of the vote, compared with 46.17 percent for opposition candidate Kvitsinia. The difference between the two amounted to just 999 votes, with 3154 votes (3.76 percent) cast "against all" candidates.
But even before the CEC announced the interim results, other representatives of the opposition camp challenged the validity and legality of the CEC ruling that a simple  majority was sufficient to win. Early on 9 September, Ankvab, Arshba and Astamur Kakalia, who had placed last during the first round of voting with just 1 percent of the vote, released a statement to the CEC  arguing that since neither candidate received more than 50 percent of the vote, the CEC should declare the ballot void and schedule a new election. http://apsny.ru/news/?ID=41970
The opposition parties Amtsakhara, United Abkhazia (headed by former Prime Minister Sergrei Shamba), and the People's Front of Abkhazia, together with the public organisations Aytayra (which is headed by Leonid Lakerbaya, who served as prime minister under Ankvab), Apsadgil, Abkhazia is Our Home, and Kyarazaa (headed by former Interior Minister Leonid Dzapshba, who placed fifth in the voting on 25 August with 5.7 percent of the vote) made the same argument in an analogous communication to the CEC. https://www.kavkaz-uzel.eu/articles/340026/
Independent parliamentarian Batal Tabagua, a previous CEC chairman and now a supporter of Kvitsinia and Bzhania, told fellow law-makers that the agreement reached between Kvitsinia and Khajimba that a simple majority of votes was needed to win is not legally binding. Given that neither candidate received over 50 percent of the votes cast, Tabagua continued, the CEC must schedule a repeat ballot. https://apsadgil.info/news/politics/batal-tabagua-v-sootvetstvii-s-zakonom-o-vyborakh-dolzhny-proyti-novye-vybory/
Kvitsinia for his part wrote a letter to the CEC stating that he now realises that he broke the law in signing the agreement with Khajimba's staff that votes cast "against all" should be disregarded, and is therefore rescinding his signature to that agreement. https://apsadgil.info/news/politics/alkhas-kvitsinia-obratilsya-v-tsik-rukovodstvovatsya-normami-zakonodatelstva-pri-podvedenii-itogov-g/  Since neither he nor Khajimba received enough votes for an outright win, Kvitsinia added,  he would therefore challenge the legitimacy of any results to the contrary released by the CEC. https://apsadgil.info/news/politics/raul-lolua-obrashchaemsya-k-tsik-ne-speshit-s-vyvodami/
The CEC ignored those opposition arguments and later on 9 September formally confirmed Khajimba's re-election. At the same time, CEC Chairman Gogia publicly stressed that Kvitsinia has the legal right to lodge an objection to the Supreme Court against any actions by the CEC.  Kvitsinia duly lodged a formal appeal on 11 September, in which he argued that the CEC violated the law by declaring Khajimba elected. https://apsadgil.info/news/politics/alkhas-kvitsinia-trebuet-otozvat-reshenie-tsik-po-predvaritelnym-itogam-golosovaniya/ The Supreme Court will consider that appeal on 17 September.
Whether and to what extent Kvitsinia's credibility has been damaged by his volte face over how the election law should be interpreted is unclear.  Several hundred people attended a meeting in Sukhum on 10 September to demonstrate their support for him.  Bzhania, however, has still not publicly commented on the situation.
Liz Fuller is an independent analyst who studied Russian and Georgian at the University of London. She joined Radio Liberty Research in Munich in 1980 and was editor of "RFE/RL Newsline" from 1998 until its abolition in May 2008.