A memorial evening for Sultan Sosnaliev held in Nalchik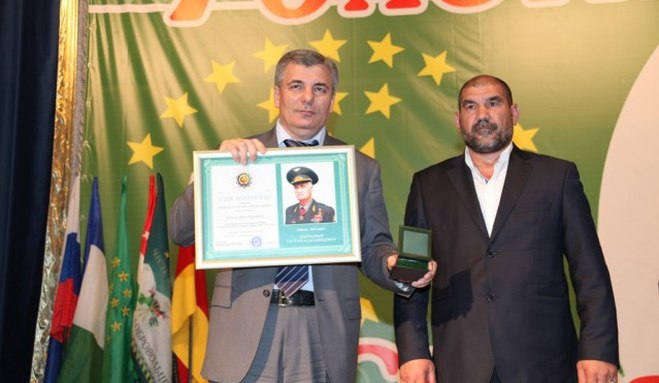 NALCHIK -- A memorial evening for Sultan Sosnaliev held in Nalchik In the State Concert Hall of Nalchik on Wednesday 23 May was held a memorial evening dedicated to the 70th anniversary of Sultan Sosnaliev, a native of Kabardino-Balkaria and a state- and military activist of Abkhazia.

The event was attended by President of the Republic of Kabardino-Balkaria Arsen Kanokov, a delegation from the Republic of Abkhazia headed by Vice-President Mikhail Logua, members of the government and parliamentary deputies of the K-BR, representatives of public organisations, relatives and friends of the legendary general, his military friends and colleagues.
Opening the public meeting, the Head of the K-BR welcomed and thanked the guests from Abkhazia and all those present for showing respect for the memory of a worthy scion of Kabardino-Balkaria. Arsen Kanokov noted that Sultan Sosnaliev was an officer who gave his best years to the defence the Motherland and who, with eagerness, was among the first to stand shoulder to shoulder with the defenders of the sister-republic of Abkhazia during the barbaric aggression on the part of Georgia.
"Today I signed a decree awarding Sultan Aslambekovich the highest award of the K-BR, the Honorary Order 'For Services to the Republic of Kabardino-Balkaria' (posthumous). I believe that the bright image of the worthy scion of our nation, Hero of Abkhazia, man of honour, great sincerity and nobility of spirit will serve as a worthy example for present and future generations of Circassians," said the Head of the K-BR, handing the award to the General's wife, Lubov Sosnalieva.
"We are very happy on this auspicious day to be here in Nalchik, where a man who did so much for our country is being honoured," said Vice-President of the Republic of Abkhazia Mikhail Logua. "It has been decided by the government of the Republic of Abkhazia to perpetuate the memory of the famous military leader by setting up his bust on the city of Sukhum's Walk of Fame."

The Union of Abkhazian Volunteers of the K-BR was the first to institute a medal and the Order "Honour Above Life." More than 300 persons have been honoured with these awards. Chairman of the organisation, Sergej Jakhogoev, made awards to many of these on the evening. Among the recipients this evening were the President of the K-BR, Arsen Kanokov, Chairman of the Parliament of the K-BR, Anwar Chechenov, Chairman of the Board of Veterans of the city of Nalchik,
Mustafa Abdulaev, Vice-President of the Republic of Abkhazia Mikhail Logua, the Circassian Dance Ensemble "Khatti", and several other political and community activists, and volunteers of the two republics, who defended peace in Abkhazia and offered support to its people at a difficult moment.

The evening was also attended by creative groups and masters of arts of Kabardino-Balkaria.

This is the official site of the President of Kabardino-Balkaria: http://www.president-kbr.ru/kbr-events/news/meeting/5087-2012-05-23-18-03-48.html 
---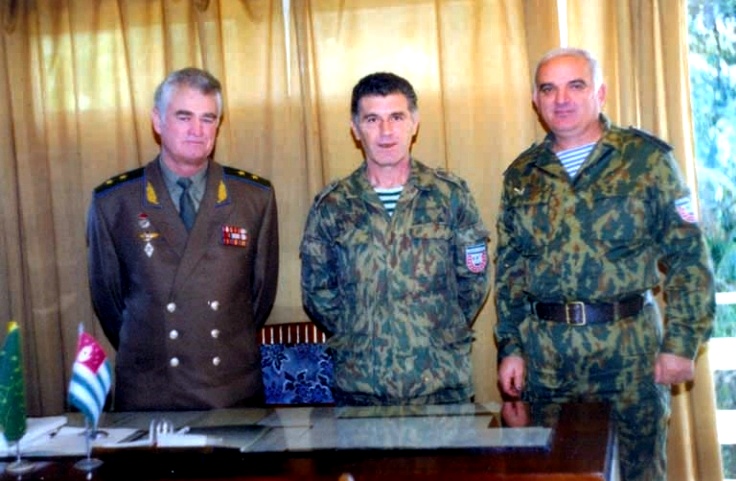 Sultan Sosnaliyev, Valery Gunba, Sergey Dbar