Bodzhgua on Gena Kardanov: a real tough guy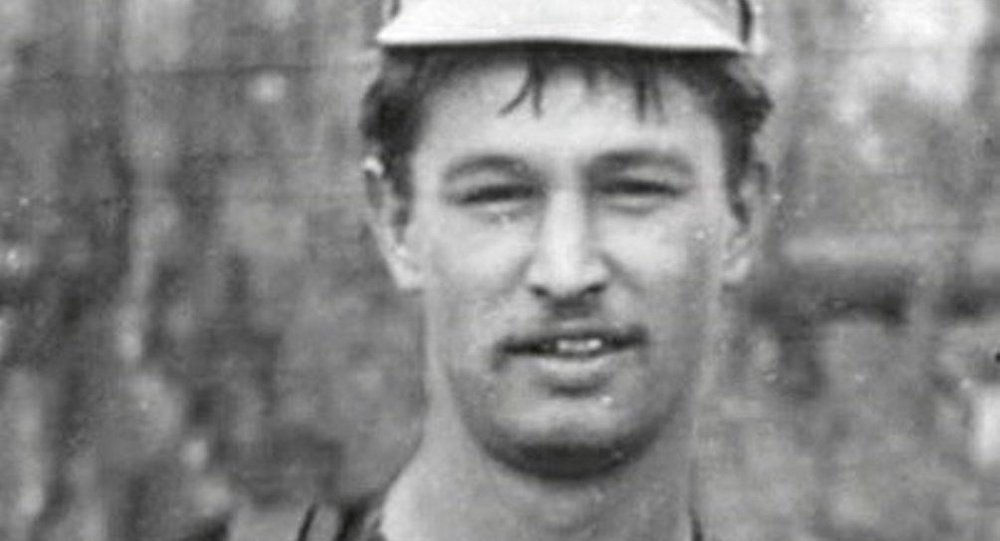 Hero of Abkhazia Vladimir (Gena) Kardanov was born on 23 January 1967 in Argudan, Kabardino-Balkaria.

Journalist Rada Adzhiba was told by close friend of Gena Kardanov, Leonid Bodzhgua, Cavalier of the Order of Leon, about how Gena Kardanov, the commander of the "Kabarda" battle-group, managed to knock out an enemy aircraft and capture a pilot named Nadirashvili.
Abkhazians! The Kabardians are with you 
"Abkhazian brothers! Hold firm, we Kabardians are with you. Here are Armenian guys, Chechens, and everyone supports us. We have an open heart. There is mutual understanding between us volunteers; we listen to each other," were the first words of Gena Kardanov when giving an interview to Abkhazian television during the war. 
On 13 April 1993, the commander of the "Kabarda" battle-group, Vladimir Kardanov, better known among his family and friends as Gena, died in battle.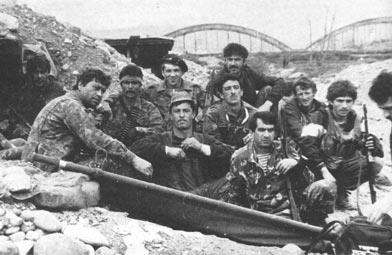 Hero of Abkhazia Vladimir (Gena) Kardanov was born in 1967 in the village of Argudan, Urvan Region. In his native village he graduated from middle school. Then he studied at Starocherek SPTU. He worked as a driver at the Krasnaja Niva state-farm. At the beginning of the Patriotic War of the people of Abkhazia in 1992-1993, he arrived in Abkhazia as a member of a group of volunteers from Kabardino-Balkaria. 
A close friend of Gena Kardanov, Cavalier of the Order of Leon, Leonid Bodzhgua recalls that he met Gena long before the start of the Patriotic War in Abkhazia. "From the first days, we became close friends. Gena, like me, was an athlete, and we took part in various tournaments together," he says.
For the first time Gene Kardanov came to Abkhazia in the early 90s, after which he often came to Gudauta.
"I have many friends from the North Caucasus, especially from the village of Argudan, which is where Gena Kardanov was from. In my student-years I often went to Nalchik. On one of my regular trips, I met Gena and we became friends right away. We had a lot of common interests. He was his own, as they say, real tough guy," says Bodzhgua.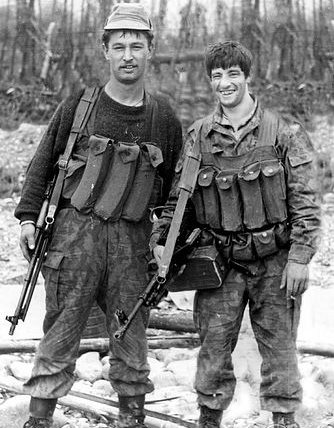 First battle and the "Kabarda"
According to Bodzhgua, he was not surprised that one of the first volunteers who came to defend the Abkhazian people was Gena Kardanov. 
"On 17 August 1992, Gena first appeared at the Gumista River, where the guys were digging trenches. On the second day, Gena took part in a battle on the Gumista front. In this battle, he showed courage and dedication. He always said: 'I won't be taken alive; I always keep one cartridge back'. Gene never spared himself," he recalls.
After the liberation of the Gagra region on 6 October 1992, volunteers decided to create their own group; they called it "Kabarda". Gena Kardanov was unanimously elected commander.
Disabling a tank and capturing a pilot  
In November 1992, the "Kabarda" group took part in the Shroma offensive. After the unsuccessful outcome of this operation, the group was transferred to the Eastern Front. On 30 November, in the battle for the village of Myrkula, Gena Kardanov was wounded. Before the January offensive, fighters of the "Kabarda" group returned to the Gumista front.  
"The Kabardian group participated in the Pakwash operation, where, grabbing a grenade-launcher, Gena stood upright, approached the enemy-tank and knocked it out. Gena then committed a desperate act that saved many lives," the veteran said. 
In February, a group of fighters, which also included the guys from the "Kabarda", shot down an SU-25 plane of the Georgian armed forces. 
"Gena Kardanov was directly involved in the operation to capture the pilot Nadirashvili. All his actions indicate that he was a brave and courageous person. One can talk forever about the kind of person that Gena Kardanov was. I can't get used to the idea that he died and that I don't have my glorious friends with me any more," noted Bodzhgua with regret.
 Gena Kardanov died on 13 April 1993 of wounds from a shell-fragment.
Hero of Abkhazia, Gena Kardanov, lies at rest in his native Argudan. Every year, in honour of his memory, the governments of Abkhazia and Kabardino-Balkaria hold an international freestyle wrestling tournament.