The Minister visited Harry Jopua at the hospital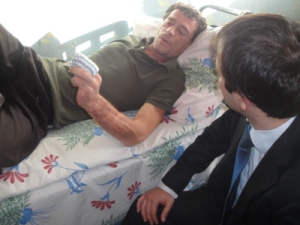 On the 10th of November the Minister of Foreign Affairs of the Republic of Abkhazia visited Harry Jopua at Gulripsh hospital, who was released from the Georgian captivity several days ago. 
According to doctors, Jopua was seriously beaten; there are multiple fractures and injuries on his body as a result of permanent tortures, beating and inhuman treatment. 
The Minister noted that such degrading treatment of the prisoner is unacceptable in the 20th century and has to be reviewed appropriately. "We will not put up with such actions of Georgia. It is unacceptable to kidnap and torture citizens of Abkhazia only because they are from Abkhazia".
The Minister also thanked everybody who took part in the release of the Abkhazian citizen and pointed that such abuse is primarily aimed at intimidation of our citizens which again proves the aggressive attitude of Georgia towards Abkhazia.