Abkhazian Culture Days in Istanbul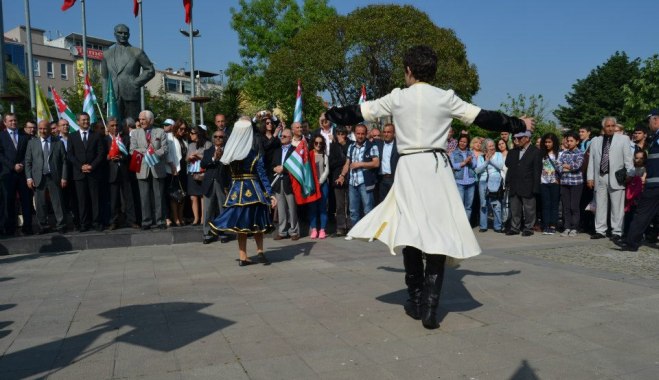 Abkhazian Culture Days, organized by the Kartal Municipality of Istanbul and the Federation of the Caucasian Associations (Kaffed),  is being celebrated in Istanbul.  
Kartal Mayor, Op. Dr. Altınok Öz, The Minister for Culture of the Abkhazian Republic, Badra Gunba, the Vice Speaker of the Abkhazian Parliament Otar Svijba and the Abkhazian delegation held a press meeting on May 3. 

The Abkhazian Culture Days is held at Kartal Bülent Ecevit Culture Center in May 3-4, 2013. The activities include concerts, folk dances, art exhibitions, panels and conferences.

Kartal Mayor Op. Dr. Altınok Öz stated that Kartal Municipality is open to all cultures, and there is a large Abkhazian community living in Kartal. He also mentioned that he had an Abkhazian patient in 1988, and knowing him at that time, he has closely followed the problems since 1992-93.

The Minister for Culture of the Abkhazian Republic Badra Gunba emphasized that there are about 500 thousands-1 million Abkhazians living in Turkey, and thanked the residents of Kartal and Dr. Öz for hosting the Abkhazian Culture Days. Mr Gunba reiterated that Abkhazia has become independent on September 30, 1993, and that the Abkhazians want to live in peace.
Photo credit: Abhaz Haber


---