7 July: Another group of Syrian immigrants arrive in Abkhazia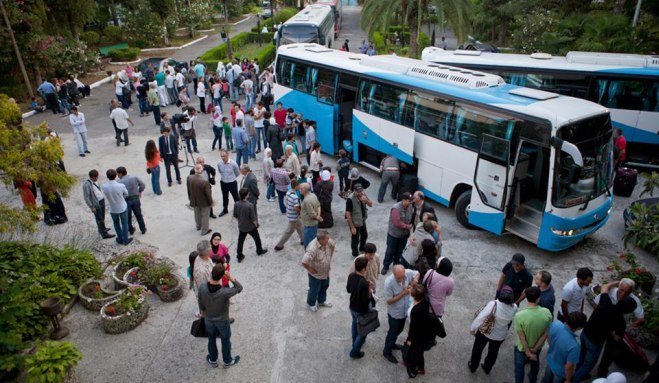 SUKHUM -- On Sunday, 7 July, another group of immigrants from Syria arrived in Abkhazia. 17 persons arrived in Nalchik from Amman (Jordan). 
As the website of the Ministry of Foreign Affairs of of the Republic of Abkhazia states, the group was met in Nalchik by the representative of the Foreign Ministry of Abkhazia, Aljas Asabua, and employees of the State Committee for Repatriation. According to A. Asabua, thanks to the assistance of the relevant governmental departments of the Russian Federation, it proved possible to implement the project at a satisfactory level of effectiveness. "We are carrying out our work according to pattern we have elaborated; all the difficulties that arose during the course of the travel home of our compatriots were quickly resolved through the Ministry of Foreign Affairs of Abkhazia and the Committee for Repatriation", A. Asabua said.
As ApsnyPress announced at the State Committee for Repatriation, the Abkhazians from Syria have been temporarily accommodated in the Gudauta boarding-house "Chernomorets".

Among the arrivals in their historical homeland are carriers of the well-known Abkhazian surnames Agrba, Amarshan, Pilia and others.

Recall that on 6 July 114 repatriants returned from Syria. They flew on a charter flight "Damascus-Sochi", financed by the government of Abkhazia.  

In total, since the beginning of the Syrian conflict, 500 persons have returned to their historical homeland of Abkhazia.
Source: ApsnyPress 
---

Video: A new group of repatriates from Syria, numbering 114, arrived in Abkhazia on July 6.