Fazil Iskander (1929-2016)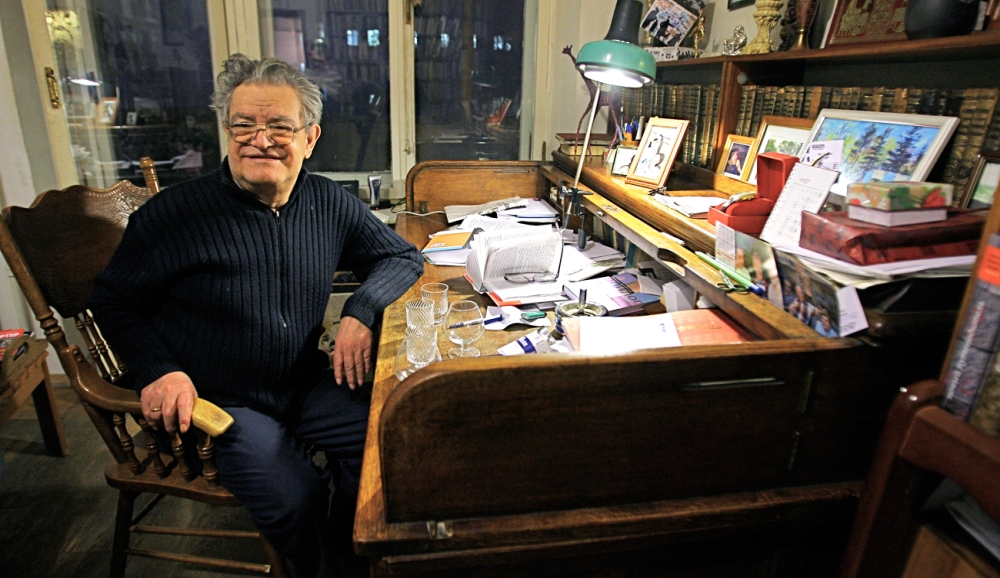 Fazil Abdulovich Iskander [Abkhaz: Фазиль Абдул-иҧа Искандер] 6 March 1929 – 31 July 2016) was a Soviet writer and poet known in the former Soviet Union for his descriptions of Caucasian life. He authored various stories, most famously "Zashita Chika", which features a crafty and likable young boy named "Chik".
Fazil  Iskander was born in 1929 in the cosmopolitan port city of Sukhum, the capital of Abkhazia (then part of the USSR) to an Iranian father (Abdul Ibragimovich Iskander) and an Abkhazian mother (Leili Khasanovna Iskander). His father was deported to Iran in 1938 and sent to a penal camp where he died in 1957. His father was the victim of Joseph Stalin's deportation policies of the national minorities of the Caucasus. As a result, Fazil and his brother Feredun and his sister Giuli were raised by his mother's Abkhazian family. Fazil was only nine years old at that time.
He first became well known in the mid-1960s along with other representatives of the "young prose" movement like Yury Kazakov and Vasily Aksyonov, especially for what is perhaps his best story, Sozvezdie kozlotura (1966), variously translated as "The Goatibex Constellation," "The Constellation of the Goat-Buffalo," and "Constellation of Capritaurus." It is written from the point of view of a young newspaperman who returns to his native Abkhazia, joins the staff of a local newspaper, and is caught up in the publicity campaign for a newly produced farm animal, a cross between a goat and a West Caucasian tur (Capra caucasica); a "remarkable satire of Lysenko's genetics and Khrushchev's agricultural campaigns, it was harshly criticized for showing the Soviet Union in a bad light."
He is probably best known in the English speaking world for Sandro of Chegem, a picaresque novel that recounts life in a fictional Abkhaz village from the early years of the 20th century until the 1970s, which evoked praise for the author as "an Abkhazian Mark Twain." Mr. Iskander's humor, like Mark Twain's, has a tendency to sneak up on you instead of hitting you over the head. This rambling, amusing and ironic work has been considered as an example of magic realism, although Iskander himself said he "did not care for Latin American magic realism in general". Five films were made based upon parts of the novel.
"A real and existing human community has broken down while still alive," he said. A once multiethnic state now suffers from xenophobia and enmity, including to people from the Caucasus. "My son asked me recently whether I had ever felt any discomfort because I belonged to the group now termed as the 'people of Caucasus ethnicity.' We never had any nonsense like that back then!"

Iskander received numerous state awards, both Russian and Abkhazian, and was nominated for the Nobel Prize in Literature for Sandro of Chegem. In the application for the Nobel Prize, the author Andrei Bitov, who represented the Russian PEN Center, said: "Not knowing anything about what is called 'magical realism,' he arrived at it having, by sheer luck, been born in the small and unique country of Abkhazia on the Black Sea coast. It became for him a magnifying glass through which he managed to see the whole of the Soviet empire."

Iskander's works The Little Giant with a Big Sex Drive and Retribution were published in the underground almanac of censored works, "Metropol." It also published works by such renowned authors as Vasily Aksyonov, Vladimir Vysotsky, Bella Akhmadulina and many others. Works that were banned by Soviet censorship were disseminated through "samizdat" (self-published journals), typed and manually bound by enthusiasts and passed from person to person. In 1979, 12 copies of the almanac were secretly produced in Moscow. One of them found its way to America and was published by the Ardis publishing house.

One of Iskander's best-known books, Rabbits and Boa Constrictors, was first published in the USSR in 1982. This philosophical parable about the interactions between the upper and lower strata of society, as shown through the example of an imaginary country of rabbits and boa constrictors, was conceived by the author as "a model of a demagogic state."
The book was an instant hit among Soviet intellectuals, while its author was compared to such literary giants as Anton Chekhov, Leo Tolstoy, George Orwell and often described as the "Russian Gabriel Garcia Marquez." Numerous quotes from it became part of everyday speech, such as: "Those who speak a lot about victories have either forgotten the truth or are hiding from it." 
On 3 September 2011, a statue of Iskander's literary character Chik was unveiled on Sukhum's Muhajir Quay.
Iskander had been married to a Russian poet Antonina Mikhailovna Khlebnikova since 1960. In 2011 the couple published a book of poems entitled Snow and Grapes to celebrate their golden wedding anniversary. They had one son and one daughter.
Iskander died in his home on 31 July 2016 in Peredelkino, aged 87. 
Awards and prizes
+Iskander being awarded the Order of Merit for the Fatherland by President Dmitry Medvedev, 2010.
+USSR State Prize (1989) - for his novel "Sandro of Chegem"
+Alfred Toepfer foundation's Pushkin Prize (1992)
+State Prize of the Russian Federation in Literature and Arts (1993, 2013)
+Triumph Prize (1999).[19]
+Order of Honour and Glory, 1st class (Abkhazia, 18 June 2002)
+Order of Merit for the Fatherland;)
+2nd class (29 September 2004)
+3rd class (3 March 1999)
+4th class (13 March 2009, presented on February 17, 2010.
+Honorary Member of Russian Academy of Arts
+Yasnaya Polyana Literary Award (2011) - for the novel "Sandro of Chegem"
+Ivan Bunin literary award (2013)
+In 2009, Bank of Abkhazia issued a commemorative silver coin from the series "Outstanding Personalities of Abkhazia", dedicated to Fazil Iskander denomination of 10 apsaras.
Works in English translation
+Forbidden Fruit and Other Stories, Central Books LTD, 1972.
+The Goatibex Constellation, Ardis, 1975.
+Sandro of Chegem, Vintage Books, 1983.
+The Gospel According to Chegem, Vintage Books, 1984.
+Chik and His Friends, Ardis 1985.
+Rabbits and Boa Constrictors, Ardis, 1989.
+The Old House Under the Cypress Tree, Faber and Faber, 1996.
+The Thirteenth Labour of Hercules, Raduga, 1997.


***


5 Pearls of Wisdom from Fazil Iskander
By Alice E.M. Underwood
1. How do you address the most powerful man in the world?
With the gesture of a knight covering his face with his visor, he jammed his turban down over his eyes, whooped a Chegem whoop, and charged straight for Comrade Stalin. [...]

In the silence, his face concealed by the turban, his arms thrown wide, Uncle Sandro flew crackling across the dance floor on his knees and came to a halt at Comrade Stalin's feet.

Stalin frowned in surprise. The pipe he gripped in one hand jerked slightly. But Uncle Sandro's pose, which expressed an audacious devotion – the poignant defenseless of the outflung arms, the blindness of the proudly thrown-back head, and, paradoxically, a mysterious urgent stubbornness about the whole figure, as if to tell the Leader, 'I won't get up until you give me your blessing" – made him smile.
—Sandro of Chegem, Vintage Books, 1983
It takes more than choreography to slide right up to Comrade Stalin at the height of the purges. Especially if you're doing it blindfolded.
Sandro plays uncle to the entirety of the Abkhazia Iskander portrays, and as a toastmaster, fighter, conniver, dancer, diplomat, and host, he brushes up against the region's folkloric, almost-mystical past, while also facing the anxiety, petty bureaucracy, and occasional dictator-in-the-flesh that were part and parcel of living in the Soviet Union. The vibrancy of Iskander's Abkhazia has led him to be compared to Gabriel García Márquez, Mark Twain, and William Faulkner – though the particular brand of magic, wordplay, and local tradition make it a world all his own.
2. What is true success in politics?
"Those who speak a lot about victories have either forgotten the truth or are hiding from it."
—Rabbits and Boa Constrictors, Overlook Books, 2015 (orig. Ardis, 1989)
When you're busy dancing for Comrade Stalin it can be tough to squeeze in a dose of political commentary. That's why you write a separate book and bring it home through allegory. Rabbits and Boa Constrictors is about – you guessed it – rabbits and boa constrictors as they struggle for power in a utopian society that starts to look increasingly dystopian.
Fun fact: though his texts written during the Soviet period critiqued the repressions and fear-mongering of that government, he saw the USSR's breakup as "an enormous tragedy."  He lamenting the xenophobia and violence that came to characterize what was once a multiethnic society, saying, "A real and existing human community has broken down while still alive."
3. What do Russians think about?
"Most people in Russia think about Russia, and everyone else steals."
—"The Thinker about Russia and the American," 1997 (Russian only)
A story that takes the form of a chat between a Russian and an American Slavist leads to this conclusion about the Russian people. Don't think that means that too many Russians are thieves, though, the Russian reassures his conversation partner: truly, a staggering number of people think about Russia. Given the country's upheavals of the past century, the rise and subsequent fall of the nation as a global leader, and the range of current uncertainties, there's a lot to think about.
Even people who think about Russia, the Russian in the story adds, steal a little bit on the side. But their conscience bothers them about it. Another sign of true Russianness.
4. What is the future of science?
To answer this question, first we must address: what is a goatibex? This is one enthusiastic journalist's assessment of the miraculous animal.
His superiority to the common domestic goat was particularly stressed. First of all, it was pointed out that the average weight of the goatibex was twice that of the common goat – a circumstance of no little importance in light of the country's chronic meat shortages. Secondly, the goatibex was blessed with strong legs and a hardy constitution. [...] The animal's thick wool of white and ashen hues was in his [the journalist's] words a real bonus for the consumer industry. It seemed that the breeding specialist's wife had already knitted herself a sweater of goatibex wool – a garment in no way inferior to any import. 'Our fashion-conscious ladies will be satisfied,' he declared.
—The Goatibex Constellation, Ardis, 1975
Iskander's novella imagines the interbreeding of a goat with an ibex – with enormous propagandistic potential for Soviet society, of course. The premise parodies the genetic theories of Trofim Lysenko, which basically rejected the established genetic theories of everyone else. Like Sandro of Chegem, this short text takes place in Abkhazia, and is a celebration of the local culture as much as a satire on the forces at play within it.
5. How do you get funny?
In order to attain a genuine sense of humor, I believe one has to descend to the depths of pessimism. And only when one has peered into the murky abyss and convinced oneself that here too there is nothing, can one make one's way haltingly back from the abyss. The traces of this return trip will be humor – genuine humor.
—Introduction, The Goatibex Constellation
Perhaps the best proof of this metaphor is a scene in The Goatibex Constellation in which the narrator is literally stuck in a ditch. Hilarity ensues.
Iskander's ability to find humor, even magic, in difficult and sometimes dismal situations make him the sort of author who most people wouldn't expect to have gotten away with writing during the Soviet period. And not only did he write; most of his work made it past the censors.
Iskander and the Abkhazia he depicted may be gone, but his lively texts will ensure that the idyllic subtropics of the past, and the improbable animal breeds that inhabit them, will live on.