Criminal Case Initiated Over Linden Tree Damage in Lykhny Village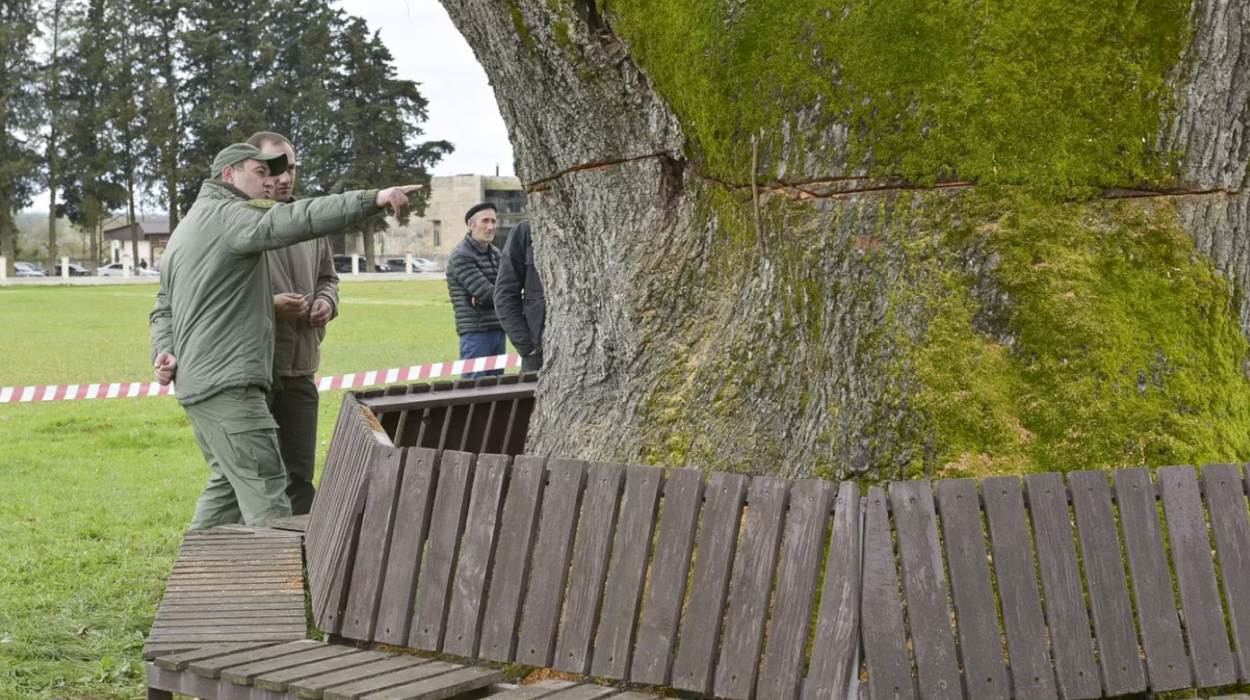 SUKHUM / AQW'A ―  A criminal case has been opened in response to the damage inflicted on a century-and-a-half-old linden tree in the historic Lykhnashta glade in the village of Lykhny. An individual who attempted to cut down the tree with a chainsaw could face up to five years in prison, according to Eduard Shamba, the prosecutor of the Gudauta district.
"A criminal case has been initiated under Part 3 of Article 257 of the Criminal Code of the Republic of Abkhazia - 'Illegal felling of trees and shrubs.' Urgent investigative measures are currently being carried out," Shamba added.
The article in question under the Criminal Code of Abkhazia stipulates imprisonment for up to five years upon a court decision. On Wednesday evening, April 5, an unidentified person damaged the ancient linden tree in the historic Lykhnashta glade. The damage to the tree's bark ranges from 15 to 20 centimetres deep. Locals secured the trunk with iron staples at the cut sites, while ecologists implemented measures to restore sap flow and save the tree.
+ Centuries-Old Linden Tree in Lykhny Unlikely to Survive Vandalism, Says Scientist
+ Symbol of Resilience and Spirit: The Significance of the Lykhny Linden Tree for the Abkhaz People
+ In Pictures | Preserving Life: Saving a Linden Tree in the Village of Lykhny
The 147-Year-Old 
Sergey Bebiya, Vice-President of the Academy of Sciences of Abkhazia and Honoured Scientist, has confirmed that the damaged linden tree in the historic Lykhnashta glade in the village of Lykhny is 147 years old. To determine the tree's age, an age borer was used—a method long established in forestry.
"With the age borer, a core is extracted from the depth of the wood, the number of annual rings in the trunk is calculated at a certain distance, and the data obtained are converted to the trunk's diameter," Bebiya explained.
Bebiya received the age borer as a gift from Dresden University of Technology, where he lectured in 1979. Only a few such devices exist in Abkhazia.
According to the academician, the linden tree in Lykhnashta grows in optimal conditions, with nutrient-rich soil and ample sunlight. These factors have contributed to the development of a robust trunk, with the tree reaching a height of about 19 meters, a diameter of just over two meters, and a circumference of 6.3 meters.
On the evening of April 5, an unidentified individual used a chainsaw to damage the trunk of the linden tree growing in the Lykhnashta meadow. Law enforcement agencies are searching for the perpetrator, while the Abkhaz community is demanding that the guilty party be found and punished.