The presentation has taken place in Sukhum of Nicholai Ioanidi's republished book "Greeks in Abkhazia"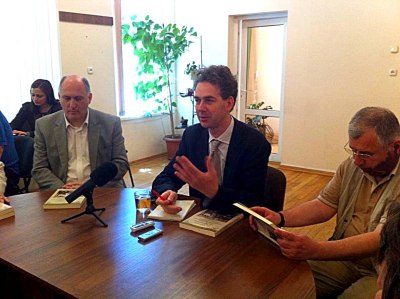 SUKHUM -- The presentation of Nicholai Ioanidi's book "Greeks in Abkhazia" was held today at the Zurab Achba Centre "World without Violence". The book in Russian and Greek was reprinted in Greece with the assistance of the British journalist Thomas de Waal, who is currently working in Washington. Introducing him to those participating in the presentation, publicist and journalist Nadezhda Venediktova noted that Thomas de Waal is a specialist on the Caucasus. He has published several books, including "Black Garden" on Nagorno-Karabakh and is well-versed in the situation in Abkhazia.
"Greeks in Abkhazia" consists of sketches on the history of the Greek population of the Abkhazian ASSR, written by historian and archivist of Greek descent, Nicholai Ioanidi (26 July 1931 – 1 July 2007), who for many years headed the State Archive of Abkhazia. The first edition of this book was published in Sukhum in 1990. In this work, the history and role of the Greek population of the Sukhum District and the Abkhazian ASSR in XIX-XX centuries was studied for the first time in Soviet history. In the book are adduced data on the deportation of the Greeks in 1949; the origin and objectives of the All-Union Society of Soviet Greeks and possible ways to preserve Soviet Greeks as an ethnic whole are discussed.

The presentation was attended by the Minister of Foreign Affairs and linguist Viacheslav Chirikba, Secretary of the Security Council and historian Stanislav Lakoba, the daughter of Nicholai Ioanidi, Teresa, representatives of the Greek community in Abkhazia led by Dmitri Sevastidi, the head of the State Archival Administration of of the Republic of Abkhazia, Roman Gvindzhia, and journalists.   

"Today is a noteworthy day, because, first of all, we are remembering Nikolai Nikolaevich Ioanidi, a clear-thinking person and professional historian. Secondly, after many twists and turns, his book has finally been reprinted, which is very important for the history of the Abkhazian Greeks. After all, Abkhazian Greeks have made a great contribution to Abkhazia. I very much hope that the Greek element of Abkhazia will not disappear, although it is experiencing difficult days," said Thomas de Waal at the presentation.