"Surprise" for Shevardnadze: Results of the 1992 Moscow Agreement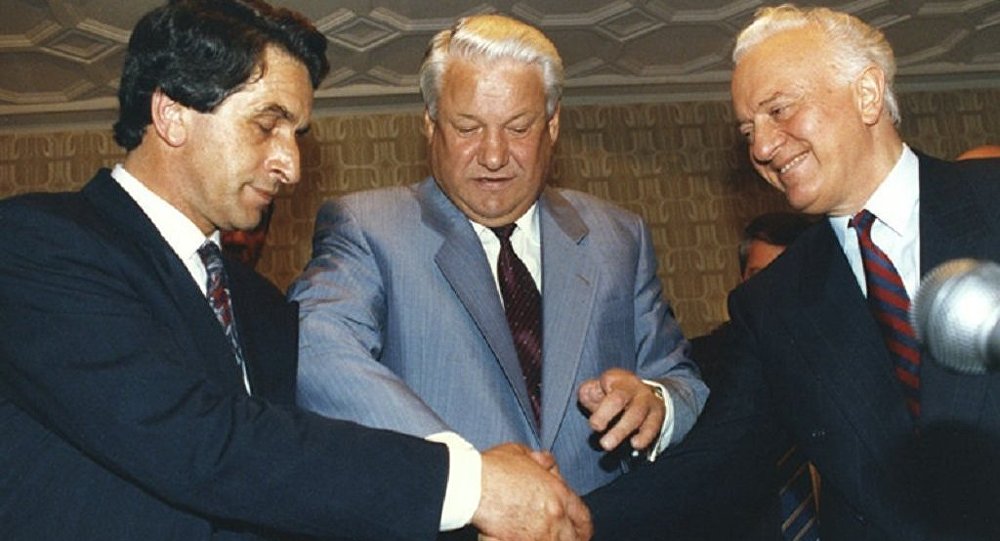 On 3 September 1992, the Moscow Agreement was signed on the settlement of the Georgian-Abkhazian conflict, which provided for a ceasefire, the withdrawal of Georgian troops from Abkhazia and the return of refugees.
A member of the Public Chamber, political scientist, analyst Sokrat Dzhindzholia spoke on the air (Sputnik Abkhazia Radio) about the significance of the Moscow agreement signed on 3 September 1992 on the settlement of the Georgian-Abkhazian conflict in Abkhazia and about unpleasant surprises for Eduard Shevardnadze.
Interview by Bella Kvarchia.
Shevardnadze's miscalculation

- Mr Dzhindzholia, tell us how you assess this event 25 years on? What did it mean then for our country, reminding us what the political background was then?
- When planning the military campaign to Abkhazia under the code-name "Sword", Shevardnadze and his friends in the leadership of Georgia miscalculated somewhat. They believed that two or three days were enough for the Georgian army to restore in Abkhazia what they believed to be order. That is, to solve all problems in relations with Abkhazia through military force.

They believed that a large military force entering Abkhazia would scare the Abkhazians, persuade them to submit, and the problems would be solved through a blitzkrieg. But this did not come about, because the Abkhazians showed desperate resistance, which the Georgian side did not expect. Also, literally on the second day after the outbreak of the conflict, volunteers began to arrive in Abkhazia, and this volunteer-movement in defence of Abkhazia expanded every day, it was an unexpected and unpleasant surprise for Shevardnadze.


- However, he said that the volunteer movement was just a paper tiger.
- Yes, he talked about it. He said a lot, but luckily it all turned out to be a bluff. Volunteers arrived from the North Caucasus. The North Caucasus is part of Russia. Adygheians, Kabardians and our other brothers arrived in Abkhazia in large detachments. This could not but affect the situation in Russia. This was also discussed in the State Duma. With the development of this conflict into a real war, Russia was drawn into it.
Therefore, it was decided, in agreement with Boris Yeltsin, who was then President of Russia, and Eduard Shevardnadze, to take measures to extinguish this fire and keep Abkhazia within Georgia. In general, to solve all problems in a virtually peaceful way, as far as possible. But by that time the war had already been going on for more than 15 days, the Georgian troops landed in Gagra, and they also entered from the side of Georgia. There was a fierce struggle.



From the FBIS Archives
On 3 September, Moscow hosted, as it was officially called, a meeting between Russian President Boris Yeltsin and Georgian President Eduard Shevardnadze, to which the leaders of Abkhazia and the leaders of the North Caucasus republics were invited.

We cannot say that these were some kind of prepared negotiations. Abkhazia did not have the opportunity to get acquainted with the topic, to make proposals. Therefore, Ardzinba had to face facts, by way of an ultimatum, a document that in no way suited us was offered for signing.

September 3, 1992 | Agreement to settle the Georgian-Abkhazian conflict was signed in Moscow.
Facing facts

- I remember with what worries we gathered in front of the TV screens and watched the expression on the face of our president, how hard it was for him to make this decision. For example, I had the feeling that he was acting under some sort of pressure.

- Just imagine, the leader of Abkhazia, which has been attacked by Georgia, is invited to Moscow, as if for a showdown, and there he is invited to sign a document that is absolutely unfavourable to his country. Of course, the situation was not pleasant.
There is a shorthand record of all the conversations that took place in this room. And it is clear from Vladislav Ardzinba how much he resisted these moments, how he tried to bring this document in line with our interests, with the interests of peace in general.



From the FBIS Archives
But the task of those who organised this meeting was quite different. They had to condemn, firstly, the volunteers who came to us, and secondly, to force Abkhazia to agree with all the proposals of Georgia. Of course this was not possible.
But I must say that Vladislav Ardzinba largely succeeded in changing this document to a degree, excluding from it the part on the conviction of the volunteers. This was very important, because people came to protect us, and they were wanting to condemn them for this. This was unacceptable. The support of the leaders of the North Caucasian republics, who urged him to sign this document but who at the same time promised to provide all kinds of assistance, also played a role. It was impossible not to sign this document, there was no other way.
See also:

+ Video: Georgian-Abkhaz Conflict | The first day of the war, August 14, 1992
+ Georgian-Abkhaz Conflict | FBIS Reports (Aug-Oct. 1992)
+ How nations united: Formation of the Confederation of Caucasian Peoples

+ North Caucasian Republics Discuss Abkhazia (FBIS Report)


- So this agreement remained on paper?
- I have to say that this paper did not solve the problem. What was already set out in it was impossible to realise. It was proposed there to have a cease-fire, an exchange of prisoners, the return of refugees, but, most important of all, the final withdrawal of troops from Abkhazia was not specified. That is, units should have remained in Abkhazia, supposedly to guard the railway and other objects.
But the war began with the introduction of these troops, and it could not stop while the Georgian troops remained in Abkhazia. Also, this document did not contain a word about how the relationship between Georgia and Abkhazia would be built in the future, no discussions were envisaged. The preamble spoke about a full-scale settlement, but these were empty words. Furthermore, in the points, nowhere was it stipulated that they should take place, that someone would act as intermediary.

Wish-list

- That is, no specification as to how this would be realised?
- Only that the war ends, but everything remains in place: Abkhazia remains disfranchised, not even being an autonomous republic, because by that time Georgia had switched to the 1921 constitution, according to which Abkhazia did not figure at all, a unitary state was created in which Abkhazia had no place. Therefore, such a paper had no prospects, and the war continued.
- It turns out that this document is like a wish-list, can you so regard it?
- Wishes from Russia. Of course, this is a sincere desire to stop the war, but things have gone too far. If the Russian leadership, which was then in power, in particular, Yeltsin, wanted to prevent the consequences, it could have prevented the invasion of Georgian troops into Abkhazia. As you know, Shevardnadze agreed with him on the sending of troops into Abkhazia. Everyone believed that in Abkhazia this issue would be resolved very quickly, a Blitzkrieg - and everything would be in order.



From the FBIS archives
- How do you assess how Vladislav Ardzinba negotiated, what kind of negotiator he was?
- Anyone else, after such a meeting in Moscow, would have lost heart. There is an interview that journalist Ruslan Khashig had with Vladislav Ardzinba on the plane [see below], when the delegation was returning home, it's there that one sees Ardzinba in the round. There he is purposeful, confident that we are on the right path. The great support of the people who believed in him played an important role in this. It was a stage that we absolutely had to go through.
This interview was published by Sputnik Abkhazia and is translated from Russian.
Sokrat Dzhindzholia the state and public figure of Abkhazia was born on December 11, 1937 in the village of Agubediya of the Ochamchira district. In 1992 he became Deputy Chairman of the Supreme Council of Abkhazia, and in 1993 was appointed Prime Minister and Minister of Foreign Affairs of Abkhazia.