The Sukhum Master of Photography: Ioannis Evkarpidi's Artistic Legacy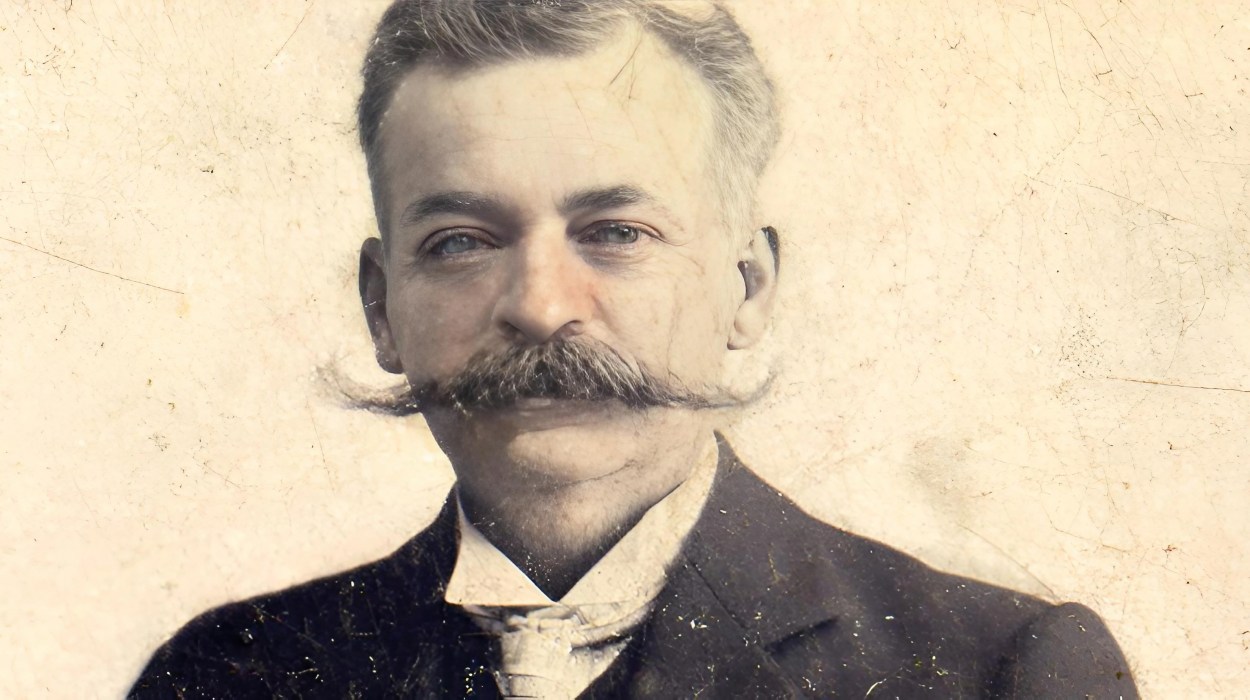 In the late 19th and early 20th centuries, the city of Sukhum experienced rapid growth and development, leading to a demand for new artistic studios, known as photographic ateliers. Among the many talented photographers of that time, Ioannis Polychronovich Evkarpidi emerged as an exceptional artist.
The work of a photographer during this period was highly skilled and well-paid. The photographs were characterized by high technical and artistic quality, achieved through the photographer's skill and aesthetic vision, and the use of gold salts, platinum, and rare metals in the photographic process. As a result, photographs were expensive, and not everyone could afford them.
By the beginning of the 20th century, improvements in photographic techniques led to a decrease in the cost of photographs, making photography more accessible. This can be seen in Evkarpidi's works, which feature both nobles and common people.
Ioannis Evkarpidi was born around 1871 in the city of Kotiora - Κοτύωρα - (Ordu), then part of the Ottoman Empire. His parents were educated and valued education for their children. Ioannis had four brothers and one sister, and he was known as Nanos among his family.
In his youth, Ioannis moved with his mother and brothers to Sukhum, which was part of the Russian Empire. After acquiring artistic and photographic skills, he registered his business, obtained permission from the authorities, and opened his studio.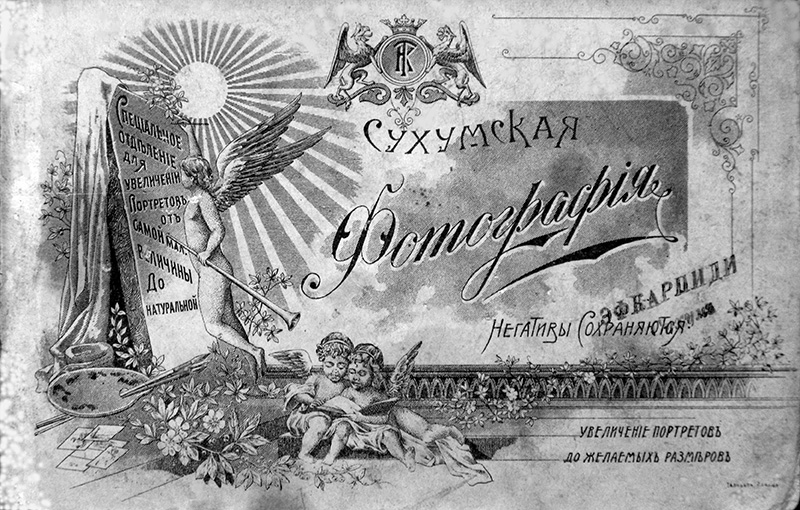 Evkarpidi's first studio location is unclear, but from 1908 until its closure, it was on Kolyubakinskaya Street, now Prospect Leon. His studio was located on the second floor of the same building as the Oriental Hotel. Evkarpidi's brother, Konstantin, ran a coffee shop at the entrance to the building.
Konstantin was trained by Ioannis in photography and often worked as a photographer himself. Many photographs bear the embossed stamp "Brothers Evkarpidi", but the majority were taken by Ioannis.
Ioannis Evkarpidi was not just a photographer but also an artist whose works were highly artistic creations. His photographs display the artistic arrangement of subjects, interesting settings, and the use of unusual chairs, hats, and rich clothing from the artist's wardrobe.
Evkarpidi's work offers a rich legacy of the people of Sukhum, nearby villages, and city guests. His subjects included people of various classes, professions, and nationalities. Photos bearing his stamp can be found in cities and villages beyond Sukhum.
Evkarpidi ordered high-quality passe-partouts for his works, which served as a kind of business card for photographic establishments before the revolution. The most common formats were Cabinet and Visiting portraits. Visiting cards were often given as souvenirs and sometimes even served as identification.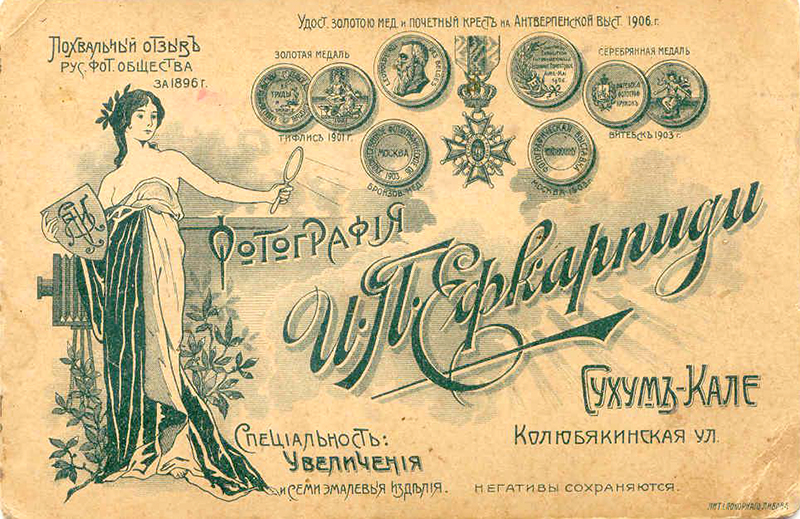 + Greeks in Abkhazia, by Nikolai Ioanidi
+ 'The Land of the Golden Fleece': Conflict and Heritage in Abkhazia by Eleni Sideri
Evkarpidi's cards featured a muse holding a coat of arms with his initials in the form of a wreath. The cards were drawn by unknown artists and printed in specialized lithography establishments, usually ordered from Joseph Pokorny's lithography in Odessa.
Ioannis Evkarpidi participated in numerous exhibitions held in the Russian Empire and beyond. His works were often highly praised, winning several awards.
In the mid-1910s, Ioannis married Maria Eleftheriadi, and they had three children. After the revolution, Evkarpidi continued to work, but his income decreased, and it became difficult to obtain quality materials for photographs.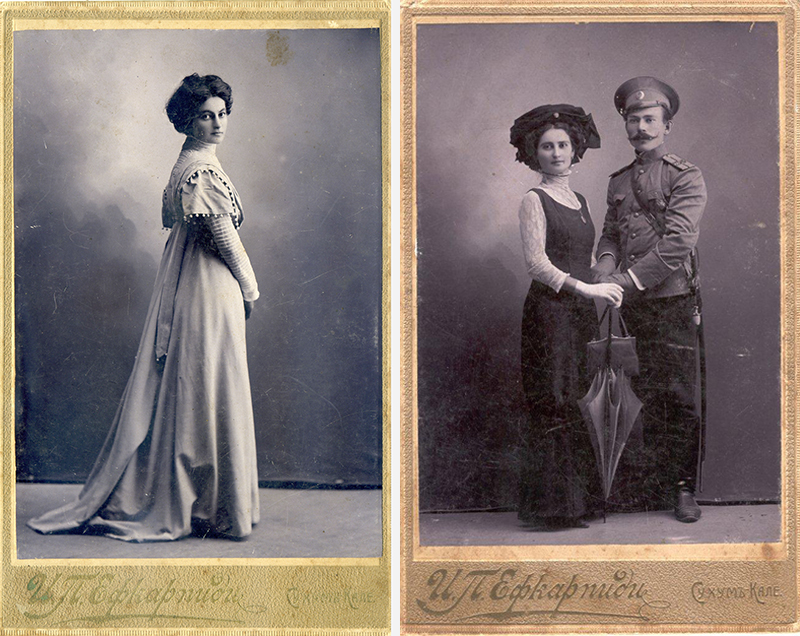 Kalliopa Vafiadi Olga (Aznik) [left] | Pavlovna Delyanova and Dmitry Andreevich Orlov.
In the Soviet era, the cardboard used for mounting photographs became much simpler. In the early years of Soviet power, Evkarpidi ordered mounts from the Donprossnab publishing house.
With no substantial income, Evkarpidi moved his family to a modest apartment on the outskirts of Sukhum. Despite the harsh realities of life, he continued to pursue his art, capturing the lives of ordinary people during the turbulent years of the Soviet Union. His photographs from this period offer a unique and intimate glimpse into the lives of the working class and their everyday struggles.
By the late 1920s, Evkarpidi's health began to decline, and his once-thriving business started to suffer. The era of rapid industrialization and modernization under the Soviet regime also meant that photography was becoming more accessible and less of a specialized profession. The demand for Evkarpidi's unique artistic approach waned as photography transitioned from an art form to a more utilitarian medium.
In 1932, Ioannis Evkarpidi passed away, leaving behind an invaluable artistic legacy. His photographs stand as a testament to his artistic vision and the historical context of Sukhum and the broader region during a period of significant social, cultural, and political change.

Photographer's sister Sofia Evkarpidi-Ioakimidi and brother Manolis Evkarpidi.
Today, Ioannis Evkarpidi's works can be found in museums, archives, and private collections around the world. They offer a window into a bygone era, where photographic portraits were not just images but also artistic expressions of individuals, their lives, and their stories.
In recent years, there has been a resurgence of interest in the work of the Sukhum Master of Photography, with exhibitions being organized to showcase his unique contributions to the world of photography. These events have served to bring Evkarpidi's works to the attention of new generations of photographers and art enthusiasts, ensuring that his legacy will continue to inspire for years to come.
One of the most notable aspects of Evkarpidi's work is the skillful use of lighting and composition to create images that evoke a sense of depth and atmosphere. This was achieved through a combination of natural light and carefully positioned reflectors, as well as the use of various backdrops and props.
In addition to his artistic talents, Evkarpidi was also known for his technical prowess, often experimenting with different photographic processes and techniques to achieve the desired effects. This included the use of various chemicals and printing methods, as well as the early adoption of color photography, which was still in its infancy during his lifetime.
Ioannis Evkarpidi's impact on the world of photography extends beyond his own works. His influence can be seen in the works of subsequent generations of photographers, who were inspired by his unique approach to capturing the human spirit. His pioneering techniques and creative vision continue to be studied and celebrated by photographers and art historians alike.
In conclusion, the life and work of Ioannis Evkarpidi provide a fascinating insight into the world of early 20th century photography and the broader cultural context of Sukhum during a time of significant change. His artistic legacy serves as a reminder of the power of photography to capture not just the physical appearance of an individual, but also their essence and the world in which they lived. As the Sukhum Master of Photography, Evkarpidi's contributions to the history of photography are both significant and enduring.