22 October 1992: Burning of the National Archives and Library of Abkhazia by the Georgian invaders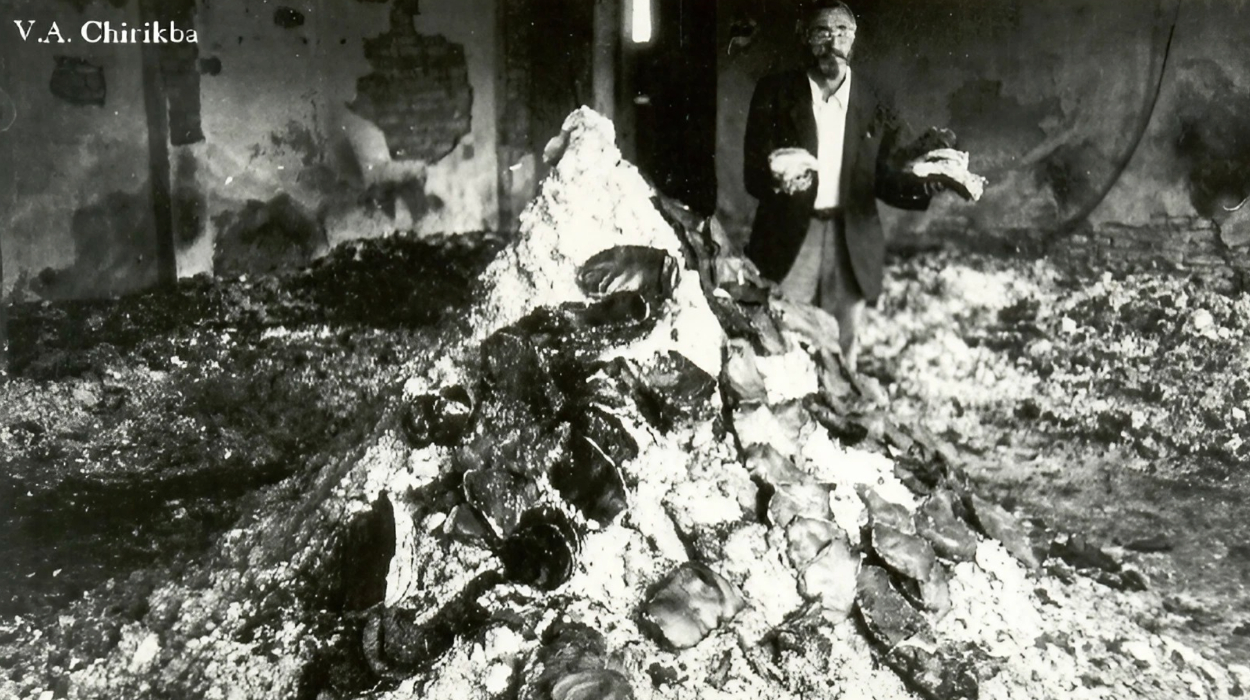 A Catastrophic Blow to History and Identity

The tragic events of wars are often remembered for their casualties, broken infrastructure, and territorial shifts. However, a far less visible yet equally devastating loss comes in the form of destruction of cultural heritage. This was glaringly evident during the Georgian-Abkhazian War of 1992-1993, when an intentional act of arson on the part of Georgian soldiers erased a substantial part of Abkhazian history. 
Cultural Destruction: A Historical Weapon of War 
The deliberate destruction of cultural institutions as a means of waging war is a grievous strategy with roots deep in human history. From ancient eras to more recent times, archives, libraries, and centres of knowledge have been systematically obliterated by invaders, revolutionaries, and oppressors. Such acts are often not mere collateral damage but calculated moves to erase the past, instil fear, and pave the way for a new narrative. 
This practice of annihilating libraries is among the most potent ways of terrorising a society. It signals a powerful message: the dawn of a new religious, ethnic, or cultural epoch. This act, so visceral and symbolic, has tragically resisted almost every attempt at international regulation. 
For many, the images of book-burning conjure up the chilling sights of Nazi Germany, where SS soldiers and Hitler Youth stood triumphantly beside towering infernos of literature, art, and history. These books, snatched from libraries, academic institutions, and private homes, represented the diverse tapestry of European culture and thought.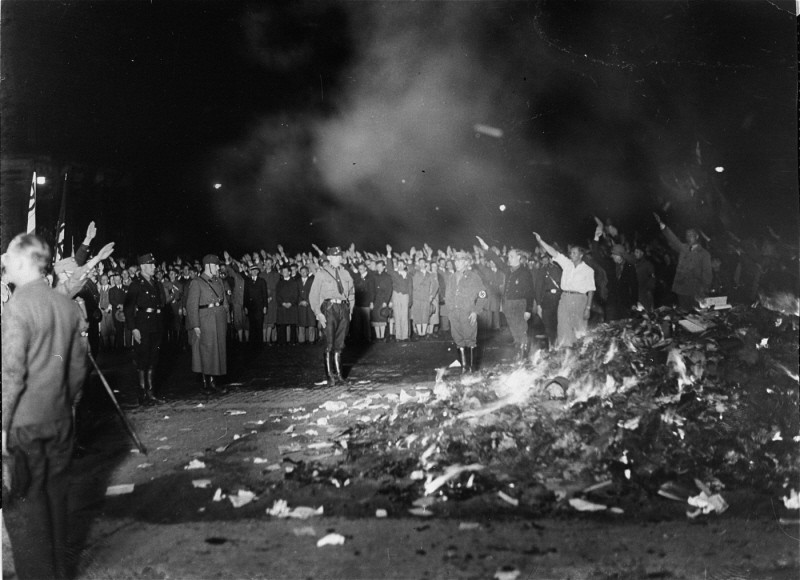 A crowd gathers to witness thousands of books, considered to be "un-German," burn in Opera Square in Berlin, Germany, during the Buecherverbrennung book burnings on May 10, 1933.
Furthermore, during the turbulent times of the Balkan wars, an especially heart-wrenching act of cultural sabotage occurred under the watchful eyes of the global media. The Library of Sarajevo, a treasure-trove of manuscripts and documents that celebrated the multicultural essence of Bosnia-Herzegovina, was maliciously razed to the ground in August 1992. In the aftermath of this devastation, international libraries and cultural organisations rallied to restore, to some extent, the immense loss. 
Yet, merely two months after Sarajevo's tragic loss, another assault on history transpired, this time away from the global spotlight. This was the deliberate burning of the Abkhazian National Archives and the National Library by Georgian forces. 
A Targeted Attack on Abkhazian Heritage 
On 22 October 1992, in the heart of the Abkhazian capital, Sukhum, two structures of paramount significance were set aflame: The Abkhazian National Archives and the National Library. This act was not a mere consequence of warfare but a deliberate attempt to obliterate documentary evidence that validated Abkhazians' deep-rooted connection to their homeland. Such a calculated attack, far from the primary conflict-zones, underscores the symbolic weight of these institutions to Abkhazia.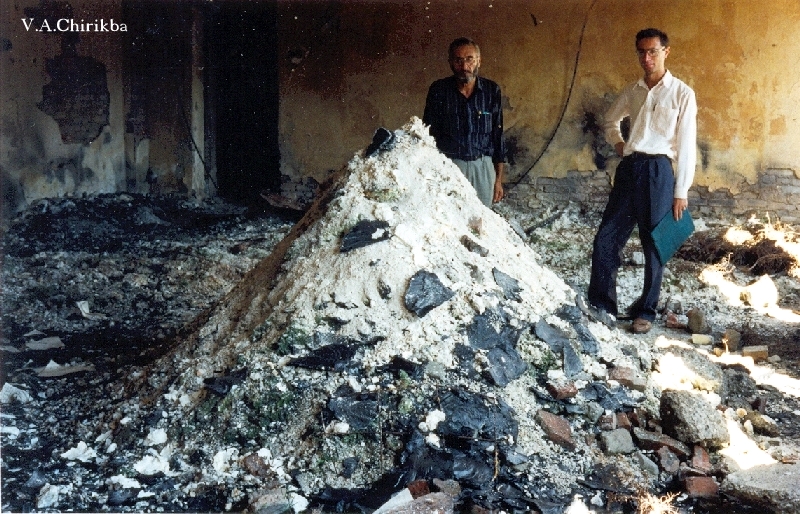 Ermolay Adzhindzhal and Abesalom Lepsaya in front of the archives turned to ashes. Photo by Viacheslav Chirikba
Kharalombos Politidis, an eyewitness to the tragedy, provided a chilling account of Georgian National Guard soldiers who forcibly entered the State Archive Building. After shooting the doors open, incendiary grenades were thrown into the premises. Desperate Sukhum citizens, watching their history go up in flames, were ruthlessly kept at bay by armed guards. Their attempts to salvage burning books and documents were in vain. 
"The destruction of the archive was a huge shock for me, as for all scholars; I myself collected archival documents at AbIGI [the Abkhazian Research Institute for History, Language and Literature – ed.], so I knew what kind of labour was involved."
― Roman Gvindzhia, head of the Office of the State-Archive of Abkhazia.
The Scale of the Loss 
In a single night, nearly 95% of the archive was reduced to ashes. Abkhazia's rich documentary history, especially the comprehensive collection from the 19th century, was wiped out. The radio-archive from the 1930s was among the few remnants that survived this catastrophe.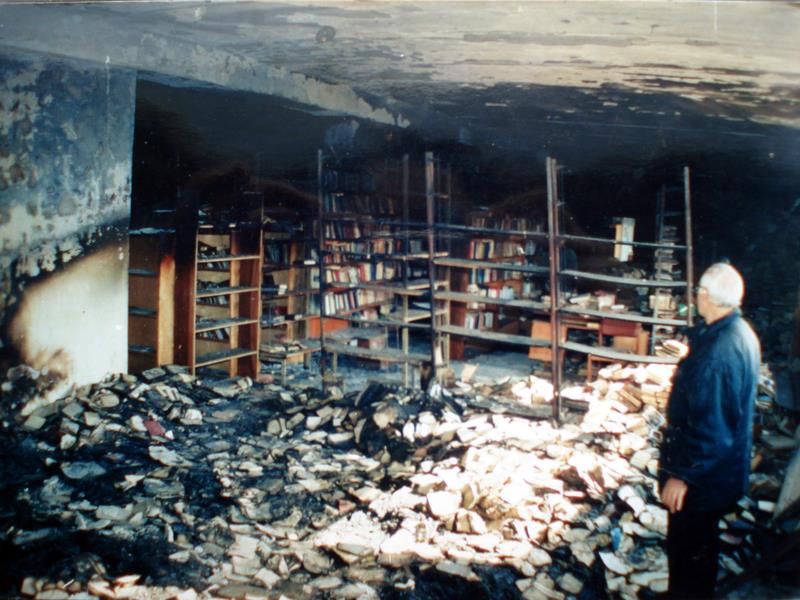 Library director Boris Cholaria in front of the burned books.

For the National Library of Abkhazia, the war's aftermath was equally bleak. Boris Cholaria, the Library director, noted the profound losses. From a pre-war status of 421 operational libraries boasting a stock of 7.5 million books, only five survived at the war's end. Almost 40% of this precious collection had been burned. Rare editions, some 6,000 volumes that chronicled Abkhazia's unique history, were entirely lost. Even the card-catalogues, which could have provided a reference to the lost volumes, did not survive. 
A Glimmer of Hope Amidst Destruction 
However, amidst this bleak backdrop, there were glimmers of hope and resilience. Nikolai Ioannidi, who was the director of the National Archives of Abkhazia, managed to preserve a fraction of these invaluable documents. Despite the overwhelming odds and lack of resources, Ioannidi stored the remnants in his apartment before transferring them to university-rooms.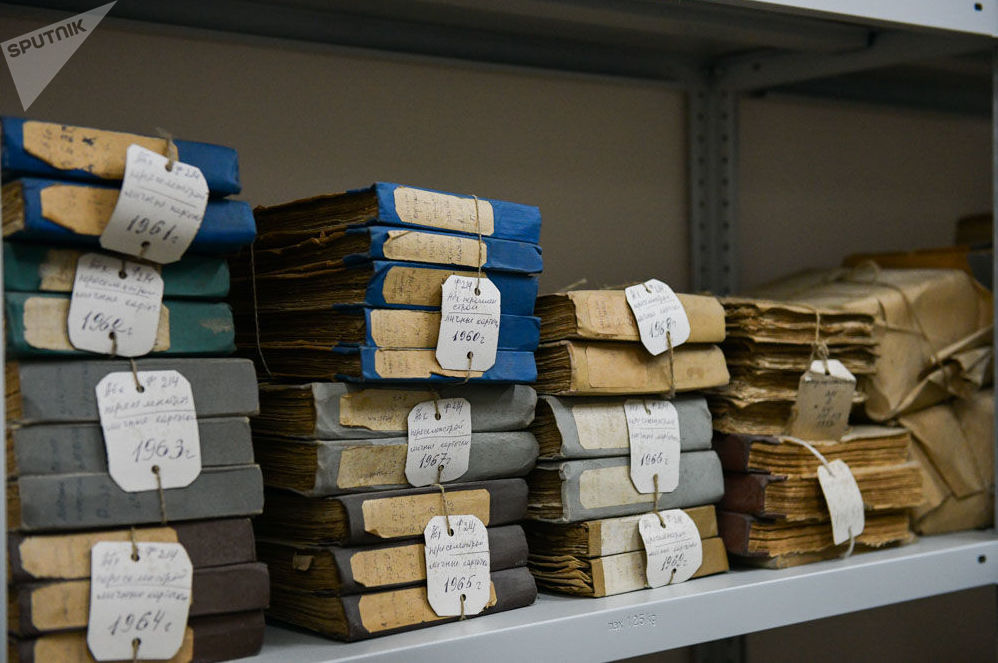 In the reconstruction of the archive after the Georgian-Abkhazian War of 1992-93, Nikolai Ioanidi, who worked for many years in the archive of Abkhazia, played a major role.
International Condemnation 
The deliberate nature of these attacks did not go unnoticed by international bodies. The UNPO's November 1992 Mission to Abkhazia Report highlighted that the Georgian offences were not just against Abkhazians but also other non-Georgian communities residing in Abkhazia. The targeted destruction of significant historical and cultural landmarks was cited as a concerted effort to erase Abkhazian culture and national identity. 
"Georgian attacks were directed against persons identifiable as Abkhazian, and that particular attack was directed against Abkhazian political, cultural, intellectual and community leaders; that in addition to Abkhazians, also Armenians, Russians, Greeks, Ukrainians, Estonians, and other non-Georgian minorities in Abkhazia have suffered similar treatment by Georgian authorities; and that removal or destruction of the principal materials and buildings of important historical and cultural importance to Abkhazians has taken place in what appears to be an organized attempt to destroy Abkhazian culture and national identity."
― UNPO: November 1992 Mission to Abkhazia Report

The burning of the Abkhazian National Archives and the National Library was not just an attack on buildings. It was an assault on the very identity and soul of the Abkhazian people. While wars often leave scars on landscapes and populations, the erasure of cultural heritage is a wound that takes generations to heal. Today, as we reflect upon these tragic events, it serves as a sombre reminder of the imperativeness of preserving our collective histories and the profound impacts of their loss.