Ceremony of reburial of 13 soldiers of the War of Abkhazia in Sukhum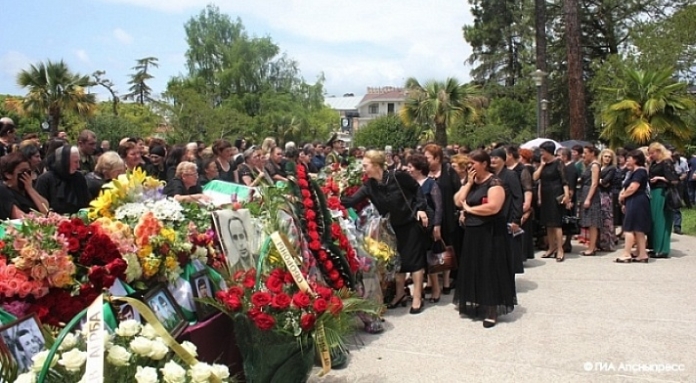 SUKHUM -- The reburial ceremony was attended by President Raul Khadjimba, Prime Minister Artur Mikvabia, Speaker of the Parliament Valery Bganba, MPs, government officials, military personnel, relatives of the victims, war veterans, members of the public, students and schoolchildren.
"The war divided our lives before and after it. It was won on the death of the young sons. Of course, children do not have to leave before their parents, but in another way we would not have won the war, we does not exceed the enemy's strength and power, but stood against the aggressor only by courage and because we did not spare our lives, knowing that our People simply would not get another chance. The victory was not easy, and we paid an expensive price for it. We have no right for mistake neither before ourselves nor before the dead boys, girls and future generations", - said in his speech, the Vice-President Vitaly Gabniya.
Today, were reburied remains of 12 fighters of the battalion "Gorets": Zurab Gindiya, Valery Gobechyia, Murtaz Gogiya, Vitaly Ibragimov, Almas Kapba, Vitaliy Kubrava, Varlam Lakerbaia, Tamaz Mushba, Valentina Patsatsia-Amichba, Michael Tarba, Tamaz Khadjimba, Hizan Chakoriya and a soldier missing during the March offensive in 1993, John Agrba.
The remains were identified as a result of work of the Commission on Missing Persons under the auspices of the International Committee of the Red Cross.
Coordinate mechanism for missing persons was established in December 2010.
Identification examination was conducted at the laboratory in Zagreb.