The State Repatriation Committee Holds a Meeting on the Issue of Repatriation from Syria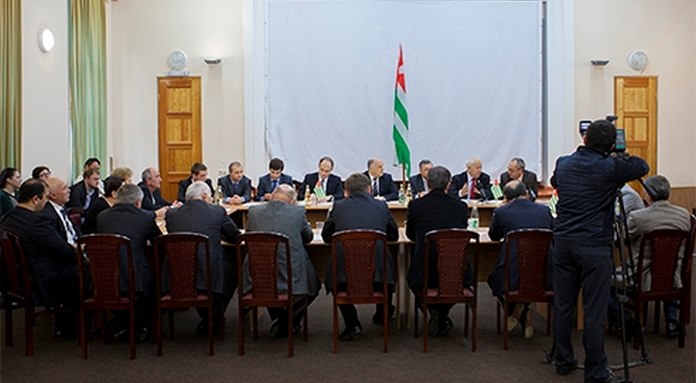 SUKHUM -- At the suggestion of the Prime Minister of the Republic of Abkhazia Leonid Lakerbaya, the State Repatriation Committee held an extended meeting related to the issue of repatriation process from Syria. The meeting was attended by the leadership of the State Repatriation Committee and Repatriation Fund, the leadership of the Foreign Ministry of Abkhazia, the Deputy Speaker of the People's Assembly A.Kharazia, deputies J. Zukhba, A. Gurgulia, D. Gunba , the Chairman of the Public Chamber N. Akaba, public activist Tsiza Gumba, the Chairman of the Social Charitable Organization "Apsadgyl akh" Roland Azhiba, representatives of civil society, repatriates from Syria and the media. 
The representatives of the State Repatriation Committee briefly reported to those present a about the work done by the Committee since last May, and on the overall progress of the repatriation process. "We have recently celebrated the 20th anniversary of the Repatriation Committee - Zurab Adleiba said. "We have done a lot of work over the years , but now, in the current difficult situation, all of us, society and the state, should join our efforts on solving the issues of repatriation."
The Chairman of the Repatriation Fund informed the participants of the meeting about the financial side of the issue discussed. According to John Smyr "for eight months of 2012 they spend 32 million 469 thousand rubles on repatriation, adaptation and settlement of our compatriots from Syria, which accounts for 52,5% of revenue of the Fund for the mentioned period". For the first quarter of 2013 they spent 13 million 994,9 thousand rubles on this item. Total expenses of the Fund on repatriation, adaptation and settlement make 46 million 464,1 thousand rubles as of April 2013. "Our activity is absolutely transparent and all decisions on the appropriation of funds are taken by the Board of the Repatriation Fund which includes representatives of other governmental bodies. We welcome the presence of members of the Public Chamber and the Parliament at the meetings of the Board in order to make the activity of the Fund even more transparent",- John Smyr concluded..

The Foreign Minister Viacheslav Chirikba spoke about participation of the Ministry of Foreign Affairs in coordination of the repatriation process. He noted that "a huge work has been done and all the newcomers have settled and have been receiving benefits. In general, the measures taken by the Government are unprecedented. Close attention of the President, the Prime Minister and the leadership of the country to this issue as well as activity of civil society and different social organizations are also very important. Today we are expecting the second wave of repatriation – about 200 people – and we must optimize the format of assistance to repatriates by arrival of the new large group of compatriots".

V. Chirikba also noted that among those 200 people which are expected to return to Abkhazia there some mixed Abkhaz-Adyg families. «They will receive equal assistance in their homeland", - the Minister said.

Speaking about the arrival of a large amount of compatriots the Minister noted that "before the repatriates were arriving in small groups, but today there is an opportunity to organize a charter flight from Beirut or Amman. The President supported this idea. Soon we will see our brothers at home, safe and sound».

Arda Ashuba mentioned teaching Abkhaz and the Russian languages to the compatriots at the Abkhaz State University: "The University is doing everything possible to integrate the Abkhaz people from Syria into the classes. We bought computers and the lecture room is under construction. However we should prepare for an influx of students. The Abkhaz State University will hardly manage it itself and we hope for the support of the state".

Participants of the meeting noted the importance of a more intensive ideological work which should be conducted as within the Abkhaz society as among the repatriates themselves. They raised an issue of adoption of a state program for repatriation which would make this process more systematic and more effective.

Source: MFA Abkhazia