Liana Kvarchelia: "For Freedom House the level of freedom is important"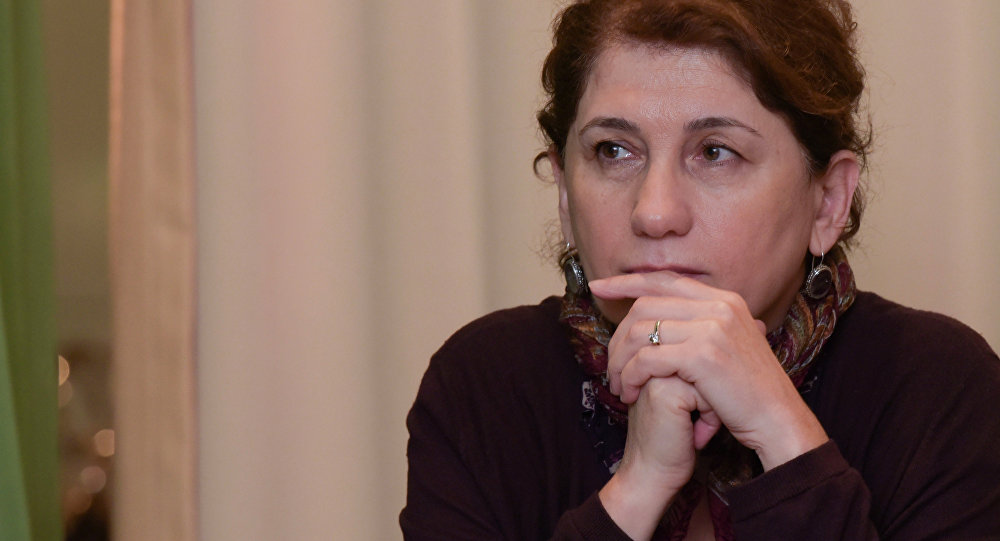 Ekho Kavkaza -- The American non-governmental human rights organisation Freedom House in the annual rating "Freedom in the World" has been consistently classifying Georgia and Abkhazia as "partially free", and, for example, Azerbaijan and South Ossetia as "not free" for many years now. Observers in Abkhazia guessed that such "equating" of it with Georgia could not but cause dull discontent in Georgian society, but if there were any public manifestations of it in Tbilisi, they did not, it seems, reach Sukhum.

But now, after the publication of "Freedom in the World 2021" report, this dissatisfaction has spilled over into the media outside of Georgia. Thus, Ekho Kavkaza reported yesterday that Mikhail Sardzhveladze, Chairman of the Human Rights Committee of the Georgian Parliament, said at a briefing that there are certain points in the report whose authenticity and objectivity raise questions:
 "Country rankings in the Freedom House rankings are mixed and unconvincing. For example, according to the poll, Uruguay is a freer democracy than Belgium, Switzerland, Australia and Germany. In addition, there is one fragment in the report that is really offensive and humiliating for any Georgian – specifically, Freedom House in its ratings in the category of "partially free" democracies considers the occupation-regime of Abkhazia alongside Hungary, Montenegro, North Macedonia, and Georgia.
From other publications, it follows that the Georgian parliamentarian was outraged that Abkhazia was awarded a rating of 40 in the category "General assessments of freedom". He noted that this is much higher than that of Kazakhstan and NATO member Turkey, and expressed doubts about the reliability and objectivity of the report. The Freedom House rating assigned to Georgia is 58. It is interpreted in such a way that the state is "partially free". Rating 40 assigns the same status.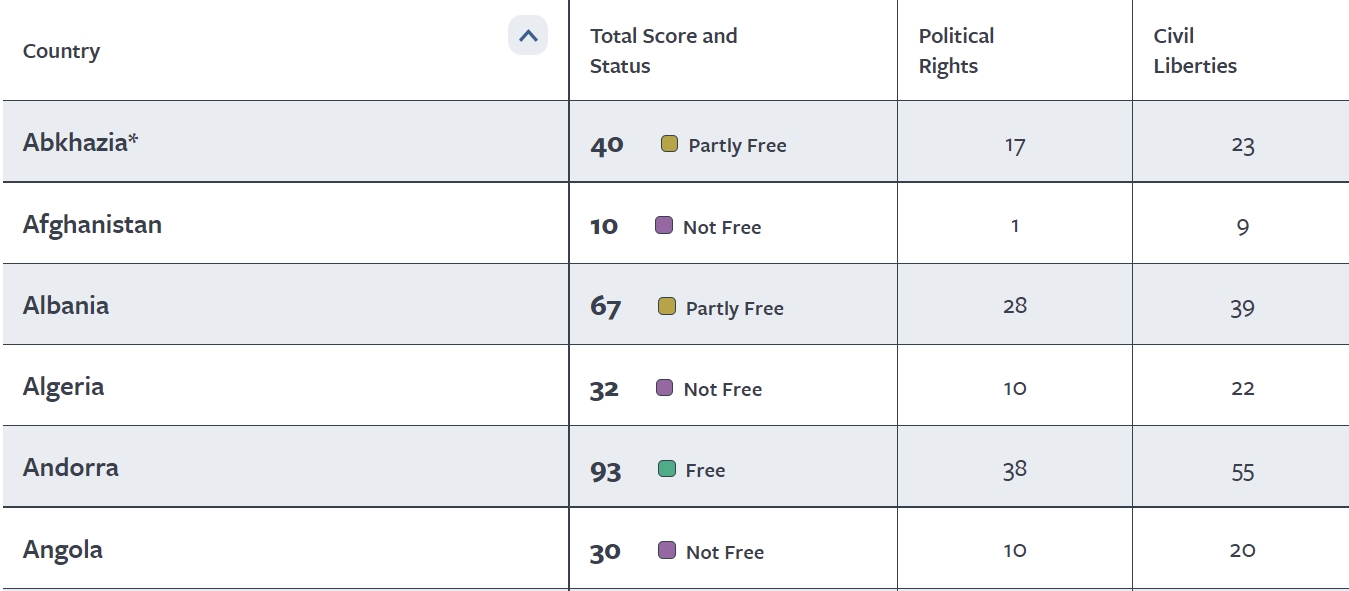 It is difficult to say why this year the Freedom House assessments so exasperated Mr. Sardzhveladze that at a briefing he began to teach human rights defenders from the United States how which country should be ranked. Did he really not pay attention to their reports in previous years? In any case, there are doubts that he was engaged in a substantive study of how things are in Abkhazia with the ratings of democratic governance, civil society, the judiciary, freedom of speech – all that makes up the overall rating of democracy. Actually, it is clear from his very speech that the Georgian parliamentarian was outraged by the very fact of Abkhazia's inclusion in the Freedom House list – after all, there, in his opinion, is an "occupation regime". This term, which was seized upon in Georgia after 2008, suggests, in theory, that the streets of Abkhazian cities are patrolled by the Russian military, that the Russian Federation censors the Abkhaz media… At the same time, the main human rights defender of the Georgian parliament probably did not have time to read the explanatory note to the NGO report, which says from year to year that "reports assess the level of political rights and civil liberties in this geographical area," including in disputed territories, that is, in unrecognised or partially recognised states.
"Echo of the Caucasus" contacted a member of the board of directors of the Centre for Humanitarian Programmes in Abkhazia Liana Kvarchelia today. Here is how she commented on the reaction of Mikhail Sardzhveladze:

"Apparently, this Georgian politician was pissed off by two factors. One is that Abkhazia is mentioned separately. Well, by the way, this has been happening for a long time. This is the reality that Freedom House has accepted, but that the Georgian political establishment will not accept. Well, society, too, unfortunately, for the most part, although there are people who think sensibly. And another factor. I think that the main purpose of his speech is, apparently, self-promotion. Apparently, other topics are too complex to discuss. This is such a position that is built into the general line of Georgian policy – everywhere and in everything to put obstacles to Abkhazia, to limit its interaction with the outside-world. Even in this matter. The fact is that the level of freedom is important for Freedom House. They know very well that Georgia does not control this situation in Abkhazia. Georgia can assess the situation with freedoms only from afar. That is, they are guided by other principles. It seems to me that this is a slightly ridiculous attempt to promote this issue."

As for the level of freedoms in Abkhazia, she believes that, of course, it is still far from its level in countries with developed democracies, but it is obvious that a long way has been travelled here since the formation of an independent Abkhazian state. In particular, in the field of freedom of speech. Kvarchelia says:

"Sometimes I see signs that there may be some pressure for an opinion. However, we keep a close eye on them. All the same, our task is not to avoid lowering the bar of those achievements of which we can be proud as a country that has been in complete isolation for many years and still remains in international isolation, but, on the contrary, to raise this bar. This is a very difficult task. Until now, unfortunately, not everyone in society sees the importance and interdependence of these factors."
This interview was published by Ekho Kavkaza, and is translated from Russian.