The Hand of Moscow and the Sterility of Geneva, by Izida Chania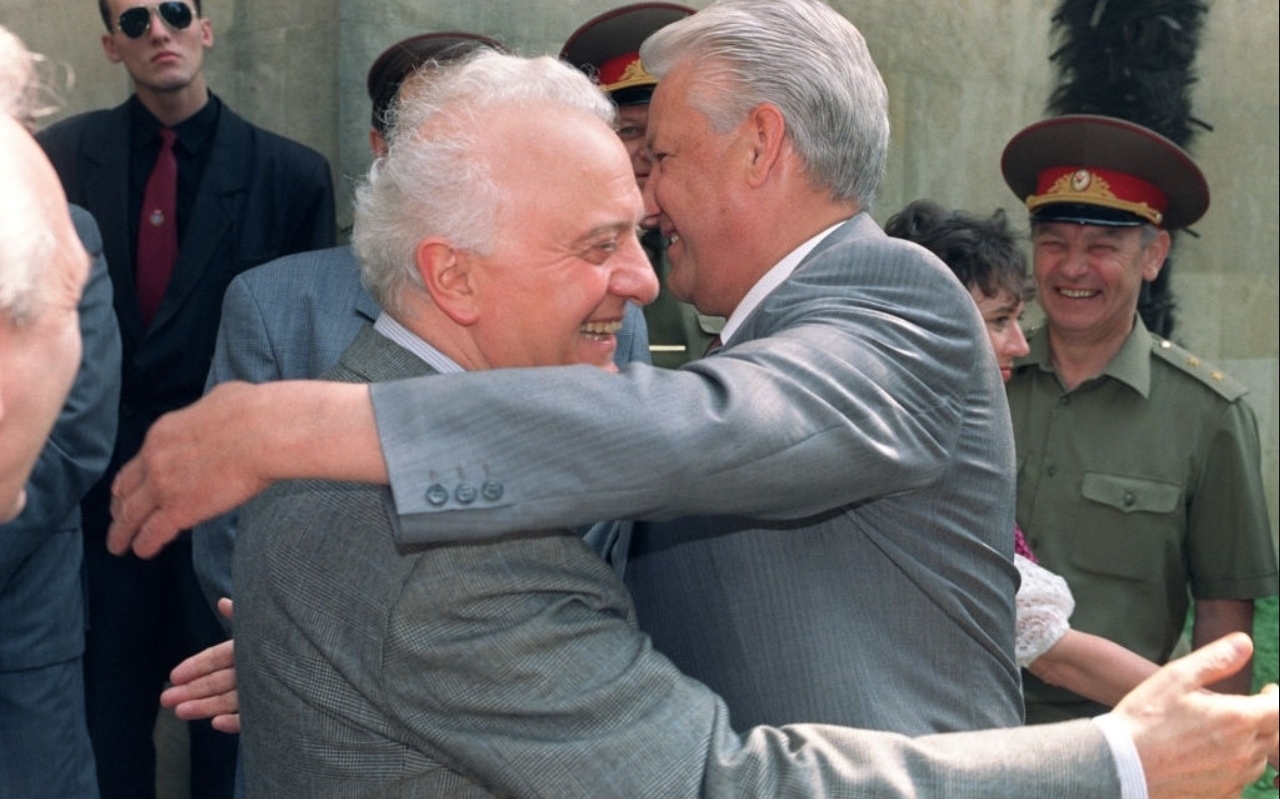 On September 30th, Abkhazia marked its Victory Day in the Georgian-Abkhazian war. In 1993, Abkhazia's Armed Forces successfully repelled Georgian troops, asserting control over the country's territory up to the Abkhazian-Georgian border along the Ingur River. Reactions to this day vary on either side of the Abkhazian-Georgian divide: while some mourn a loss, others celebrate a triumphant quest for independence.
Yet, three decades post-conflict, many nations, under Georgia's influence, perceive these events as a triumph of the Russian military. Georgian narratives often hinge on the argument that their superior military force's defeat was due to Russian assistance to Abkhazia, garnering sympathy from Western allies in the process.
On the eve of Victory Day, tensions ran high on social media. Online platforms transformed into ideological battlegrounds, with debates primarily centred around "the hand of Moscow"—Georgia's contention that Russia was instrumental in their defeat. Many external observers also believed this.
This assertion lacks foundation, and rather than delving deep into intricacies, I will highlight key events that challenge this narrative. For those keen on distinguishing fact from propaganda, and keen to understand finer details, a wealth of information awaits online.
As the Soviet Union dissolved, the Russian military withdrew from Georgia, handing over its arsenal to Georgian defence entities. At this point, Georgia is at war with South Ossetia.
+ Arms Transferred to Georgian Army (Moscow, Pravda - 29 August 1992 / FBIS Report/Translation)
+ Tengiz Kitovani: "they [Russians] officially gave us the 108 tanks of the Akhaltsikhe Division"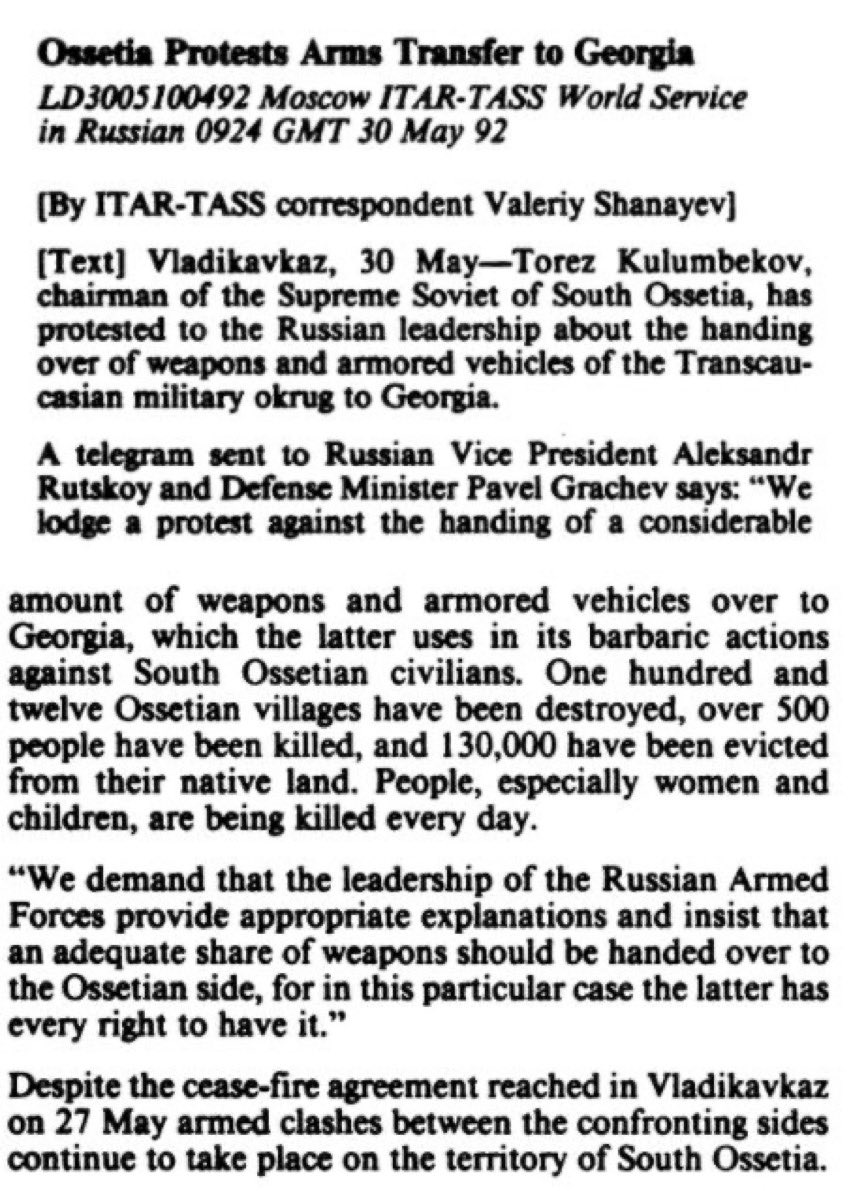 + Prime Minister of Georgia Tengiz Sigua confirms transfer

Vladislav Ardzinba: "...Russia gives weapons to the Georgians and we take them away from the Georgians, they become ours."
On June 24th, roughly six weeks prior to Georgia's aggressive move, Yeltsin and Shevardnadze convened in Dagomys. During this meeting, Shevardnadze secured Yeltsin's assurance that Russian troops stationed in Abkhazia would refrain from intervening in Georgia's efforts to "restore constitutional order" in Abkhazia.
The initial strategy of a rapid invasion did not succeed. As a result, [Gia] Karkarashvili frequently travelled between Georgia and Moscow, seeking an extension for the invasion. Yeltsin consented.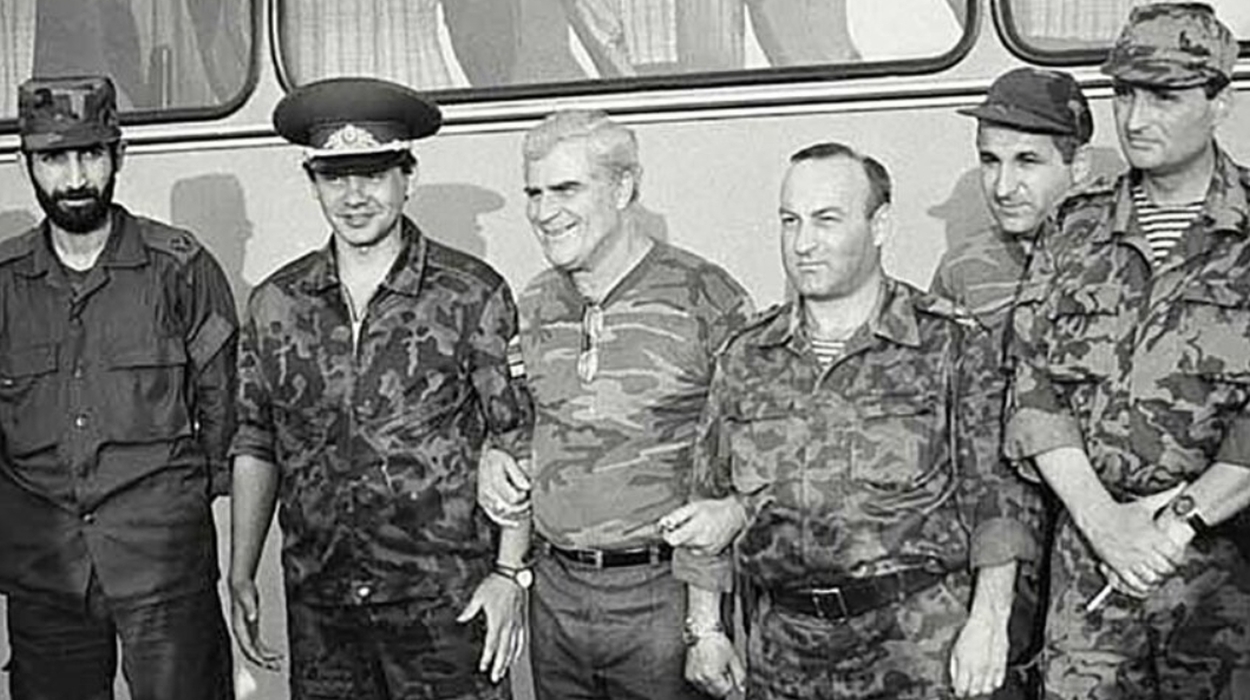 General Gia Karkarashvili (furthest left), Russian General Sergei Shoigu and next to him Georgian General Geno Adamia (1993).
On September 3, Yeltsin brokered discussions between Shevardnadze and Ardzinba, exerting pressure on the Abkhazian leader to accept the unfavourable terms of the Moscow agreement. This accord stipulated that volunteers from the Confederation of the Peoples of the Caucasus would exit Abkhazia, and in return, Georgia would reduce its military presence. However, Georgia reneged on its promises. The conflict raged on, and the volunteer groups from the Confederation made their way back to Abkhazia. Despite being the accord's guarantor, Yeltsin made no attempts to ensure Georgia honoured its commitments.
+ Shevardnadze Writes Yeltsin - Moscow Interfax - 26 August 1992 (FBIS Translation)
+ The Georgian State Council has very much welcomes the statement made by the Russian Ministry - 27 August 1992
+ Moscow Agreement 'Satisfies' Guard Commander Gia Karkarashvili
+ Abkhaz Leader Calls Moscow Talk 'Show'
During the entirety of the war, Russian envoys [Andrei] Kozyrev and [Boris] Pastukhov endeavoured to convince Abkhazia to capitulate and align with Georgia.
By September 27, Sukhum had been reclaimed from the Georgian occupation forces. A day later, on Yeltsin's directives, a mission to extract Shevardnadze from Sukhum was executed. A swift landing vessel was dispatched to Abkhazia, and under its protection, a Russian aircraft departed Sukhum airport with Shevardnadze aboard.
In retaliation for its victory in 1993, Russia imposed an economic blockade on Abkhazia and sealed the Russian border.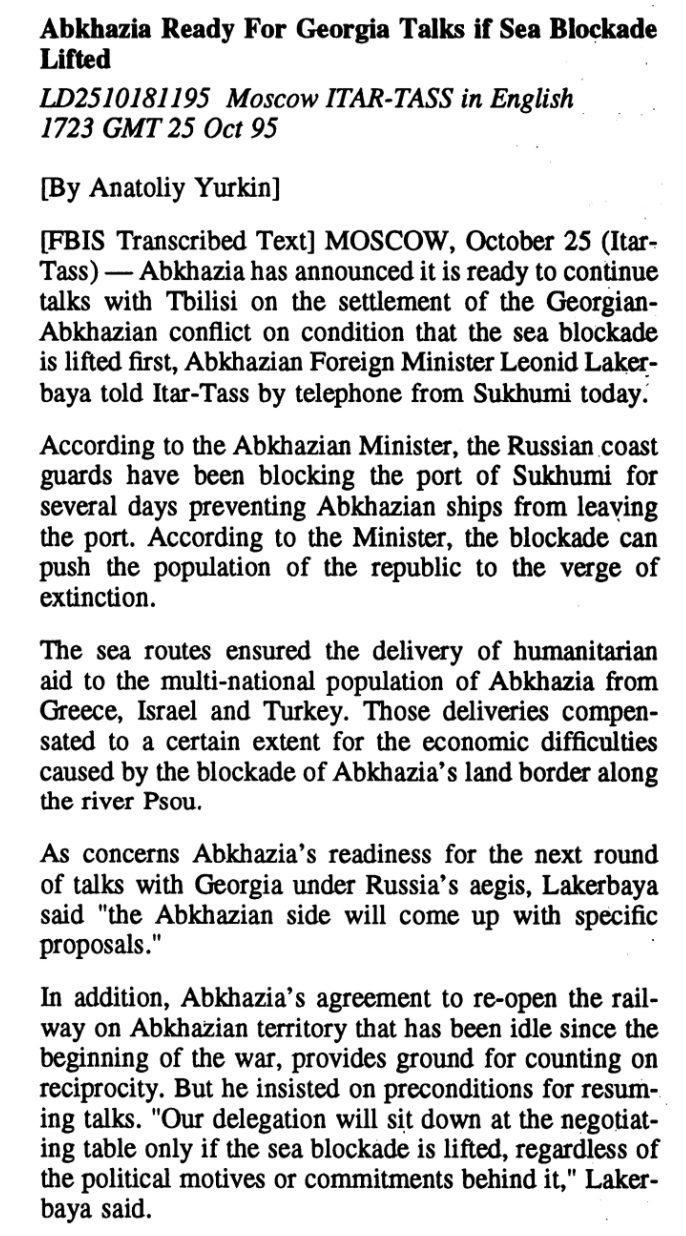 + The Blockade of Abkhazia
+ Selected FBIS Reports on Chechnya, Abkhazia & the first Chechen War
On September 13, 1994, the commander of the Russian peacekeeping brigade, General [Grigory] Kondratiev, withdrew his troops from the Abkhazian-Georgian frontier, delegating the post to Georgian contractors. He declared an intent to open fire on any Abkhazian obstructing the "return of Georgian refugees."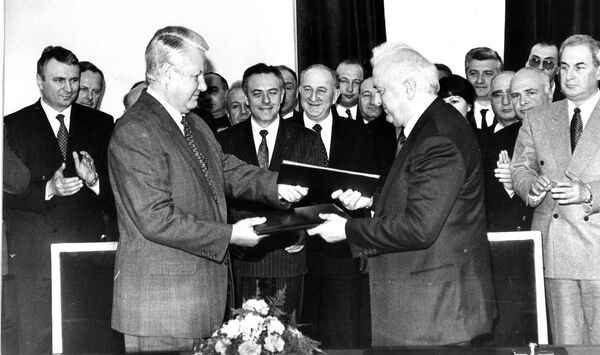 Russian President Boris Yeltsin and Georgian President Eduard Shevardnadze after signing the Treaty of Russian-Georgian Friendship, Good Neighborliness, and Cooperation. Behind Andrei Kozyrev and Jaba Ioseliani (February 3, 1994).
Until 2008, the metaphorical "hand of Moscow" consistently endorsed Georgia's claim over its territories.
It was only after Russia's recognition of Abkhazia that the dynamics shifted profoundly.
I believe that these arguments are sufficient to understand that Russian leadership was on the side of Georgia-Shevardnadze and supported it/them both at the beginning and the end of the war, and then for another long 15 years. Another undeniable point lies in the figures, yet I refrain from resorting to such stark evidence, refraining from tallying the deceased or the lost. Those who need such arguments can watch the Victory parade footage on Sukhum's Freedom Square with the Immortal Regiment or analyse the official war casualty data. I especially recommend this to the Georgian youth, who are astounded even by the well-known "Dagomys conspiracy" and many other historical facts.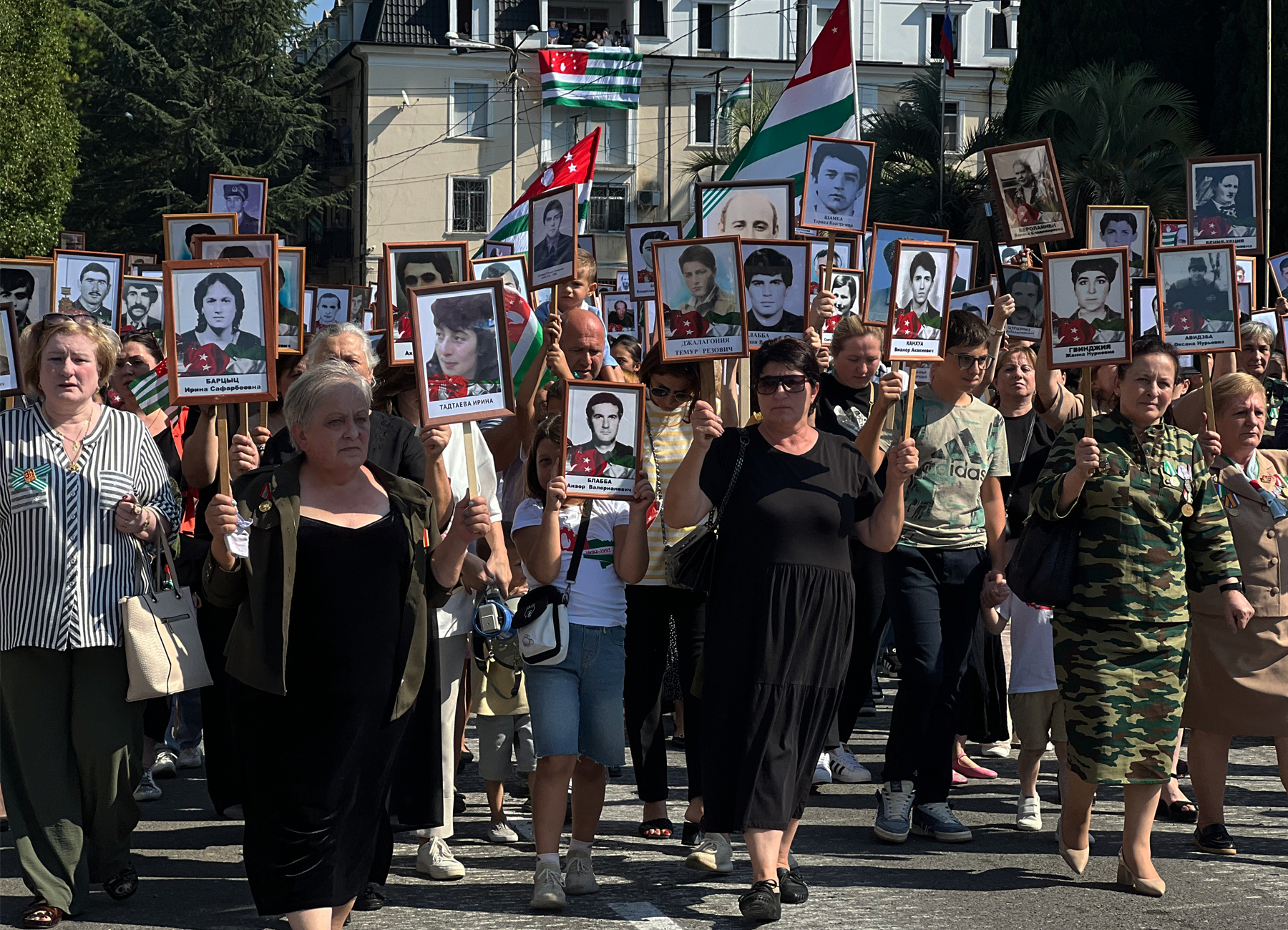 In Sukhum, the 'Immortal Regiment' event commemorated the 30th anniversary of the Patriotic War of the people of Abkhazia (1992-93). Attendees carried portraits of fallen relatives. During the Georgian-Abkhazian war (1992-93), Abkhazians lost 4% of their population; each Abkhazian family lost at least one of their members. In terms of the population of the U.S., that would be 12 million people.

"I can confidently say that 90% of the deceased Abkhazians and captives I worked with were ethnic Abkhazians. In other words, Abkhazians fought and shed their blood. To claim that Abkhazians did not fight is absurd to me."
 — Paata Zakareishvili (Thirty-Year Struggle: Georgia and Abkhazia's Lost Opportunities for Dialogue)

This is important because as generations change, narratives created by political strategists continue to live their own lives, influencing the worldview of a new generation that did not experience the war. Regrettably, the present leadership of both Georgia and Abkhazia appears to be primarily fixated on retaining their personal grip on power. They seem indifferent to the destinies of our modest nations situated along the historic "Great Silk Road." This indifference is manifest in the utter standstill of the negotiation process. The "Geneva Discussions," a dialogue framework that has long since lost its moral relevance, is in dire need of restructuring. After 58 repetitive rounds, where parties meticulously align their actions with their allies, the main emphasis has regrettably transitioned from resolving the conflict to addressing humanitarian concerns.
It must be admitted that the current leadership of the two countries lacks both the will and the desire to propose their own options for a settlement through direct dialogue between the official representatives of Georgia and Abkhazia, with or without the participation of mediators, and to move away from this ridiculous scenario. However, the decades-long format, where Abkhazia and Georgia serve merely as a backdrop for negotiations between major powers, appears extremely unpromising, especially given the current global context.
This article was published by Ekho Kavkaza and is translated from Russian.