Abkhazia polls being held calmly and without any violations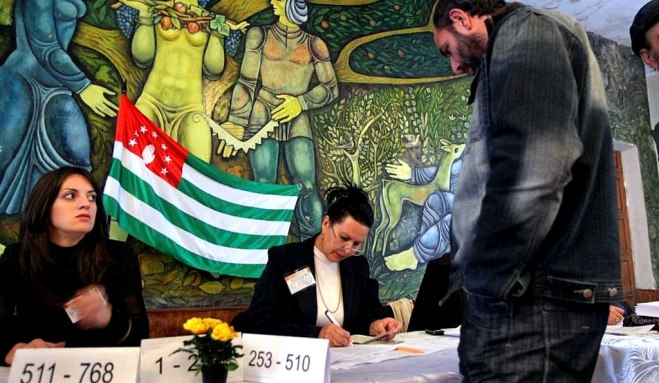 SUKHUM (Itar-Tass) Abkhazian early presidential elections are being held calmly and without any violations, acting President of the South Caucasian Republic Valery Bganba said on Sunday.
Polling stations opened at 8am Moscow time (4am GMT) on Sunday.

"The voting is being held calmly at all polling stations. The voter turnout is quite good for this time of the day, people are lining up at polling stations to vote," Bganba said, after he had voted at a polling station opened at a secondary school in Abkhazia's capital, Sukhum.

"Today not just presidential elections are being held" in Abkhazia, Bganba said, adding that "We are choosing the fate of our country, the fate of our children and grandchildren and are choosing reforms, social and economic progress," he added.

"I believe that everything will pass calmly in our country and we will be able to congratulate a new president of the republic already overnight to Monday," Bganba noted.
Meanwhile, the voter turnout has made 13.17% according to reports made at 10am Moscow time (6am GMT) after two hours of voting in the republic, chairman of the Abkhazian Central Elections Commission Batal Tabagua told a media briefing at the information centre covering early presidential polls in the republic.

Republican acting Prosecutor General Zurab Agumava said earlier in the day that elections were being held calmly. "Nothing hampers free expression of will for Abkhazian citizens, no one has reported any violations in prosecutor's offices, public order is being observed," he said.

Acting Interior Minister Raul Lolua confirmed the acting prosecutor general's statement that the situation in the republic was calm.