Aslan Bzhania: I very much hope that there will be an end to dividing people in Abkhazia into 'us' and 'them'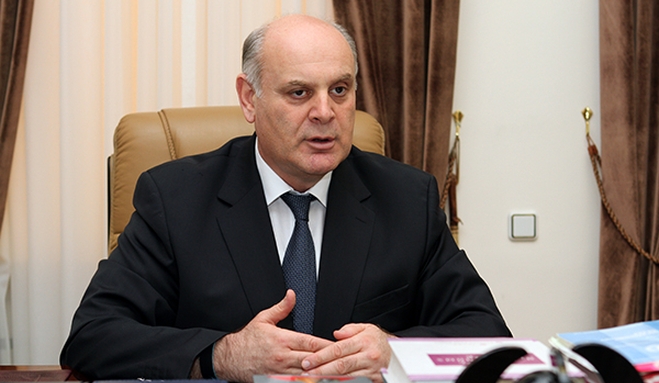 Abkhaz presidential candidate Aslan Bzhania has expressed his gratitude to those who voted for him. In the pre-term presidential ballot that took place on 24 August 2014, 35,869 voters (35.9 percent) voted for Bzhania. 
"I would like to thank all those who supported me in the 24 August election; they were my friends, my colleagues, and, most important, my voters. I am convinced that your choice was dictated by the desire to achieve the prosperity of the Republic of Abkhazia. I want to say that all my future actions will be directed at attaining that objective. I very much hope that that the times and approaches will end in our Abkhazia when people were divided into 'us' and 'them.' Among those who voted for me were very many young and talented people with potential, and I hope that their political convictions and political choice will not become an obstacle to them realizing their potential here in Abkhazia," Aslan Bzhania said at a press conference on Thursday 28 August. 
Responding to a question about his continuing political activity, Aslan Bzhania answered: "At present I am on leave, and I consider it premature to talk about my political activity," he said. "I do not intend to leave Abkhazia. I live in Abkhazia and I shall continue to live here, I intend to work in Abkhazia for the good of our homeland. In what capacity – that is a different question." 
To the question whether he is considering heading the opposition, Aslan Bzhania similarly said it is too early to make such statements. "I am an official, and currently on leave. There is a corporate culture in accordance with which I cannot make such statements, and do not have the right to do so. Let's wait and see," he said. 
"In a democratic country, of course there should be an opposition, and that opposition should be constructive. And I think that very soon people, forces will appear that will act within those particular parameters.  It is essential that we create conditions in which politicians will spend more time in their offices, we need dialogue, all the candidates talked about this. We need to defuse certain tensions that exist within society, and in that sense we should become an example for many states. We should learn to talk to each other. To talk to each other and listen to each other. This is what I talked about during my election campaign and what I shall try to put into effect today, regardless of what capacity I shall be acting in," Aslan Bzhania noted. 
He said he has congratulated the elected president of Abkhazia. "It was no problem for me to congratulate the elected president.  We had a brief but positive conversation. I consider that approach the correct one: we have elected a president and we should treat him with respect. This was the choice of our people, and it should be a determining factor for all of us," he said. "Even if the victory was by a single vote, we should respect the choice of that individual voter and recognize the election."  
Assessing the election campaign, he noted that it was held in difficult conditions. "Political passions became extremely heated at times, but between us all we managed to find a way out of this complex situation. The election took place and its outcome is recognized," said Aslan Bzhania. "I think we did not allow ourselves to go beyond the limits of the existing laws. I and my colleagues tried to behave with the utmost restraint, and for that reason we have no such serious objections to the way the election was held. I would like to take the opportunity to express my gratitude to the Central Election Commission and to its chairman personally. You will recall that diverging opinions of the work of the Central Election Commission were expressed in the course of the election campaign. The election results show that the CEC has demonstrated its viability and functioned in strict accordance with the law." 
As for the violations that occurred during the election campaign, in Aslan Bzhania's words the relevant officials of the Prosecutor General's office should look into them.