Nomination of Candidates for President of the Republic of Abkhazia Has Ended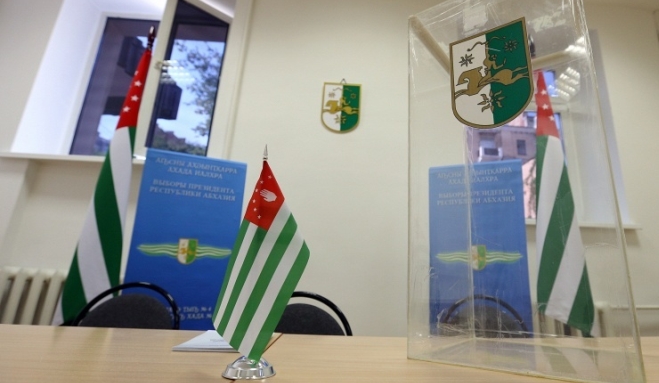 SUKHUM -- The nomination of presidential candidates for the Republic of Abkhazia ended on February 11. 

The deadline for registering presidential and vice-presidential candidates is February 21.

Citizens' initiative groups have put forward as presidential candidates opposition leader and parliament deputy Aslan Bzhania, Economy Minister Adgur Ardzinba, and former Minister of Internal Affairs Leonid Dzapshba from the political party Akzaara.

The following have agreed to run as candidates for Vice President:
Badra Gunba, former Minister of Culture (2011 – 2014), with Aslan Bzhania;

Arda Ashuba, director of the Institute for Humanitarian Studies of the Academy of Sciences of Abkhazia, with Adgur Ardzinba.

Viktor Khashba, former Deputy Economy Miinister(1994 – 2000), with Leonid Dzapshba.
A further potential presidential candidate, acting Sukhum Administration head Kan Kvarchia, whose candidacy was put forward by an initiative group of citizens, said today that he has "decided not to participate in the current election campaign."

In accordance with Article 8 of the Law "On the Election of the President of the Republic of Abkhazia", "the registration of nominated candidates for the President of the Republic of Abkhazia and the candidates proposed by them for the Vice-Presidents of the Republic of Abkhazia shall be carried out by the Central Election Commission within 10 days of the receipt of documents confirming the nomination of the candidate and his written consent to run, but no later than 30 days before the election of the President of the Republic of Abkhazia. "

On January 10, 2020, the Appeals Board of the Supreme Court fully satisfied the administrative appeal by presidential candidate Alkhas Kvitsinia and overturned the decision taken on September 9, 2019 by the Central Election Commission regarding the results of the presidential election and the victory of Raul Khadjimba, declaring it illegal and invalid. The Central Election Commission was ordered to set a date for a repeat presidential election.

The repeat presidential ballot will take place on March 22, 2020.