New Abkhaz Leader Faces Seemingly Insurmountable Task, by Liz Fuller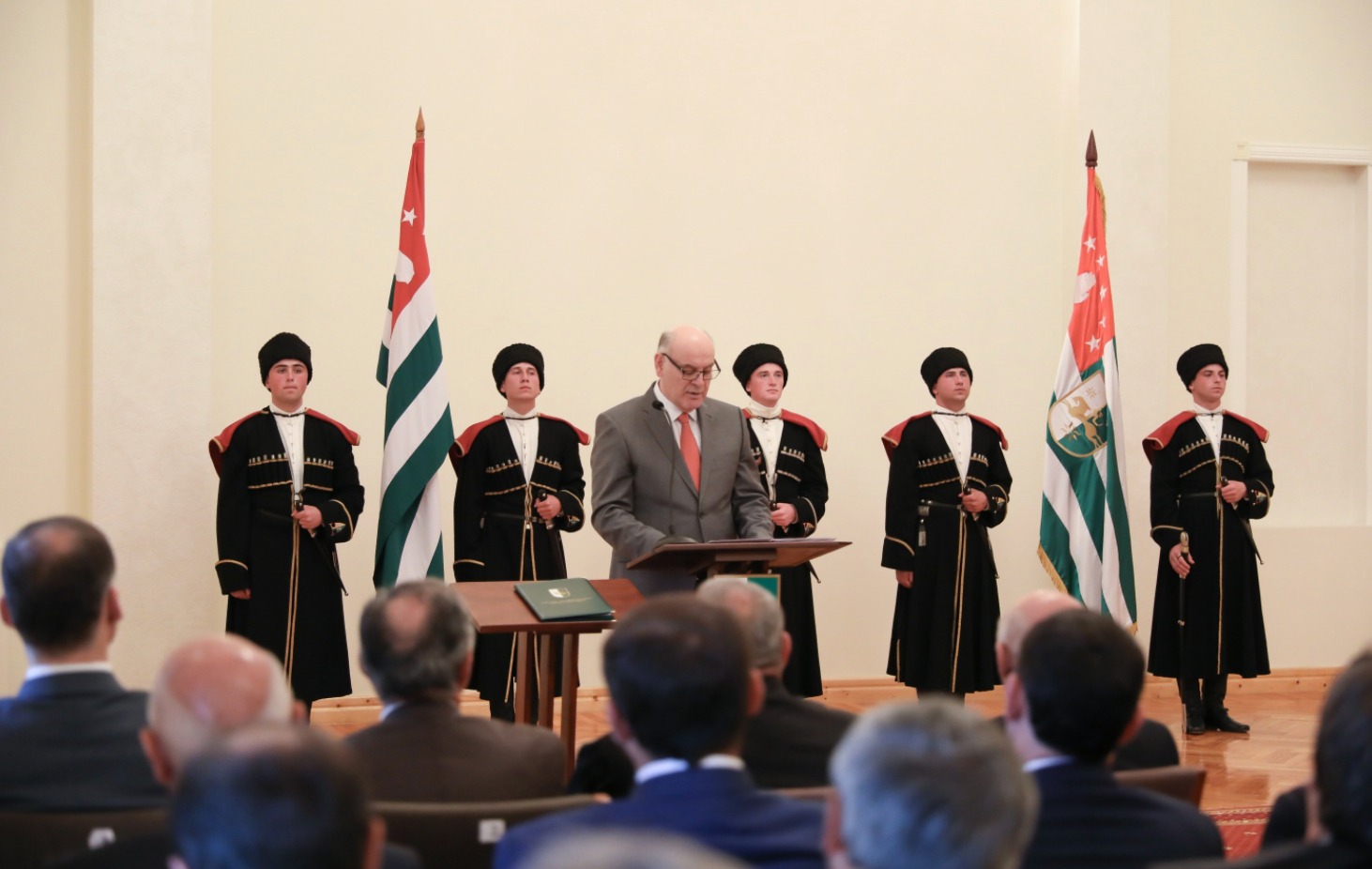 Liz Fuller | Special to AbkhazWorld
On April 23, Bloc of Opposition Forces leader Aslan Bzhania was formally inaugurated as the fifth de facto president of Georgia's breakaway Republic of Abkhazia. Under normal circumstances, his victory in the pre-term presidential ballot one month earlier could have heralded a the start of a new era of cautious optimism n Abkhaz politics following the ousting in 2014 of one elected leader in what the opposition termed a constitutional coup, and the forced resignation in January 2020 of his successor. Bzhania has consistently stressed the importance of healing the rift in society caused by the political turbulence of the past six years and of reversing the concomitant economic stagnation and sky-rocketing crime rate. His chances of success, however, risk being undercut by the social and economic impact of the ongoing coronavirus pandemic.

The pre-term election on 22 March was necessitated by the resignation, under pressure from both the Abkhaz opposition and his patrons in Moscow, of incumbent President Raul Khajimba.

A former career KGB officer, Khajimba had played a negative and disruptive role in Abkhaz politics since 2004, spearheading protests against two consecutive presidents and triggering successive political crises. Following three failed bids for the presidency (in 2004, 2009 and 2011), Khajimba launched an all-out campaign in April 2014 to topple then President Aleksandr Ankvab that culminated in the storm of the presidential administration building by Khajimba's supporters and Ankvab's resignation four days later following an orchestrated vote of no confidence by the parliament.

Khajimba was elected de facto president in August 2014, defeating Bzhania by the narrowest of margins (559 votes).

His subsequent failure to make good on campaign promises to galvanise the region's moribund economy or stem a steady upsurge in crime, together with his obdurate rejection of dialogue with the opposition fuelled mounting popular discontent to the point that in early 2019, Bzhania was increasingly regarded as posing a serious challenge to Khajimba's chances of being re-elected for a second presidential term. Bzhania registered as a presidential candidate, but was constrained to pull out of the race after succumbing in April to a virulent mystery illness that Bzhania subsequently said was diagnosed as dimethyl mercury poisoning.

The Abkhaz opposition then selected as its fall-back candidate Alkhas Kvitsinia, chairman of the opposition Amtsakhara (Keep the Homes Fires Burning) union of veterans of the 1992-1993 war that culminated in Georgia's loss of control over Abkhazia and the region's de facto independence. (Abkhazia was finally recognised as an independent state by the Russian Federation following the five-day war of August 2008.)
It is a measure of Khajimba's loss of public support that neither he nor any of his eight rival candidates polled the required 50 percent plus one vote required for an outright victory. The 8 September run-off between Khajimba and Kvitsinia, who garnered 24.83 and 22.91 percent of the vote respectively, was overshadowed by uncertainty and public disagreement over how the unclear and inconsistent wording of the Law on the Presidential Election should be interpreted.

Crucially, Article 19 of that law fails to specify whether in the event of a second round a simple majority is enough to win, or the winning candidate must poll more votes than the combined total cast for his rival and "against all." Under pressure to clarify that ambiguity, the Central Election Commission (TsIK) endorsed an agreement reached between Khajimba's and Kvitsinia's campaign staff that a simple majority was adequate to ensure victory.

Whether Kvitsinia misjudged the public mood or, as some observers alleged, election violations by Khajimba's team tipped the balance in his favour, on 9 September the TsIK declared Khajimba the winner with 47.39 percent of the vote, compared with 46.17 percent for Kvitsinia. The difference between the two amounted to just 999 votes, with 3,154 votes (3.76 percent) cast "against all" candidates.

Kvitsinia responded by writing a letter to the TsIK stating that he now realised that he broke the law in signing the agreement with Khajimba's staff that votes cast "against all" should be disregarded, and is therefore rescinding his signature to that agreement. 

Kvitsinia then lodged a formal appeal to the Republic of Abkhazia Supreme Court to annul the TsIK's ruling that Khajimba had been elected president. The Supreme Court rejected that suit, and Khajimba's inauguration for a second term duly took place on 9 October. A Supreme Court hearing scheduled for 18 December of Kvitsinia's appeal of its upholding of the TsIK ruling was postponed until 9 January, by which time widespread popular mistrust of the Abkhaz leadership had been compounded by a drive-by shooting in central Sukhum in November in which two men were killed outright and three people wounded, one of whom subsequently died of her injuries. One suspect arrested in connection with the shootings had previously served as a presidential bodyguard.

The elected President of Abkhazia, Aslan Bzhania, took the oath of office at the inauguration ceremony on 23 April.
+ 2020 Presidential Elections in Abkhazia

+ Time To Turn Crisis Into Stability? By Dieter Boden

+ Akaba on the tasks of the new president of Abkhazia: the voice of the people must be heard
Several hundred people gathered on 9 January outside the Supreme Court building in support of Kvitsinia, but even before the Court postponed yet again its hearing of his appeal, a group of mainly young activists led by Akhra Avidzba, the brother of one of the November shooting victims, stormed the presidential administration building, thus triggering the chain of events that culminated in Khajimba's resignation three days later.

Even before Khajimba stepped down, the Supreme Court had declared the 8 September presidential run-off void and the TsIK's announcement of Khajimba's re-election illegal, and scheduled a repeat ballot for 22 March. The run-up to that vote reflected a wide-spread realisation that the opportunity for a new departure in Abkhaz politics should not be squandered. Whereas in the summer of 2019 a record number of candidates sought to take advantage of the unique circumstances arising from Bzhania's inability to run and Khajimba's growing unpopularity, this time around only four registered: Bzhania; former Interior Minister Leonid Dzapshba, who had previously run in 2014, placing fourth and last with 3.9 percent of the vote, and in 2019, when he finished fifth with 5.97 percent); Adgur Ardzinba, who had served as economy minister under Khajimba from 2015; and Kan Kvarchia, who set about proving himself an energetic, articulate and efficient manager after Khajimba named him acting mayor of Sukhum in October 2019.

Possibly to avoid splitting the votes of the younger cohort of officials who has made a name for themselves under Khajimba while not necessarily endorsing unequivocally his approach to government, Kvarchia withdrew his candidacy on 11 February, just days after Ardzinba said he would participate, saying he did not want to risk exacerbating divisions in society.

Khajimba himself announced on 13 January that he would not run.

When Bzhania was hospitalised in late February with pneumonia, both Ardzinba and Dzapshba suspended their campaign activities. Dzapshba publicly proposed postponing the election, and Ardzinba visited Bzhania in hospital to discuss that possibility, which in the event proved unnecessary.

Bzhania recovered in time to participate in a lengthy televised debate in which Dzapshba declined to participate, and went on to garner 56.5 percent of the vote, a slightly higher percentage than the winner of any of the three preceding presidential ballots and 21 percent more than Ardzinba. Voter turnout was 71.56 percent, compared with 65.18 percent in August 2019.

Those figures reflect the extent of popular frustration with the political instability, economic stagnation and widespread corruption that had dogged the region for the previous six years, but should not be equated solely with faith in Bzhania's detailed blueprint for development and reform, insofar as it is not clear to what extent Bzhania's alignment with former President Ankvab contributed to the former's victory. Being over the maximum age limit of 65, Ankvab was not eligible to run himself, but headed Bzhania's election campaign staff.

On 24 April, Bzhania named Ankvab prime minister, in line with statements he had made in the run-up to the vote. Three days later, Bzhania selected as first deputy and deputy prime minister two members of the cabinet of Leonid Lakerbaya, who served from 2011-2014 as prime minister under Ankvab. They are agronomist and former Agriculture Minister Beslan Djopua, 57, as first deputy premier, and Vladimir Delba, 45, who served under Lakerbaya as finance minister and deputy prime minister and will perform the same duties in Ankvab's cabinet. Bzhania also appointed Kvitsinia to head the presidential administration. Dmitrii Dbar, who served under Bzhania in the State Security Service from 2010 – 2014 and was Kvitsinia's running-mate in last August's presidential election, was named interior minister.

As indicated above, the timing of Bzhania's advent to power could hardly be less auspicious. The most immediate, and arguably the most insurmountable, challenge he faces is that posed by coronavirus. True, Abkhazia has closed its land borders both with the Russian Federation and with Georgia proper, and to date has registered only three confirmed cases of Covid-19, one of which proved fatal. Measures to prevent the spread of the disease will, however, inevitably impact on this summer's tourist season, thus depriving the region of one of its primary sources of income.

At the same time the financial repercussions of coronavirus, in tandem with the recent steep decline in world oil prices, could impel Russia to scale back its planned financial support for Abkhazia. The sums earmarked for 2020-2022 – 1.5 billion rubles (£16.2 million, $20.3 million, EUR 18.67 million) annually – are already less than the total 3.24 billion rubles allocated in 2018-2019.

Immediately after his election victory, Bzhania made a point of declaring his desire and intention to work with the opposition, stressing that "we have no intention of trying to isolate those… who adopt a constructive opposition stance,"  and that "we shall work with a large circle of people who have acquired specific experience … to try to resolve the problems we face." He also personally thanked Ardzinba for having congratulated him on his election win. 

The parliament, however, in which supporters or sympathisers of the outgoing leadership constitute a majority of the total 35 law-makers, could play spoiler by voting down draft laws submitted by the president. In February, the parliament rejected two separate proposed draft amendments to the Law on the Presidential Election intended to clarify the modalities for a presidential run-off vote. Bzhania hinted in a recent interview that a planned redistribution of powers intended to augment the powers of the parliament could be delayed "for several years," depending on the composition of the next legislature.

Finally, political analysts Nadezhda Venediktova, Inal Khashig and Izida Chania have all noted the possibility of tensions and rivalries within Bzhania's own team, and specifically between Ankvab and former Foreign Minister and Prime Minister Sergei Shamba. 
Liz Fuller is an independent analyst who studied Russian and Georgian at the University of London. She joined Radio Liberty Research in Munich in 1980 and was editor of "RFE/RL Newsline" from 1998 until its abolition in May 2008.